A beautiful evening at the SHN Golden Gate Theatre awaits you when taking in the Carole King musical, playing in San Francisco through June 9th. The North American tour for Beautiful will continue through Albuquerque, Dallas and Kansas City, the Midwest, into the South and New England, well into 2020. More dates will be added.
For those who enjoy popular music, there is the pleasure and surprise of discovering how many hit songs were written by Carole King in her long and successful career. For those who have wondered how the music business works (or used to work before the age of iTunes, Pandora, Spotify and the like), there are dramatic and hilarious moments as they watch a teen from Brooklyn break into the exotic world of songwriting in the 1960s and 1970s.
Sarah Bockel returns to the role of music legend Carole King and performs as though she is embracing the role for the first time, with all energy and enthusiasm which King's remarkable career inspires
On this national tour Sarah Bockel plays the role of music legend Carole King. In her performance, Bockel brings all the energy and enthusiasm which King's remarkable career inspires. Bockel has appeared in The Wedding Singer, Fiddler on the Roof, The Pajama Game, and Into The Woods.
Early in her career Carole (Klein) King worked with a lyricist who became her husband, Gerry Goffin, played by Dylan Wallach. Other musicians and lyricists who brought their music to the same New York agent were Cynthia Weil and Barry Mann, played by Alison Whitehurst and Jacob Heimer. They started as competitors and became lifelong friends. The interactions between musicians and lyricists as colleagues and competitors, friends and lovers, provide the musical's framework.
Mark Bruni directs and Paul Blake produces this musical. Beautiful was Mark Bruni's Broadway debut. He previously directed The Sound of Music for the Chicago Lyric Opera.  Blake has produced Irving Berlin's White Christmas for the Dominion Theatre in London, and Andrew Lloyd Webber's Sunset Boulevard on Broadway.
Choreographer Josh Prince takes us down memory lane with intricate dance routines which characterized the performances of the Drifters ("Some Kind of Wonderful"), and the Shirelles ("Will Love You Tomorrow"). Cynthia and Barry write "You've Lost That Lovin' Feelin'," recorded by the Righteous Brothers, and "On Broadway" for the Drifters. The musical artists create and their gruff agent, wonderfully played by James Clow, finds the right singers to record.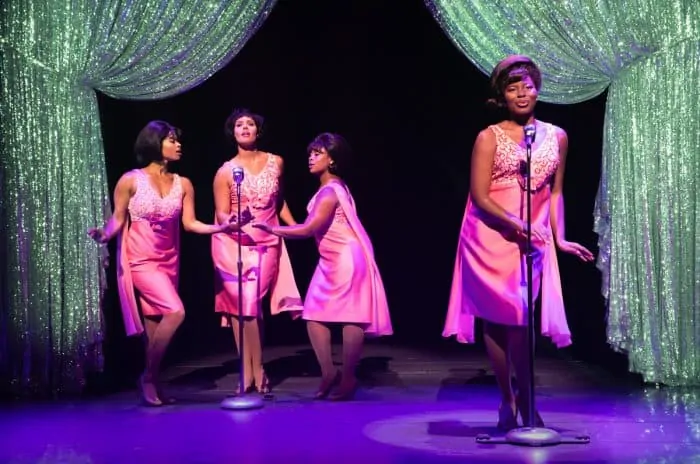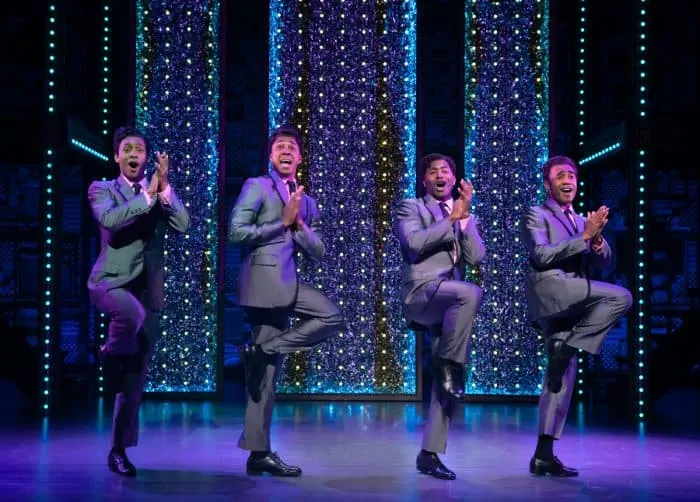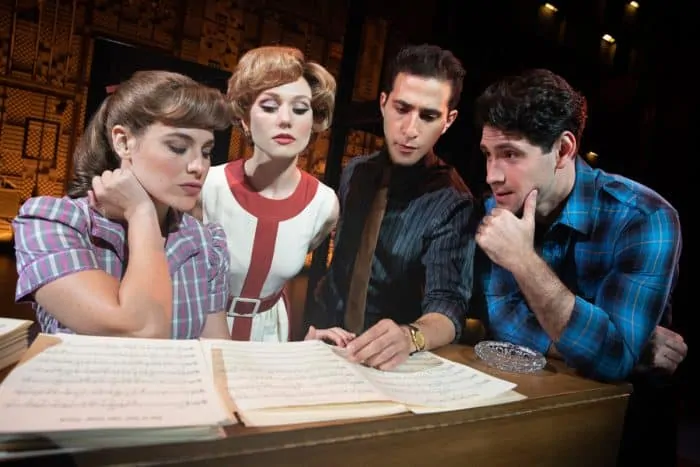 This is a feel-good musical, light in its touch, even as you are affected by the agony of the long goodbye when Carol realizes her marriage is over. The show closes on a high note, with King performing at Carnegie Hall.
Recommended for a joy-filled evening. King's "Tapestry" album is for sale in the lobby. Leaving the venue in a good mood, you won't even mind the traffic jam outside the theater.