Sonoma County Vintners today announced the results of its most recent barrel auction.
At the fifth edition of the Sonoma Country Barrel Auction, 85 "Never Before, Never Again" handcrafted wine lots were auction off for $645,000. Per organizers that brings the total take of the annual auction to $3.4 million since its founding in 2015.
"The auction promotes the quality of Sonoma County wines globally, and builds long-term relationships with trade buyers," said Sonoma County Vintners Executive Director Michael Haney. "We are extremely grateful to the visiting trade and media, our vintner members, AVA and corporate partners, Sonoma County Winegrowers and Sonoma County Tourism for their incredible support of the Sonoma County Barrel Auction over the last five years, and we look forward to welcoming them back for years to come."
Note that this is an ancillary auction event to the larger Sonoma County Wine Auction which has raised over $30 million, benefiting non-profits across the region.
Top lots by case from returning vintners included Benovia Winery, CIRQ Estate, Kosta Browne Winery, Pride Mountain Vineyards, Silver Oak Cellars, Twomey Wine Cellars and Westwood Wines; and from newcomers Chappellet and Crescere; as well as two collaboration lots, one from DuMOL & Laurel Glen Vineyard and the other from Kanzler Family Vineyards, MacRostie Winery & Three Sticks Wines.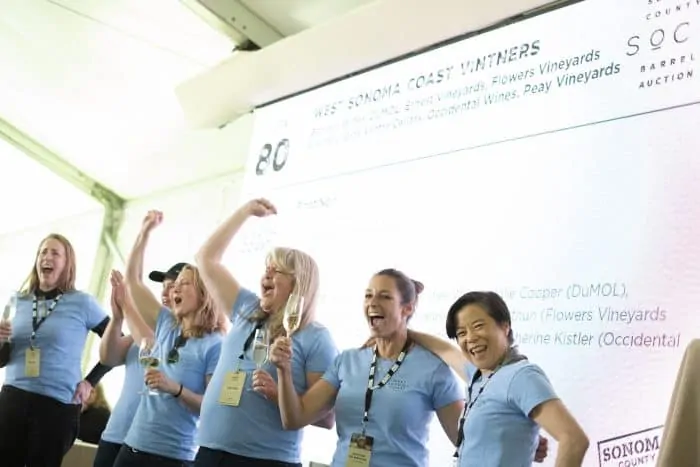 In addition, tickets to Taste of Sonoma are now available. The extravaganza — scheduled for Sat. Aug 31 — hosted at the Green Music Center at Sonoma State University features an abundance of Sonoma wines, locally-sourced foods, music and food demos.
For a sneak peek of Taste of Sonoma check out this Stark Insider video feature below.
WATCH: Taste of Sonoma with Loni Stark
Team Stark hopes to see you in Sonoma this summer!
Photos courtesy Sonoma County Vintners.