Trader Joe's is a celebrated tradition here in California. The formula is simple: low prices, fresh and local produce, decent variety. A selection of cheap wines including the (in)famous two-buck Chuck doesn't hurt.
Oh, and we should mention — just like Costco — samples await at the back of any TJ store, in addition to the always welcome free coffee.
In many ways Trader Joe's is the anti Whole Foods: relaxed and welcoming to the everyday person who is on a simple mission to stock up the kitchen without needing a second mortgage.
But if you're a weekend warrior and get chores done anytime other than Monday through Friday, expect the scourge of crowds.
Trader Joe's stores can get very busy on Saturdays and Sundays. Thankfully, there's usually lots of registers open (especially the case in New York City locations) which helps move volume quickly.
Still, wouldn't it be nice to know exactly when the best day and time is to visit a Trader Joe's store?
You're in luck. We have the answer to the question of when to shop at Trader Joe's to best avoid crowds. Direct from the source.
Trader Joe's: Best day and time to shop, avoid big crowds
A Trader Joe's manager ("mate") recently hosted an AMA on Reddit and had this bit of sage advice:
"Tuesday, Wednesday are the best days. Early morning is best time. I think it's hilarious people go on Sunday and complain that we are so busy. Right when we open is honestly the best time to go. We get fresh produce in every morning so you can get the best products, and some stuff actually will sell out for the day around 2-4pm, including perishable and non perishable items."
So there you go. Tuesday and Wednesday are likely the best days to make a trip to your local Trader Joe's.
And if you go expecting fresh produce and well-stocked shelves, try to be there first thing in the morning before things get picked over.
Of course this isn't a scientific study that has been peer-reviewed, but the tip seems to make sense to us.
Top 10 Reasons to Shop at Trader Joe's: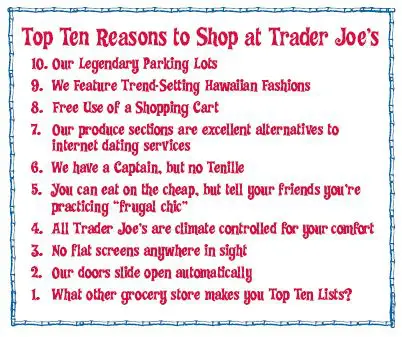 Best Day and Time to Shop at Trader Joe's:
Tuesday
Wednesday
Early morning (at open if possible) to avoid stock-outs
Hint: avoid Saturday and Sunday unless you love crowds
Now you know the best times to shop Trader Joe's. Happy shopping… without the crowds.