As part of the Mostly British Film Festival in San Francisco, the English film, Four Weddings and a Funeral, was celebrated with a champagne reception and a well-attended showing at the Vogue Theatre. The film was nominated for two American Oscars and two Golden Globes. In England, the movie received four nominations from BAFTA.
Released in 1994, this film exceeded all expectations for a witty romantic comedy with dramatic moments. Hugh Grant, who plays Charles, became an international star. Andie MacDowell, who plays Carrie, provided an intriguing glimpse into today's world as an independent woman who took charge of her love life 25 years ago. Charlotte Coleman enchants as Hugh Grant's colorful housemate, Scarlett; she died in 2001. Simon Callow radiates warmth and sensuality as Gareth, whose character died in the film. James Fleet as Tom and Kristin Scott Thomas as his elegant sister Fiona offer the possibility that England could become a cozy classless society as illustrated by Charles and his friends, even though two of their members live in a mansion with 137 rooms.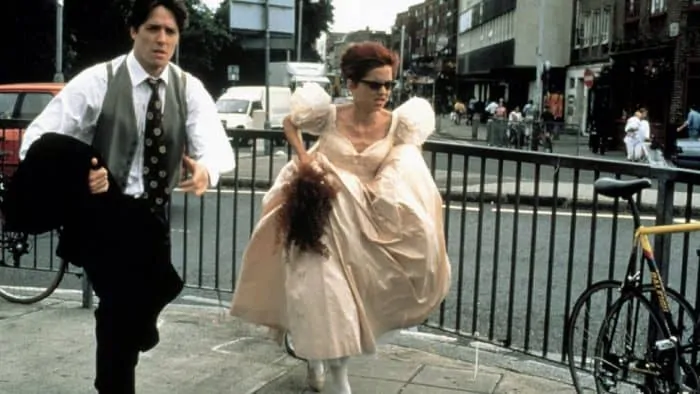 Because each character in Four Weddings and a Funeral has a distinct personality, and most of the time they are preparing for weddings anyway, the film does not seem dated in terms of clothing worn or conversations held. After all, looking for love and commitment is a current and never- ending occupation of humankind.
Seeing the film again, one is impressed by the droll wit and beautiful fashions, as well as the subtle interaction between friends, male and female. And there is the powerful poem "Funeral Blues" by W. H. Auden, read at the funeral for Gareth. Even the amusement Charles' circle receives from poking fun at Americans is gently done.
Ruthe Stein is senior movie correspondent for the San Francisco Chronicle. She is the guiding force behind the Mostly British Film Festival, and introduced the film the other evening at the Vogue Theatre. Primed with champagne and freshly baked chocolate chip cookies, still warm from the oven, we experienced a movie which has held up very well since its release in 1994, a film which leaves the audience in a happy frame of mind. Congrats to the Mostly British Film employees and volunteers for another successful festival.