Essayist Jeanne Powell's take on film Mary, Queen of Scots.
Queen Mary Stuart has been celebrated and profiled on stage and screen since Friedrich Schiller's play in 1800, Gaetano Donizetti's opera in 1835 and an acclaimed Broadway production in 2005 directed by Phyllida Lloyd. In films she has been portrayed by Katharine Hepburn (1936) and Vanessa Redgrave (1971). Lady Antonia Fraser wrote what many consider to be the definitive biography of the Stuart queen in 1993.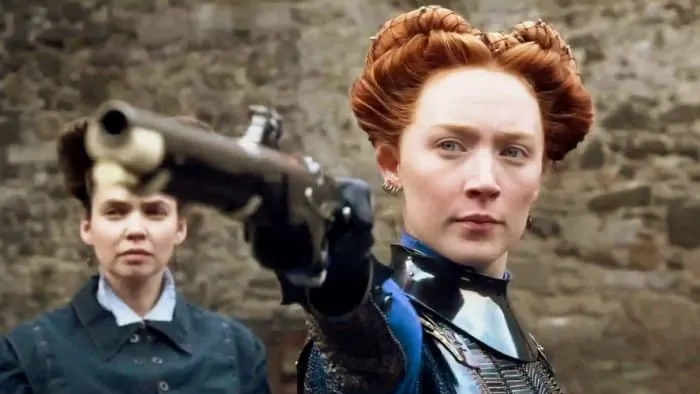 Director Josie Rourke makes her screen debut with the latest film version of the doomed queen's life, "Mary Queen of Scots." This film draws from a 2004 biography by John Guy — "Queen of Scots: The True Life of Mary Stuart." John Guy is said to emphasize that Mary Stuart was more than a victim of passion, that she was a skilled politician and a match for her cousin Elizabeth of England in diplomatic shrewdness. However, Stuart was undone by letters now believed to have been forged by William Cecil, ruthless advisor to Elizabeth.
We see determined courtiers persist in trying to influence the English queen, and determined Scotsmen bullying their young queen to follow their wishes.
These are lofty goals for a film starring Saoirse Ronan as Mary Stuart and Margot Robbie as Elizabeth Tudor, and the director makes every effort to achieve them. However, there is enough suspense in watching these two monarchs deal with tremendous manipulation and scheming by the men in their employ, that one almost can forgive the lack of cohesive character development.
To help viewers understand the complex nature of life for crowned heads back then, it would help to know Mary Stuart's French connection. She was sent to France as a child bride and briefly was queen consort of France until the young king died. Her formidable mother-in-law, queen Catherine de Medici, sent Mary back to Scotland to reclaim a throne held for her by her late mother, Mary of Guise. Guise ruled Scotland as regent after the death of her husband, James V of Scotland. Catholic and Protestant gentry battled for control of Scotland after the death of James V. The young widowed Mary Stuart stepped off her French ship onto Scottish soil and into a kind of political hell.
Saoirse Ronan as Mary Stuart is enchanting in her demeanor and dress, both exotic and intimidating to her illegitimate and ambitious half brother. In England her Protestant cousin Elizabeth Tudor, radiating confidence and also splendidly arrayed, is counseled to marry and become the mother of a Protestant heir before Mary Stuart marries and becomes the mother of a Catholic heir.
We see Elizabeth's hesitation to become a broodmare, but are not reminded of how her mother Anne Boleyn died at the hands of her father, Henry VIII, which probably set her against marriage forever.
In contrast we see that the younger Mary is willing to marry to get an heir, but knows that choosing a husband is fraught with danger since such a man would want to receive the crown matrimonial, which she is unwilling to surrender. These ambitious men in Scotland and England want their queens to marry and produce heirs, and to offer up the crown matrimonial to their husbands. Elizabeth is too shrewd for this maneuver to work. Mary has no choice about remarrying as a political weapon. None of her three marriages provides the solution she is seeking, however, and she flees to her royal cousin for succor.
Dramatic moments are plentiful in this production, as are confrontations with noblemen, both drunk and sober. There are beautiful costumes and colorful moments on horseback as armies move against each other. We see determined courtiers persist in trying to influence the English queen, and determined Scotsmen bullying their young queen to follow their wishes.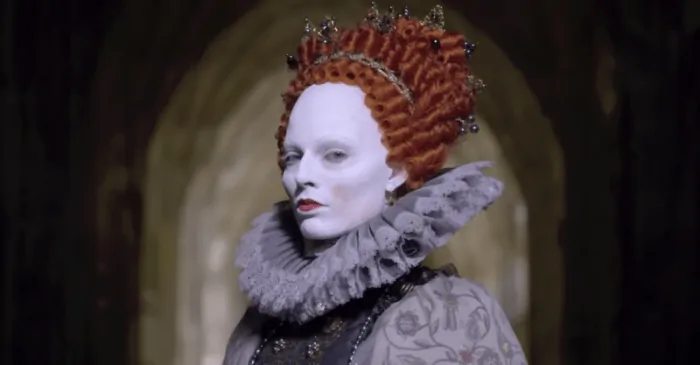 What is missing is a real sense of how these two women, anointed queens and cousins, reached the decisions which propelled them toward each other, first as friends and then as competitors. And it is a shock to see Mary's second and third husbands both portrayed as seeking her hand only in order to seize the crown for themselves.
Director Josie Rourke points out in an interview that "There is so much at stake for both women." And so the director has them meet in English territory, something which never actually happened. The staging is imaginative and skillfully evokes the many walls they had to walk through to get this far, with each monarch having been portrayed by the men who interpreted each woman for their own benefit. It is the high point of the film.