Ask for Jane is a riveting independent film shown recently at the Napa Valley Film Festival. Written and directed by Rachel Carey and produced by Caroline Hirsch, the movie tells the story of a Chicago-based underground collective which provided pregnancy terminations for thousands of middle-class women in the late 1960s and early 1970s. This happened years before the Supreme Court decision in Roe vs. Wade, so the collective was engaged in activity considered both illegal and scandalous.
Director Carey has said:
"There are certain stories that demand to be told. The true story of the "Jane Collective" is one of those stories. The group that became the "Janes" started with a single woman in her University of Chicago dorm room in the mid-60s, who quietly provided the phone number of a reliable … doctor to anyone who asked for it."
Actor and producer Cait Cortelyou asked Carey to write the screenplay. As she researched the organization, Carey discovered a story which was hopeful rather than depressing, a rarity among narratives before the Roe vs. Wade decision. A real member of the Jane collective – Judith Arcana – contacted Carey and her team and came on board as a consulting producer.
For Carey and her colleagues on this film project, this was an opportunity to remind people of what is possible in women's biological choice movement, and what could become necessary again if pregnancy choice becomes illegal.
With quiet characterizations and convincing dialogue, Sarah Ramos, Cody Horn and Sarah Steele recreate that long-ago time when nice girls did not talk about certain situations and were forced to make decisions with no counseling and few choices. Will he marry her? Will her parents disown her? How will she finish college? Incest? Spousal abuse? Rape? What about her reputation and ability to get a respectable job?
The Vietnam War was going on, and many coeds at the University were involved with the antiwar movement. They puzzled over why men would not support women's right of biological choice, while the women were fighting to keep the men from being drafted and sent to Vietnam.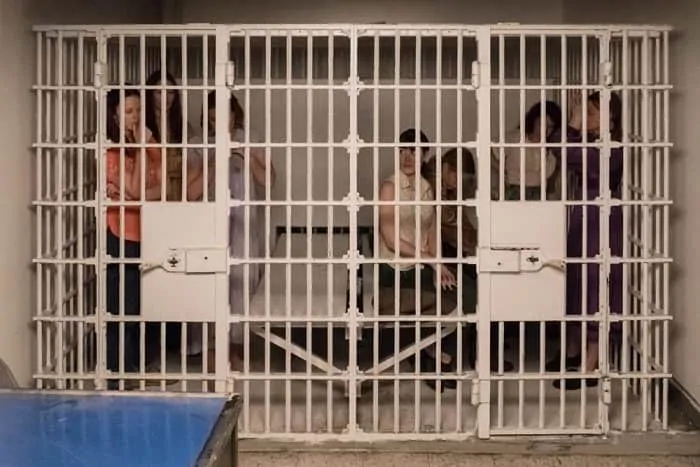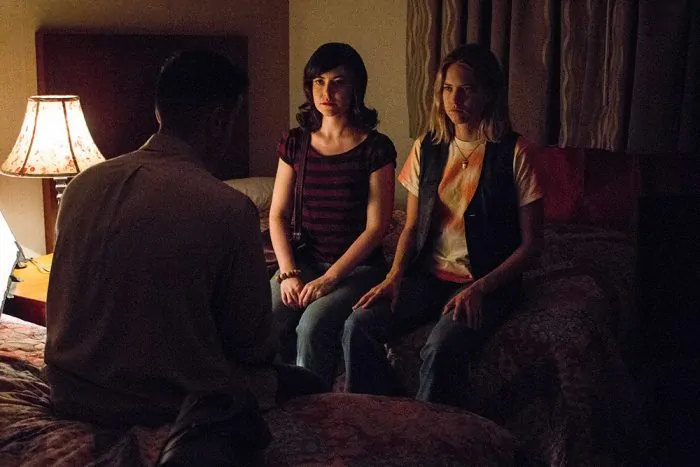 And finally they realized they would have to take care of themselves. One woman had a doctor's name, and she shared it on a need to know basis. Dormitory mates helped each other, and set up ways of being, as necessity required: the name "Jane" to be used by all of them; locating a place for the doctor to operate if not in his office; interviewing potential patients and counseling them; sliding scale of payment; getting painkillers and antibiotics; and ultimately acquiring training so they could perform abortions themselves.
All of this was under the radar. They were surprised one night when a uniformed cop walked in and interrupted their secret meeting. We know what you're doing, he said, and most cops are OK with it. In fact, we sent you a few customers. Now we need a favor, and he brought them a teenage jumper whom the police had just rescued from a suicide attempt. She was underage, but the Janes helped her anyway.
Then in 1970 the New York state legislature passed a law which allowed pregnancy termination, taking this procedure away from organized crime and secret meetings. When the Janes felt growing pressure in Chicago, they raised money to send patients to New York. And finally, the U.S. Supreme Court decided Roe vs. Wade in 1972.
Gloria Steinem has said this movie should be seen by every American.
Watching these young women learn to work together on a matter of supreme importance to them, while facing resistance from boyfriends and family members and religious institutions, was an amazing experience. These University students were not angry or in rebellion. They simply were determined that a careless boyfriend or husband was not going to be the determining factor in their lives. And in the process they grew strong in the realization that they had political rights and social obligations far beyond graduating from college, and getting engaged to be married.
Ask for Jane was featured at the Hamptons International Film Festival, Woodstock Film Festival, and the St. Louis International Film Festival, among others.
Gloria Steinem has said "this movie should be seen by every American." If you have an opinion on this subject, and nearly everyone has, this film should be required viewing.