The Favourite is a juicy and irreverent romp through the reign of Queen Anne of Great Britain (1665-1714), with a focus on her years as a widow under the political influence of Sarah Churchill, the Duchess of Marlborough.
Through the use of potent dramatic sketches and brilliant cinematography, director Yorgos Lanthimos introduces us to a frail queen (Olivia Colman), a fierce duchess (Rachel Weisz), and a nakedly ambitious cousin (Emma Stone) in a riveting narrative. As we experience these three strong women jockeying for power in early 18th century England, we view them and their struggles through a lens alternately mordant, cynical and poignant.
Lanthimos focuses on the corrosive effects of power and greed in his films. Desire to rule or control may spring from different needs – Abigail wants wealth and security for herself, while Sarah seeks to protect her husband's supply lines as he battles the French — but in the end the addiction to power transforms Anne and Sarah and even the queen into caricatures of whom they set out to be.
Abigail Hill (Emma Stone) fell from all forms of grace because her father lost her to a stranger in a game of chance when she was a teen. She was passed from man to man until she could escape and try to regain her status as a lady in 18th century terms. She has no interest in politics; personal safety is her primary goal. She has seen life from the bottom and does not care for it at all.
Sarah, the Duchess of Marlborough has become the queen's personal friend and confidante. She frequently speaks for the queen and has been known to bully her into certain political views. While she oversees political decisions at the palace, her husband leads troops against France in a costly war. The queen revels in the beauty and charm of her duchess, qualities which the queen herself used to possess.
Olivia Colman creates a complex and tragic figure in Queen Anne. Widowed and still suffering from post-partum depression, the queen obsesses over her 17 failed pregnancies – all resulted in miscarriages or stillborn infants. In her suite Anne keeps a dozen or so small cages, each containing a rabbit, reminders of her attempts to bear children. Each has a name and she feeds them by hand.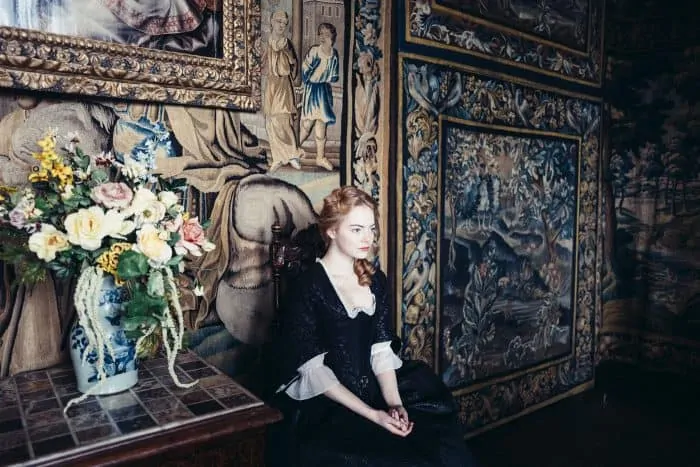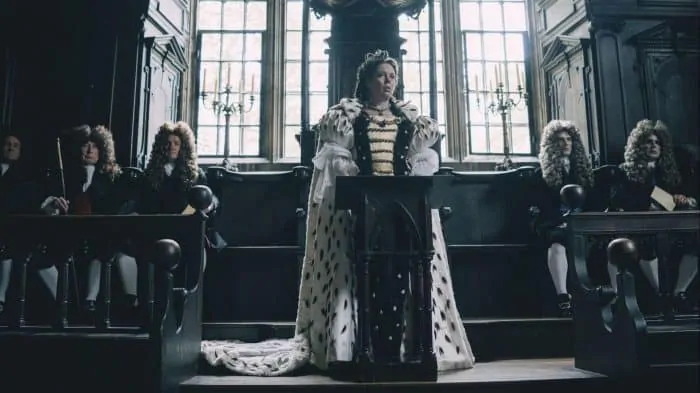 Rachel Weisz excels as the Duchess of Marlborough, always elegant and lovely in ball gowns, but otherwise swashbuckling through the palace in custom trousers (for riding) and dashing hats. She commands every inch of the palace, except when she oversteps the bounds and the queen then says "no!" or slaps Sarah's face. Sarah accepts the occasional rebuke and then resumes control. All accept her iron will, and some fear her. She is merciless when it comes to the opposition forces in Parliament. Often standing just outside the lawmakers' chambers since women are not allowed inside, Sarah listens intently and sends instructions to the prime minister via a male page.
Taking pity on her unfortunate distant cousin, Sarah allows Abigail to be her maid, and so Abigail is brought into the presence of Queen Anne and overhears everything. Abigail is like a wet sponge, absorbing all and looking for a way to ensure she will never be on the outside again.
The stage is set for massive doses of mordant, ironic humor with sometimes grotesquely comic moments, as Sarah the duchess rules the country, Abigail the servant struggles for crumbs, and Queen Anne is challenged by self-pity, self-loathing and more than a little jealousy.
Costumes are gorgeous and palace settings are regal. The carefully groomed long wigs worn by male aristocrats are complemented by loose powder and rouge on their cheeks. They are a sight to behold as they drink and plot and plan seductions. One of their pastimes is racing ducks on the palace grounds. These dilettantes are no match for the Duchess of Marlborough, except for one.
We'll make a killer out of you yet.
Yes, there is sexual play and sexual politics, along with herbal poison dropped in porcelain tea cups, horseback riding and "wingshooting" where the duchess and her maid Abigail shoot live birds which are launched by servants when the women call "pull!" The duchess says to Abigail, "We'll make a killer out of you yet."
While the ending could be stronger, this is a lively and entertaining film, with less focus on the particulars of politics and statecraft and more of a focus on the price one has to pay when reaching for power and holding onto it.
Weisz gives an especially affecting performance as a fierce and loving wife who tries to prevent her husband's political enemies from endangering his supply lines as he and his troops engage in war against France. Even as she maneuvers at court, using sarcastic wit and diplomatic skill, the duchess remains fond of the queen and does not lie to her.
Definite Oscar buzz for three memorable and multi-faceted performances by Olivia Colman as Queen Anne, Rachel Weisz as Sarah Churchill, the Duchess of Marlborough, and Emma Stone as Abigail Hill. This is more than a period piece. There is never a dull moment.
THE FAVOURITE
RATING: 3.5 out of 5 stars