Finally some good news if you're looking for low cost, but high quality batteries for your Canon DSLR camera.
Amazon has made available an AmazonBasics version of the popular LP-E8 battery.
Rated at 1100mAh you can use this battery in a variety of Canon cameras including those from the Rebel and EOS lines including:
Rebel T2i, T3i, T4i, T5i
EOS 550D, 600D, 650D, 700D
The AmazonBasics LP-E8 come with a 1 year warranty and are made in Japan (but further "processed" in China… not sure what that exactly means).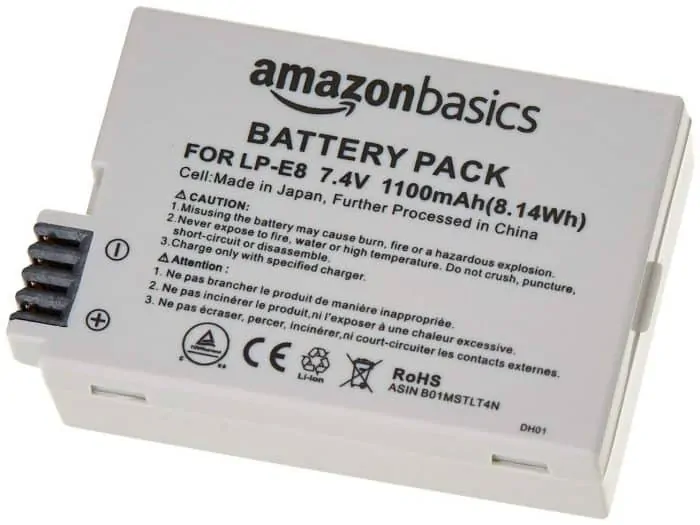 Those who have researched original Canon batteries will know this is a great deal, and represents significant savings especially for those who shoot video and need several backup batteries on hand.
Note that these batteries will not work on the newer Rebels like the T6i or T7i (LP-E17) nor EOS models such as the 60D, 70D and 80D (LP-E6). So when you're shopping be sure to double check compatibility with your specific Canon DSLR model.
Nikon shooters will be pleased to know that there is also an AmazonBasics version for the EN-EL5 replacement battery that is compatible with the following models: CoolPix 3700, 4200, 5200, 7900, S10; P Series: 3, 4, 80, 90, 100, 500, 510, 520, 530, 5000, 5100, 6000.
Given that AmazonBasics products are generally well made and priced I'm hoping they roll out more versions in the future. I'd especially love to see a version for the LP-E6 as that battery is widely used not only on Canon bodies like the EOS 80D, but also in other cameras (the new Blackmagic Pocket Cinema Camera 4K for example) and a wide variety of camera accessories (LED lights for example).
AmazonBasic batteries are now available and shipping: