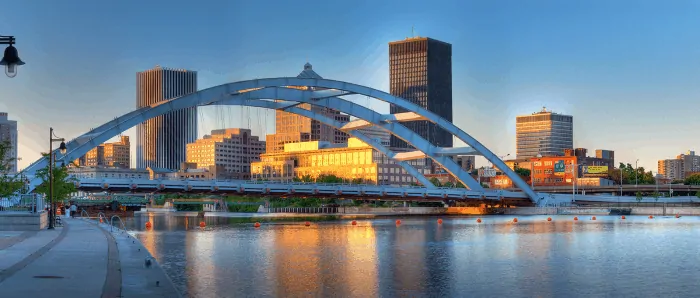 As the third largest city in New York State, Goldilocks would find Rochester just the right size…not so big as to be intimidating, but big enough to offer a seemingly endless range of cultural delights, making it the perfect choice for a fun-filled, uber-easy girlfriend getaway. Plus, the city is in the midst of a serious urban face-lift (costing over $900 million) so it has really spruced up its act. I swear the streets are clean enough to eat off of. I was struck by how many locals had moved away to "greener pastures" only to return home with a newfound appreciation for the quality of life Rochester offers, exuding some welcome positive energy.
One interesting Jeopardy factoid is that Rochester is often referred to as the Flower/Flour capital. This is not an either/aye-ther thing but a quirky historical fact. Per VisitRochester.com, the city's official tourism site, "In the early 1800s, we were the Flour City, so named because of the many flour mills along the Genesee River. In 1859, Rochester changed its nickname from the Flour City to the Flower City because of the burgeoning nursery and seed industry."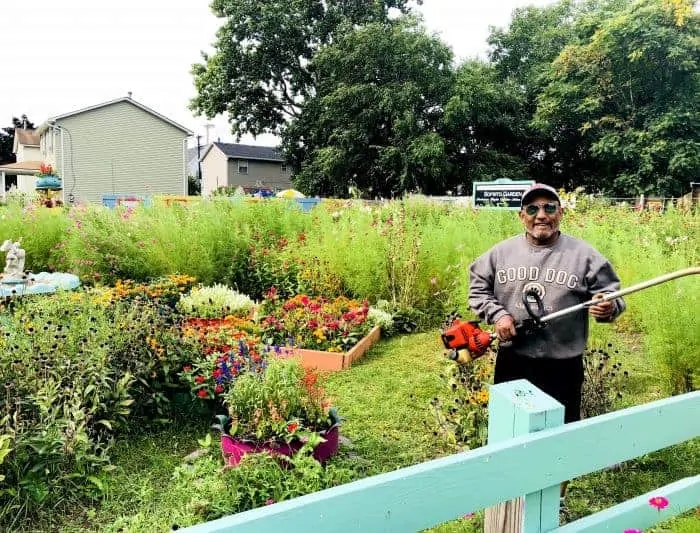 I like the latter spelling since not only is Rochester filled with gorgeous flowering parks and gardens but it also hosts an extremely popular, 120-year-old, Lilac Festival, one of the largest flower events in the country.
If you're looking to add a little culture to your life, Rochester rules! With its profusion of museums, art galleries, theaters, and festivals (over 140 a year at last count) it's no wonder that The National Center for Art Research recently named Rochester the 17th most arts-vibrant city in the country, along with such biggies as NYC, LA and, Chicago. 
Where to Stay?
Overlooking the Genesee River, the Hyatt Regency provides the perfect headquarters for your stay. Speaking of urban makeovers, the Hyatt Regency Rochester has recently emerged from a highly successful, multi-million-dollar transformation. I loved the indoor pool and Jacuzzi, the 24- hour gym, and their new, Soho-cool, rooftop Center City Terrace, surrounded by fire pits and stellar city views.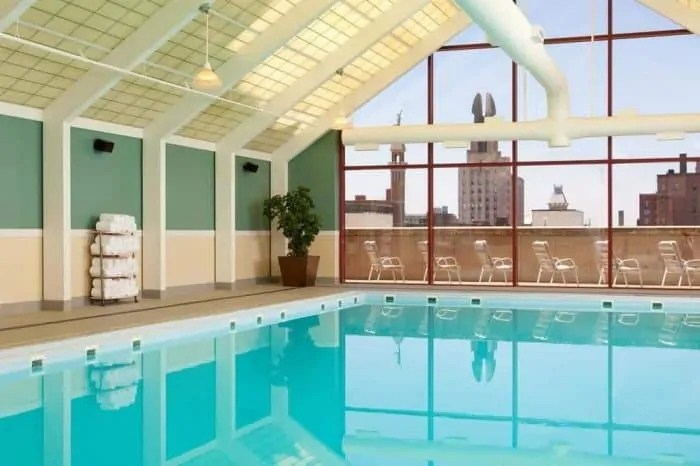 The immaculate, spacious rooms are tastefully decorated in soothing blue and grey tones with hardwood floors, a 55-inch TV, fluffy, cloud-like beds, a fab shower with no scrimping on the amenities, which including plush robes, complimentary wifi, and newspaper, even travel sized deodorants and mouthwash.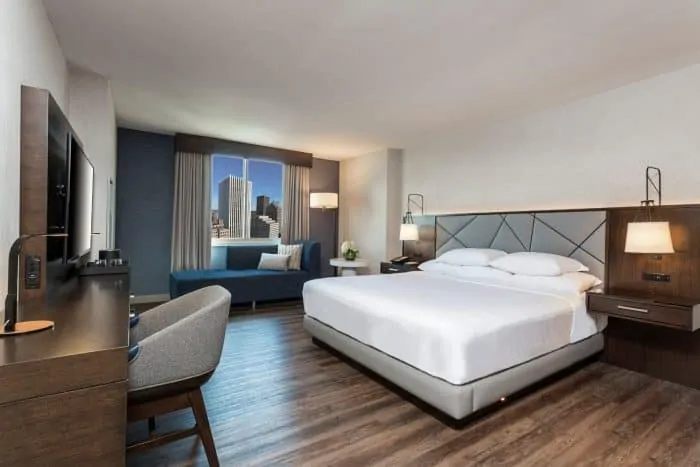 Inside Tip:

The Terrace offers a lively happy hour, with superb cocktails, tapas and maybe even some live music!
My top must see & do's
*most are within walking distance of your hotel.
High Falls
Tumbling 96-ft down into the Genesee River, this dramatic waterfall, perched smack dab in the center of town, could be the warm-up act for Niagara. After you snap some pics from the pedestrian bridge or one of the many observation decks, you can explore the 12,000 acres of nearby parkland, by foot, bike, or a paddling down the river.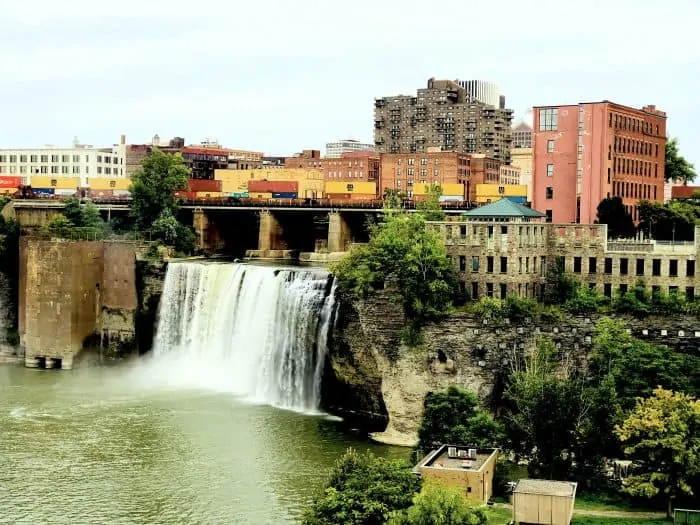 George Eastman Museum
Founded in 1947, the George Eastman Museum is the world's oldest photography museum and one of the oldest film archives. If you're even mildly interested in photography you can while away hours here, since the museum houses an amazing 4.5 million artifacts, including a collection of 400,000 photographs from 14,000 photographers. See a contemporary or rare classic film in the Dryden Theater, perhaps one from the personal film collections of Martin Scorsese, Cecil B. DeMille or Spike Lee.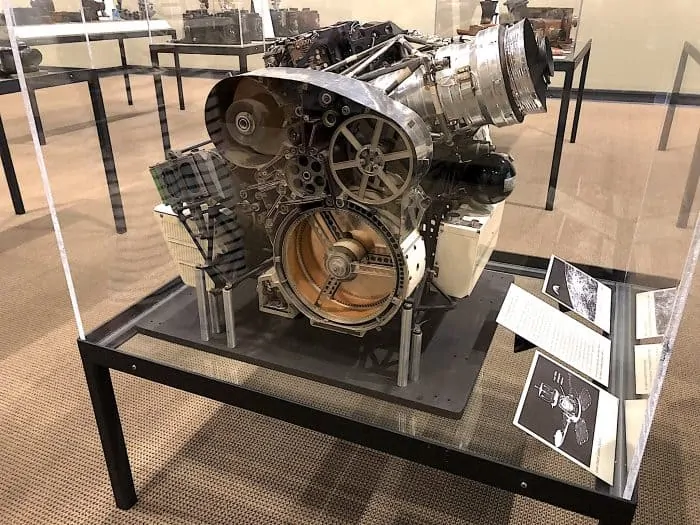 FYI- Long before the ubiquitous camera phone, in 1888 as a matter of fact, Eastman developed the first handheld KODAK camera. It was a simple box camera that came pre-loaded with film for 100-exposure, which spawned generations of amateur photographers.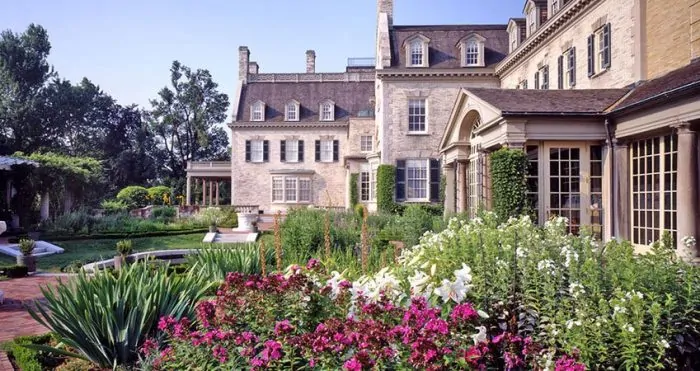 Afterward, pop over to tour Eastman's 50 room-Colonial Revival style home, a National Historic Landmark, for an inside look at how this wealthy philanthropist lived. Coming from a family of horticulturalists, one highlight of the home is a dramatic, glass-enclosed greenhouse which held Eastman's exotic-plant collection. Save time to wander through the stunning formal gardens that surround the home.
Inside Tip:

The museum offers many unique workshops throughout the year. One upcoming five-day course, "Camera Obscura, Camera Lucida, and the Silhouette" is the only public workshop in the world that teaches how to use a box camera obscura, a tent camera obscura, a camera lucida, a pantograph, and a physionotrace to produce landscape pencil drawings and cut silhouettes.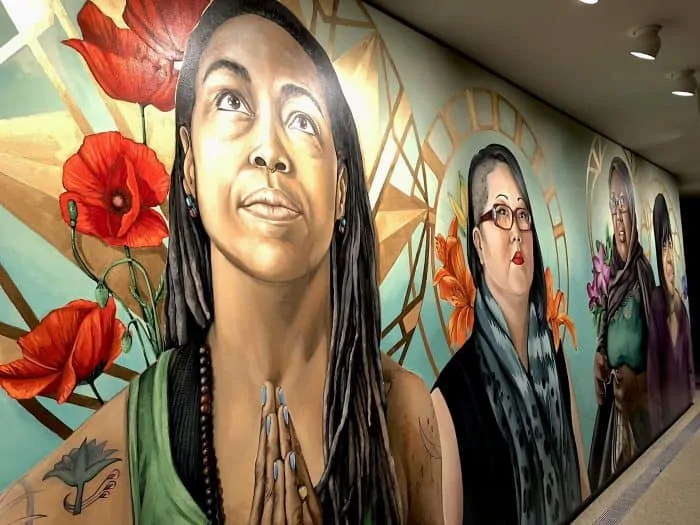 Memorial Art Gallery
Founded in 1913, The Memorial Art Gallery houses what has been called "the best balanced art collection in the state outside of NYC" with over 12,000 items that include everything from antique relics from around the world to more contemporary works by Picasso, Monet, and O'Keefe as well as the only full-size Italian Baroque organ in North America. MAG has complimentary organ concerts on Sundays plus tons of other social events such as Cocktails with Creatives, Art & Motorcycle Meet-up, and Haunted tours.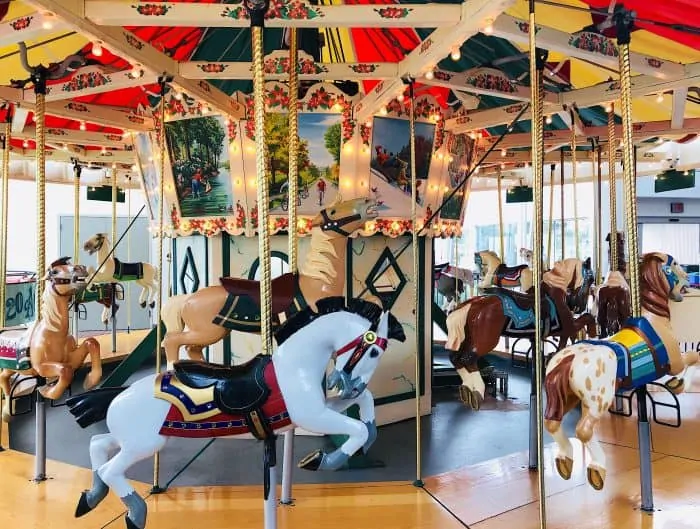 Strong Museum of Play
On a lighter note, who wouldn't want to visit a city-block long museum dedicated to playtime. Even if you don't have a kid, you'll have a blast here as you exploring room after room filled the world's largest collection of toys, dolls, and games.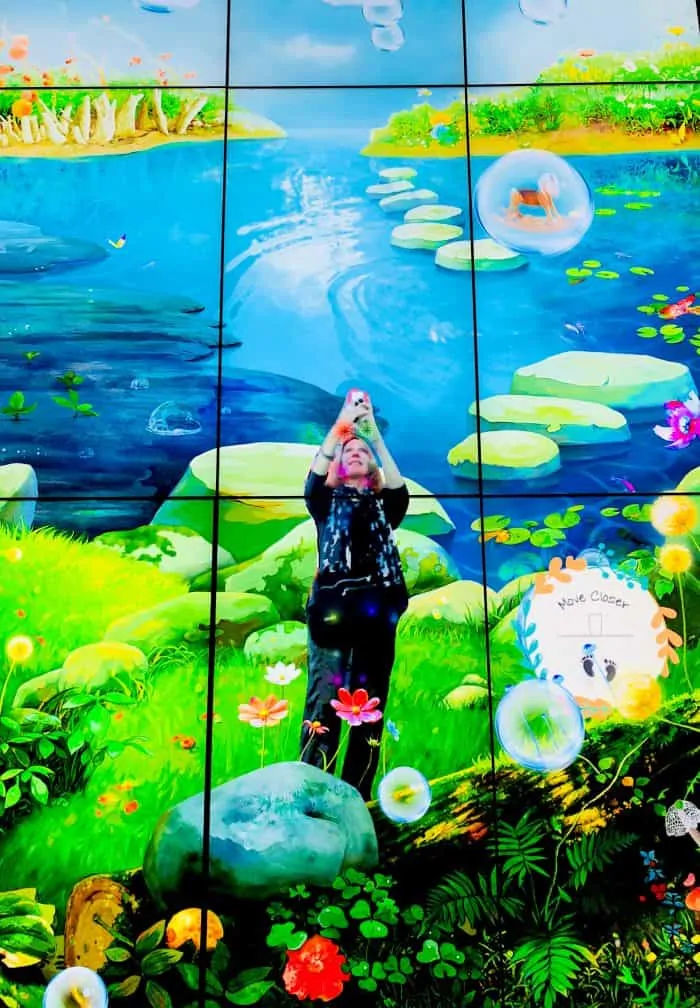 Take a pic with a comic superhero, pretend you're an astronaut, hop on a 1918 carousel, play your way through video game and pinball history (I killed at Pac-Man), marvel over the Dancing Wings Butterfly Garden, see the first Monopoly game (with a round board), join the world of comic superheroes and that's just the tip of the snow cone. However long you have planned for your visit, I suggest you add on an extra hour to take in all the fun.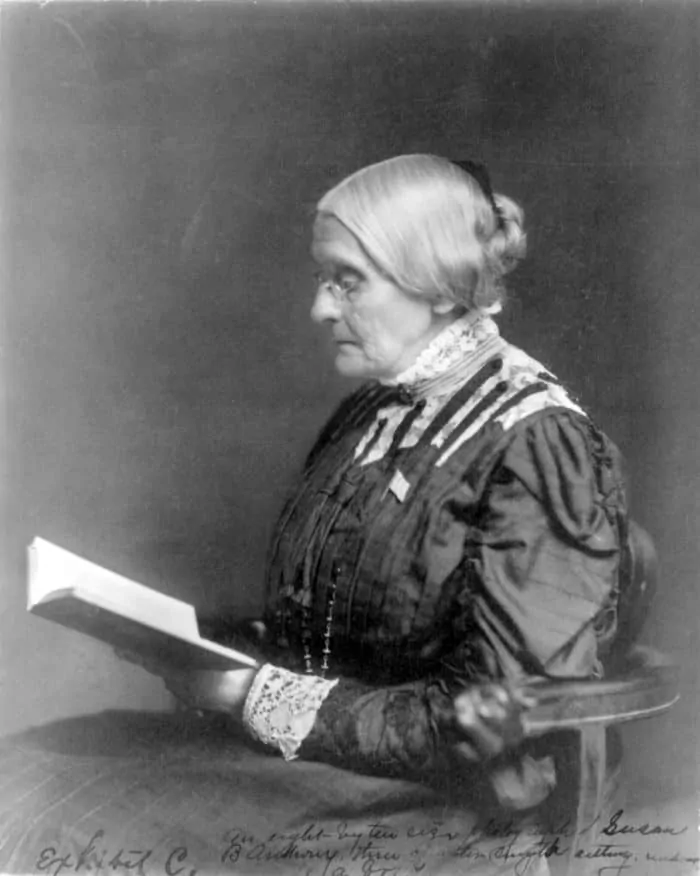 Susan B. Anthony House & Museum
Pay your respects to the pioneer of the women's rights movement at the Susan B. Anthony House, a National Historic Landmark and Anthony's home for over 40 years. The house served as the headquarters of the National American Woman Suffrage Association, while Anthony served as the president. This was where she held strategy meetings with Elizabeth Cady Stanton, abolitionist Frederick Douglass, and other civil rights leaders. It was a poignant moment to see the front parlor where she was arrested after her attempt to vote in the 1872 Presidential Election since she didn't live to have an opportunity to cast a legal vote.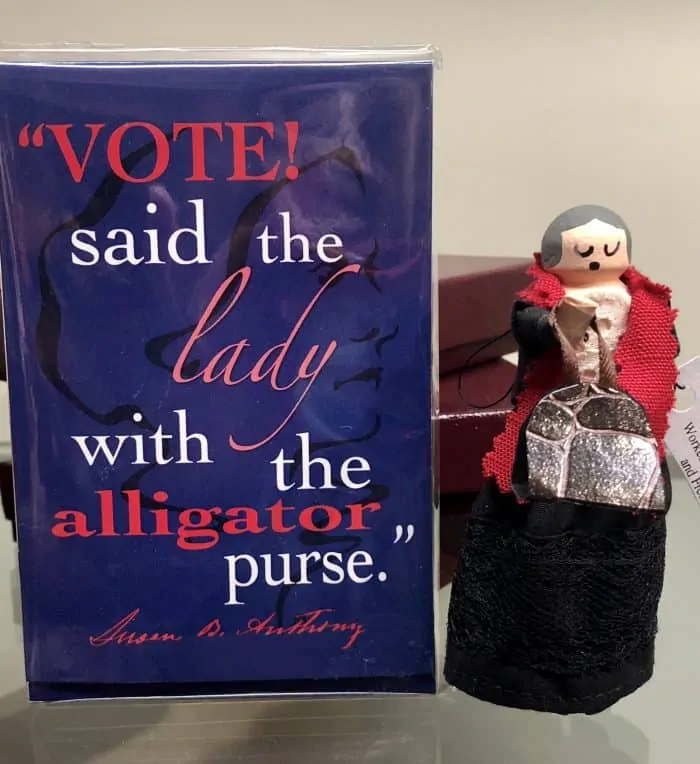 Anthony was quite the clotheshorse and when speaking, she always wore a well-tailored black outfit with a red shawl. It was said that the shawl was such a beloved trademark that when she stepped up on stage without it one day the newsmen ribbed her that they would not file their stories unless she wore it.
I was amazed to read a quote from her diary, dated 1853, about a woman's lack of power and independence being tied to their lack of money that could have been written today. Called "A Purse of Her Own" Anthony wrote,
"Woman must have a purse of her own, & how can this be, so long as the wife is denied the right to her individual and joint earnings. Reflections like these, caused me to see and really feel that there was no true freedom for woman without the possession of all her property rights… This demand must be made by Petitions to the Legislature…"
– Susan B. Anthony Diary November, 1853
Inside Tip:

Call in advance to arrange for an hour-long docent tour where you'll learn much more about her roles as an activist, abolitionist, suffragist, temperance worker, and campaigner.
Genesee Country Village and Museum
Although I often have found living museums to be a bit on the hokey side, I promise you that history really does come alive at the Genesee Country Village and Museum. You can easily spend a day roaming around this historic 19th-century village where authentically costumed interpreters share stories about their daily life. There are 68 buildings for you to visit including a blacksmith, candy store, tin shop, and even a working brewery.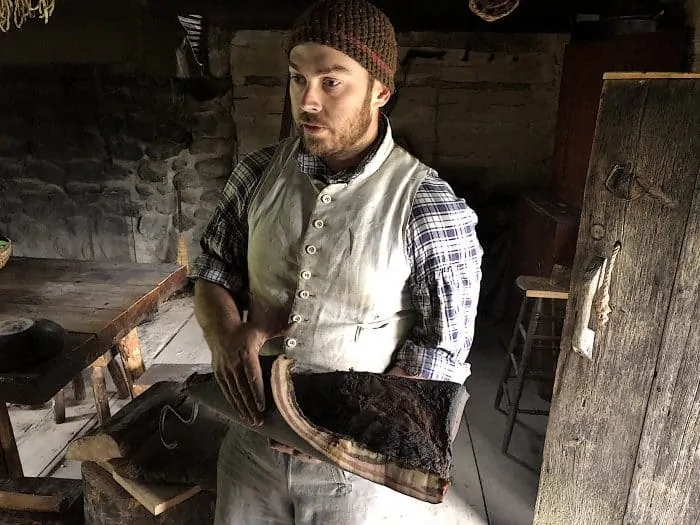 I was completely mesmerized by Matt, who works with the farm animals, as well as doing some carpentry, tool making, and has mastered about 50 other early American life skills. When I asked, in awe, if he could survive in the wilderness, he replied, "Absolutely, as could my wife and daughters (whom they home school). For her birthday, my daughter (I think he said she was about 8 yrs old) asked for a baby anvil so she could do blacksmithing with me."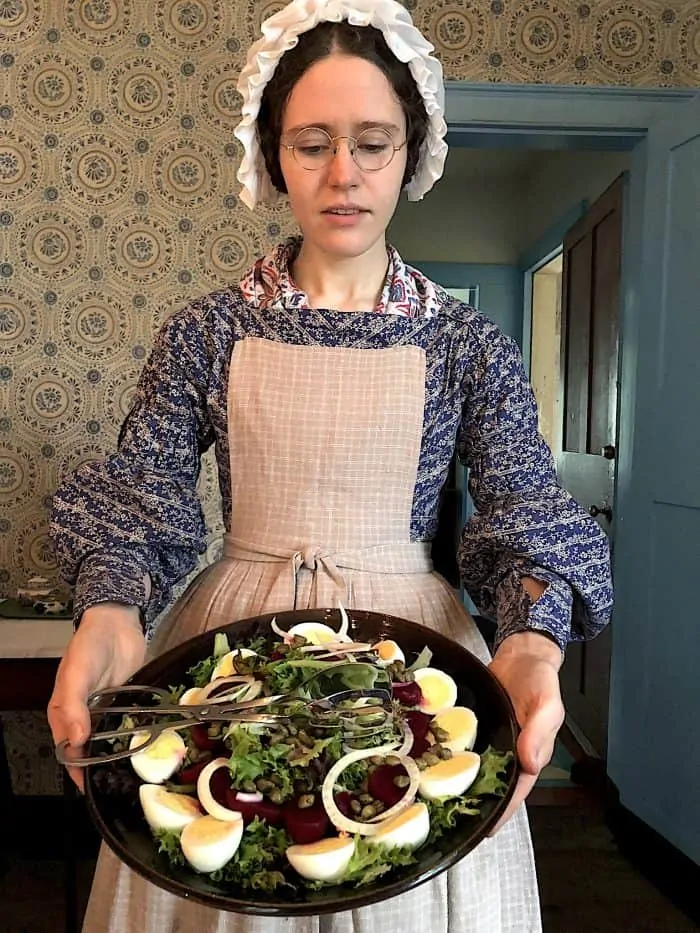 Inside Tip:

For a truly memorable experience, book a cooking class or dinner here where knowledgeable culinary interpreters follow 19th-century receipts (recipes) using traditional ingredients and cooking methods to create a sumptuous, blast-from-the-past meal.
ARTISAN Works
If Willy Wonka wanted to expand into the world of art this might be what it would look like. While humongous, this too-cool-for-school renovated factory turned art space is still jammed to the rafters (literally, since there are hundreds of paintings and sculptures hanging from the ceilings) with wildly eclectic works of art by local artists on a not-for-profit basis.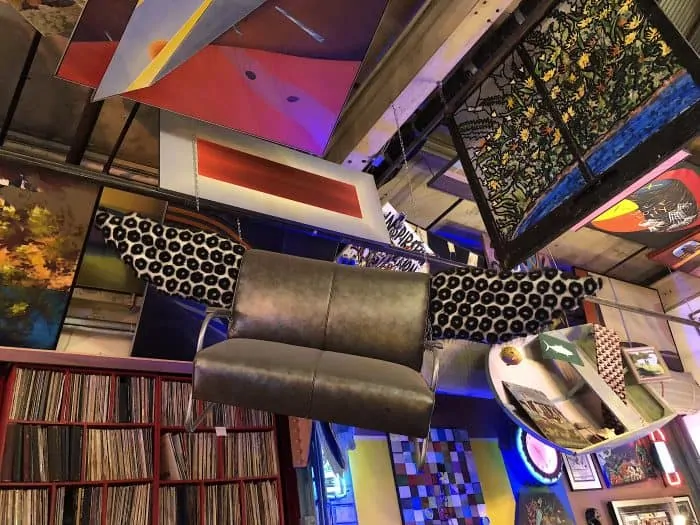 You can't help but get lost as you wander through this 40,000 square foot renovated factory which is home to nearly 500,000 pieces, of artwork, antiques and automobiles, but keep an eye out for one of the artists in residence, who might be working on their next masterpiece.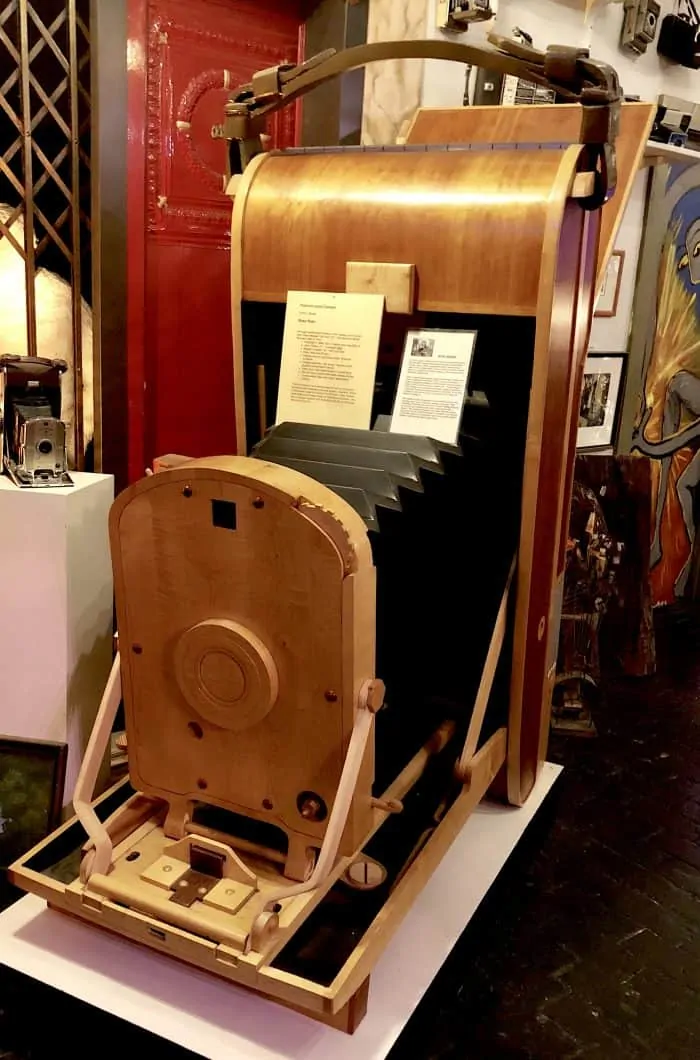 One of their more prolific local artists, Ross Rider, a retired Kodak employee, painstakingly carves massive wood sculptures of everyday objects such as a Zippo lighter or electric plug and socket. His most recent showstopper is a life-size Model A Ford complete with intricate wooden nuts, bolts, steering wheel and fenders.
One of their more prolific local artists, Ross Rider, a retired Kodak employee, painstakingly carves massive wood sculptures of everyday objects such as a Zippo lighter or electric plug and socket.
Erie Canal Cruise on the Sam Patch
You'll need rezzies before boarding the Sam Patch<, a replica of an 1880's packet boat, for the 90-minute cruise along the legendary Erie Canal, departing daily from charming Pittsford Village. During the narrated ride, you'll learn how these of the waterways played an important role throughout Rochester's history, and enjoy the unique experience of navigating through a century old, Lock 32, which is like a water elevator.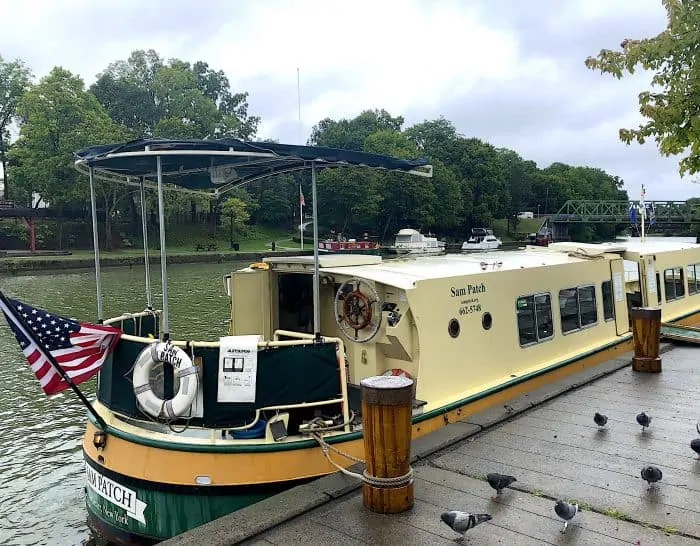 Inside Tip:

Sam Patch offers several specialty cruises with various themes such as wine tasting, river romance, sunset yoga and even a 4th of July fireworks cruise.
Wegmans Food Markets — a family-owned, billion-dollar empire
I can't believe I'm including a grocery store in my list of must-sees, but in Rochester, Wegmans' legion of fans, aka Wegmaniacs, are more loyal than Oprah's. After pooh-poohing our trip to the store, I admit that after my visit I was totally hooked and am seriously contemplating moving East (all 97 stores, with approx 50,000 employees, are clustered in six East coast states) for the privilege of shopping in one.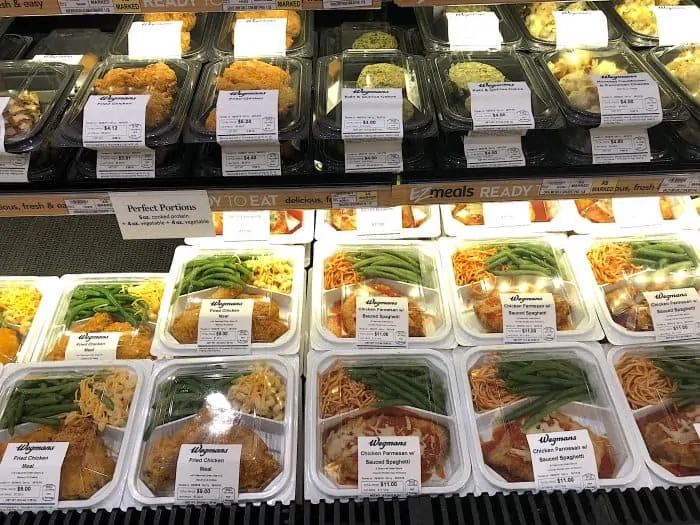 Weighing in at approximately 135,000 sq ft, these monstrous lovelies are lined with every conceivable variety of meat, produce, dairy, and baked goods arranged by special departments, such as Patisserie, Kosher Deli, Burger Bar, Old-fashioned Sub Shop, etc. all appealingly arranged like a European open-air market.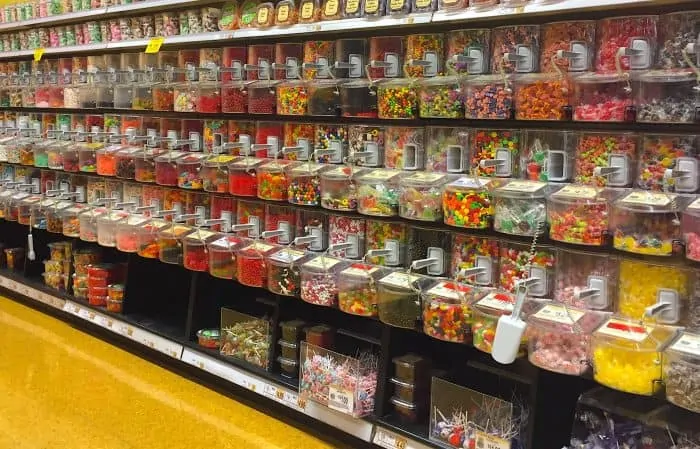 Insider Tip:

You'll eat good and feel good shopping here since they generously support many charitable programs that reduce hunger. Last year, Wegmans donated about 14.5 million pounds of food to local food banks and programs that feed the hungry.
Rochester Farmers Market
For over 100 years Rochester's beloved, City-run Public Market has provided residents with quality farm fresh produce at incredibly low prices. When I asked, my eyes buggin' in disbelief, if those gorgeous tomatoes I was pointing at were really only $1.00/lb, the vendor replied, "Oh, sorry for the confusion. Actually, they are a buck for the whole basket!!!"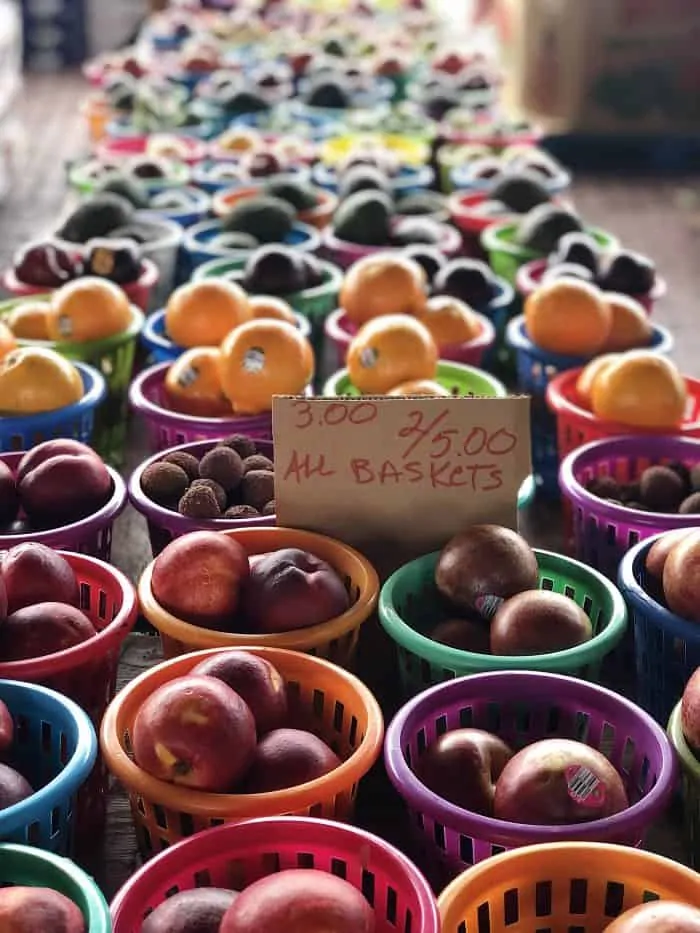 Open Tuesday, Thursday and Saturday, year-round, it's by far the busiest, and most fun, on a Saturday morning, when it's packed with about 300 vendors selling seasonal fruits and veggies; fresh meats and seafood; dairy products; interesting ethnic delicacies, etc. Don't leave without sampling the tasty empanadas at Juan and Maria's and Hanzlian's flavorful sausages. Sadly I couldn't fit in one of Brubaker's apple dumplings ($2 for two large dumplings) which are supposedly scrumptious.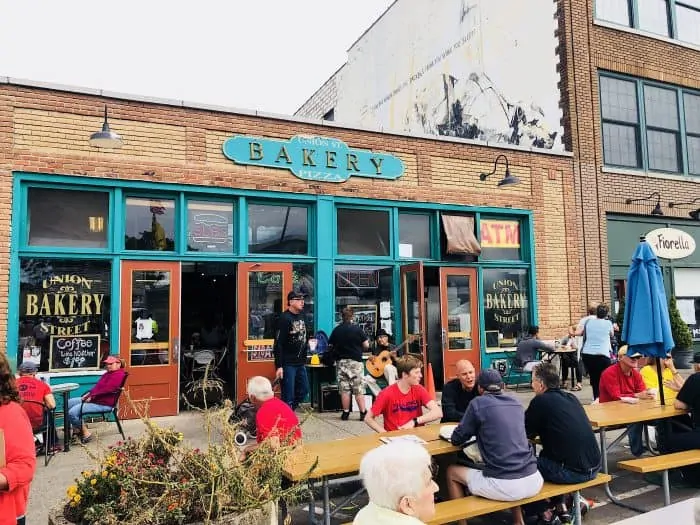 The perimeter of the market is lined with indie eateries (casual cafes, bakeries and trendy coffee shops) packed with shoppers fueling up on signature breakfasts before hitting the stalls.
Inside Tip:

If you've worked up a thirst after all that shopping, Genesee Brew House has you covered. Housed in a century-old packaging center, The Genesee Brewery is one of the largest and oldest continually operating breweries in America. Free tours are offered hourly, showcasing their Pilot Brewery which contains Newlands steam-fired 20-barrel brewing system. This small batch system allows the brewers to create some exciting experimental beers for your sipping pleasure, such as their winning Pilot Batch: Bourbon Barrel-Aged Stout. The tour ends at the tasting bar which features a flight of four beers for $4. Afterward, head upstairs to the restaurant & bar, which features 16 changing beers on tap.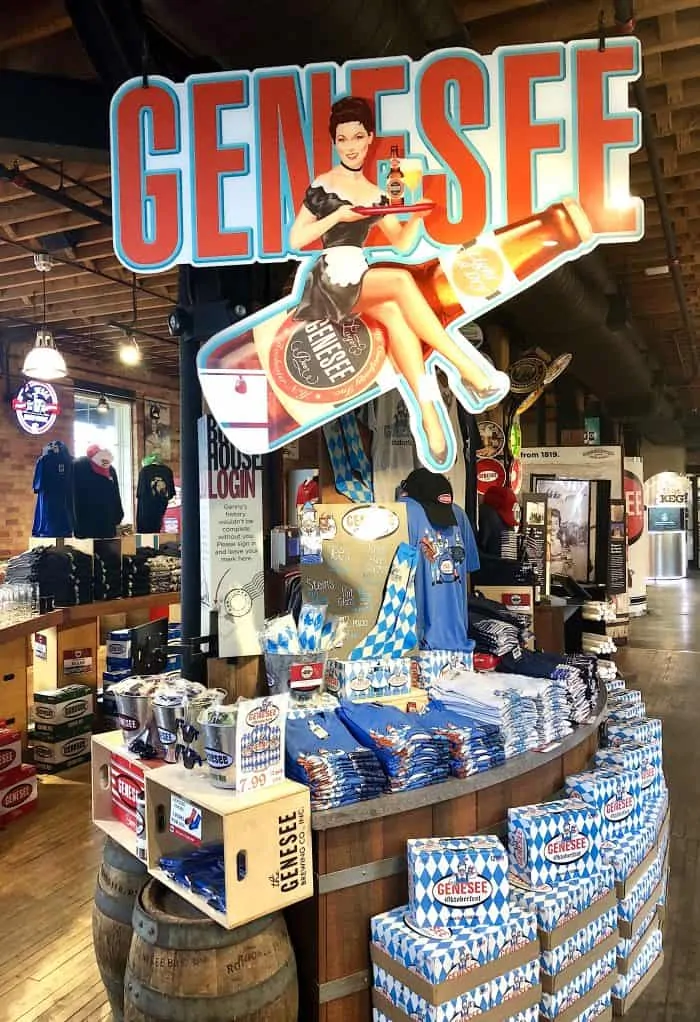 I loved their IPA with an order of Bavarian Pretzels dipped in beer cheese sauce but I honestly think you have to be born here to appreciate their "Garbage Plate", Rochester's signature dish, It's a conglomeration of macaroni salad, beans, tater tots, onions, mustard and ketchup, topped with your choice of protein (the locals prefer cheeseburgers or hot dogs) liberally doused with a meaty hot sauce!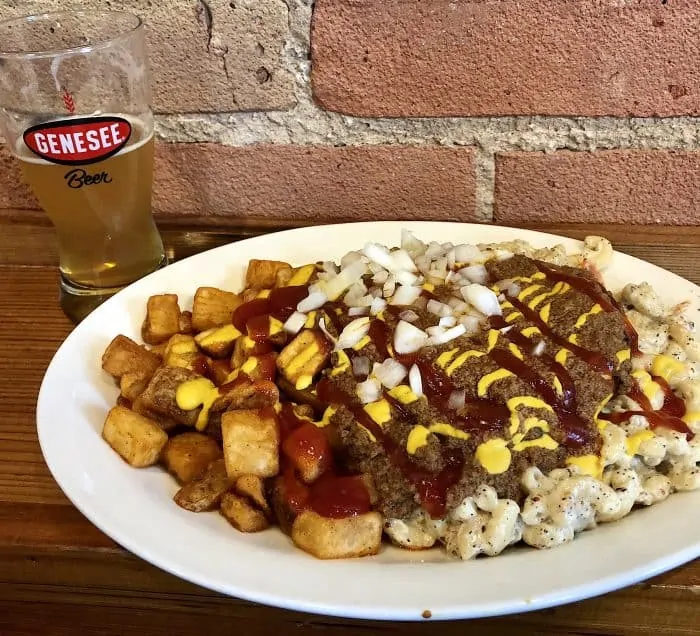 I can't say if it paired particularly well with my mug of "Genny" but it certainly helped wash it down.