Attending the San Francisco Film Festival is always an enjoyable experience, but the opportunity to discover talented new directors and writers is a separate delight and education. How child survivors cope with the trauma of family violence is as relevant today as ever, and makes for a wrenching but beautiful film, set in a blue-collar neighborhood in New York. Night Comes On had its world premiere at the Sundance Film Festival earlier this year.
Director and screenwriter Jordana Spiro and co-screenwriter Angelica Nwandu met while volunteering for a foster youth organization. Nwandu knew about the trauma of family violence from first-hand experience, and Spiro had a clear vision as well as the expertise to get the film made. Producers are Danielle Renfrew Behrens and Alvaro R. Valente. The generosity of a dozen associate producers and executive producers made this indie film possible.
Tatum Marilyn Hall shines as 10 year old Abby Lamere, who waits in foster care for her sister Angel to serve a year in juvenile detention. Abby is bright and full of bouncing energy, eager to make friends and able to do so effortlessly. Like many children from broken homes, Abby learns how to be as part of her survival skills – brutally honest with her sister, but filled with charming trivia when in the presence of classmates or potential new friends on public transit. She flows between little girl and semi-tough preteen with uncanny ease. Spiro found her after interviewing 737 other youngsters.
Dominique Fishback as Angel Lamere appears in almost every scene; her performance is deeply affecting in dialogue, body movement and in her silences. After seeing her father kill her mother, suffering through foster care and winding up in juvenile detention, she has learned to put up walls. In a conversation with her parole officer, whom she is meeting for the first time, you witness Angel's stubbornness and her determination.
James McDaniel (known for tv series NYPD Blue, The Good Wife, Madam Secretary, and Detroit 1-8-7) gives a strong performance as the parole officer who knows he has to break through her reserve if he is to help her save herself. He challenges Angel by demanding three goals from her. Of course, she can't tell him she only has one goal – to find and kill her father. They spar with words and emotions. And Angel receives an address from him, so she can find her baby sister.
Aging out of foster care, Angel is left on her own. Except for reporting to her parole officer, she has to figure out where to go and how to get there by herself. This is not an uncommon situation, and remains a national scandal. A friend from juvenile detention is surprised to see her, and has no place for her to stay. Angel slips into an apartment building behind a careless tenant and sleeps on the lobby floor until sunrise.
When Angel finds her sister Abby in a foster home the next day, their reunion is multi-layered. What is unspoken is just as powerful as the words they use to re-establish contact. They dine in a café as Abby chats nonstop while Angel takes in their surroundings in silence. Desperate to keep her sister with her this time, Abby stalls on providing an address for their father. And so the re-united siblings go on an adventure, each with a secret goal in mind. For Abby, the desire is to have a family again.
With subtlety and beautiful cinematography by Hatuey Viveros Lavielle, director Jordana Spiro takes us into a world where life is filled with unexpected moments.
With subtlety and beautiful cinematography by Hatuey Viveros Lavielle, director Jordana Spiro takes us into a world where life is filled with unexpected moments. Angel passes a mosque and sees a woman walking in a lovely red chador. She knocks on a door by appointment and enters a nice-looking home to talk to someone's father; he is willing to sell a gun to a minor. When the girls finally reach the ocean, they both remember what it is like to play. Taking off their outer garments, they splash in the gorgeous waves and cleanse themselves of their burdens. Their mother had loved the ocean.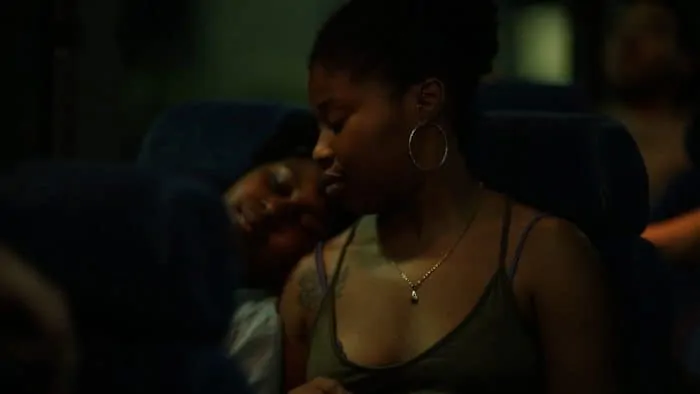 Angel has important decisions to make. Is vengeance to be her only goal? What about the hope in her baby sister's wide dark eyes, hope for a family life? And those pesky calls from her parole officer that she keeps ignoring? Memories of their mother are influential here.
What do they remember about their mother? She loved the ocean, but she loved city living more, loved being around people. She said to her daughters, "anybody can see a sunset, but it takes a motivated person to see the sun rise."
This film has both somber and tender moments. It is a fine directorial debut for Spiro and an acting triumph for Dominque Fishback and Tatum Marilyn Hall.