It's happening again. David Lynch has revealed the lineup for the next Festival of Disruption. Read on for the details here on Stark Insider. And don't forget: keep your eye on the donut not on the hole.
Famed filmmaker Francis Ford Coppola and actress Amber Tamblyn are among those appearing on stage for talks and screenings at the fourth edition of Festival of Disruption.
David Lynch will, one again, also make an appearance as he has in the past. The event is scheduled for to run over the weekend October 13-14, 2018 at The Theatre at Ace Hotel in L.A.
In addition to on-stage discussions the lineup includes music, art exhibitions, meditation and, likely, a surprise or two.
Others scheduled to appear in conversation on stage include Grace Jones, Carrie Brownstein, and Barry Gifford. See full schedule below.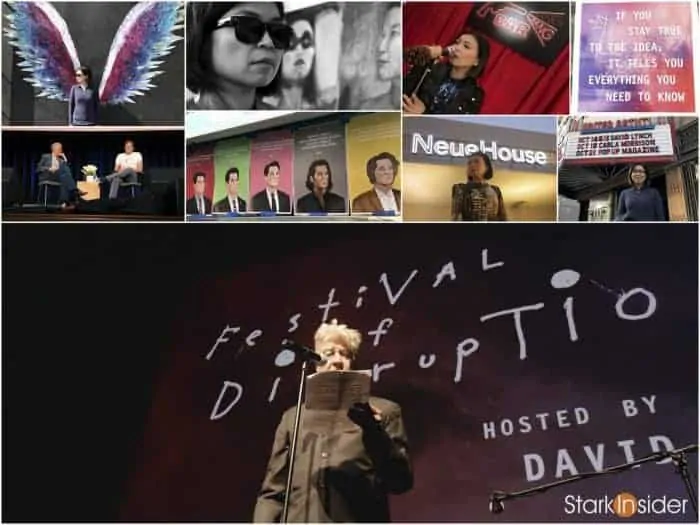 It looks like Lynch as established a rhythm with his successful mashup of film, music and art. October is hosted in Los Angeles, and in May it's hosted in Brooklyn. This is a great way to reach fans and provide an opportunity for those not based along the West Coast to still get a glimpse of some of their favorite Lynch actors, and collaborators.
David Lynch has a busy few years. In 2017, Showtime aired the highly successful "season 3" of the famed Twin Peaks show. Twin Peaks: The Return was met with universal accolades, eschewing the traditional episodic formula for what Lynch and co-writer Mark Frost describe as an 18-hour movie.
And just this week the Eraserhead and Mulholland Drive director has a new book due out. Room to Dream, co-written by author Kristine McKenna, offers up an "unprecedented look into the personal and creative life of the visionary auteur David Lynch, through his own words and those of his closest colleagues, friends, and family."
FESTIVAL OF DISRUPTION

Curated by David Lynch
October 13-14, 2018
The Theatre at Ace Hotel, Los Angeles

SUMMARY

The weekend unites David Lynch's like-minded creatives across disciplines and genres for an immersive lineup of musical and artistic performances, talks, screenings, art exhibits, meditation sessions, and a few surprises. All with the goal of raising consciousness and funds for the David Lynch Foundation.

LIVE SCORE

RZA: Live from the 36th Chamber

TALKS AND SCREENINGS

David Lynch Q&A with Coffee and Donuts
Francis Ford Coppola and Jack
Grace Jones and Bloodlight and Bami
Carrie Brownstein
Barry Gifford and Wild At Heart


Amber Tamblyn reads Dark Spakler

MUSIC

Dover Quartet plays Twin Peaks, Dylan Carlson, Justin Johnson, Jeff Goldblym and The Mildred Snitzer Orchestra, Mike Patton and DJ QBert, Richard Reed Parry, Saint Motel (DJ), Vic Mensa

SOUNDBATH

Liminal with Jōnsi (of Sigur Rōs), Alex Somers  and Paul Corley

EXHIBITS

David Lynch
Christian Louboutin
David O'Reilly

ON MEDITATION

Dr. Norman Rosenthal
David Lynch Foundation
Koyaanisqatsi
Meanwhile, to get an idea of what to expect at the Festival of Disruption you can check out the video below as Loni Stark heads to Los Angeles. Rabbit hole. Down we go.
WATCH: Inside David Lynch's Festival of Disruption
Tickets go on sale Wednesday.