The women of The Color Purple have unimaginably hard lives. They're subject to an unrelenting series of rape, abuse, and racism. The musical (currently on tour to the SHN Orpheum) is touching and uplifting in spite of that, because it's the story of how they overcome all those forces to make lives for themselves – lives filled with love, laughter, forgiveness and color.
Director John Doyle makes much of a sparse set. Chairs hang on wooden panels in at the back of the stage. The cast grabs them to use as farming implements, building material, and even the bars of a jail cell. There are few other props, and the costumes (by Ann Hould-Ward) are drab until Shug Avery brings color into Celie's world (in the form of a swoon-inducing pink flapper dress) and Celie spreads that color (by making fabulous, bright trousers). The understated set and outfits keep the focus where it belongs – on the incredible cast.
In The Color Purple, the men are background characters and the women are the stars. And these women pack a heck of a lot of star power. The first big showstopper comes from Sofia (Carrie Compere), who brings thunderous sound, jaw-dropping riffs, and spot-on facial expressions to "Hell No," a defiant rejection of abuse.  Shug Avery (Carla R. Stewart) wows twice in a row, showing off honey-sweet tone in "Too Beautiful for Words" and switching to a gravelly belt for the raucous, sexy "Push da Button."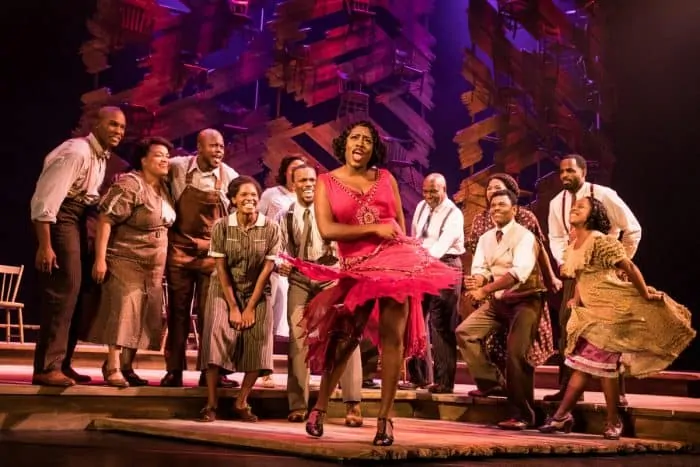 The central character, Celie (Adrianna Hicks), didn't win me over at first. Her voice was feathery and nasal, and her character passive. Only in retrospect did I recognize her brilliance: that starting point enabled her to transform herself vocally and physically over the course of the show. Her airy voice became a piercing belt with stratospheric high notes that brought down the house in "I'm here." As Celie pursued her passions, her listless expressions gave way to infectious smiles. She really went from plain to gorgeous over the course of the musical.
A parental advisory is probably in order: this is not a musical for the youngest tykes. The scenes of abuse and heartbreak are difficult to handle, and some very suggestive numbers (hilariously choreographed) may have parents wanting to cover their children's eyes. For those mature enough for it, The Color Purple has strong messages: Women can thrive without men. Find happiness where you can, even if society may not approve. Don't give up on the people you love no matter how far away they are.
In The Color Purple, the men are background characters and the women are the stars. And these women pack a heck of a lot of star power.
During curtain call, I noticed a catch in my throat and tears of joy on my cheeks. It made me less self-conscious to observe that the people next to me were also furtively wiping their eyes. The Color Purple is just that kind of show.
Photo credit: Matthew Murphy
The Color Purple
SHN Orpheum Theatre, San Francisco
5/5