Ilana Walder-Biesanz reviews Vietgone, American Conservatory Theater's (A.C.T.) latest production, now playing at The Strand in San Francisco.
Humor is not what you'd expect from a play about the Vietnam War, but Qui Nguyen's Vietgone consistently had the whole audience in stitches. Inspired by his own family history ("Any resemblance to real persons, living or dead, is purely coincidental. That especially goes for any person or persons who could be related to the playwright. Specifically, his parents. Who this play is absolutely not about"), Nguyen tells a love story between Tong and Quang, two sharp, attractive, sex-hungry people who end up in the same refugee camp.
The pilot Quang (James Seol, with Top Gun-worthy looks and swagger in his younger incarnation and the conspiratorial grin of a beloved grandparent in his old age) escapes Saigon with his goofy and loyal buddy Nhan (earnestly portrayed by Stephen Hu) and a planeload of refugees. He plans to return immediately for his wife and children, but his helicopter is pushed overboard to make way for new arrivals. When he arrives at the refugee camp in Fort Chaffee, Arkansas, he meets Tong (played by Jenelle Chu as a fierce, spunky modern woman) and her grumbling, meddling mother Huong (the hilarious Cindy Im). Tong and Quang hit it off – and get into bed together – immediately, but there are complications. Quang is on a mission to get back to Vietnam to rejoin his family, and Tong has an American suitor, Bobby (Jomar Tagatac, bumbling and sincere), and an almost-fiancé Giai (also Jomar Tagatac, pathetic and desparate).
The humor of the characters and their interactions is heightened by the play's approach to language, which naturalizes Vietnamese and others English.
The humor of the characters and their interactions is heightened by the play's approach to language, which naturalizes Vietnamese and others English. When young Vietnamese characters speak their own language, it's rendered in contemporary vernacular ("Yo, what's up, white people?"). The American attempting to speak Vietnamese sounds muddled and foreign, always finding the wrong words ("Seeing you for original time was love in eyeballs original"). Americans speaking English are incomprehensible streams of clichés: "bacon cheeseburger McDonald's" or the soothingly delivered "fuck a duck, yellow fellow." Only when we fast-forward to 2015 does Quang speak in imperfect, accented English (to convey that this conversation is actually taking place in English, not Vietnamese, and to contrast with his son the playwright's native grasp of the language).
The play's direction mixes realism with stylistic flair. In Brian Sidney Bembridge's multi-purpose sets, a metal bridge doubles as a guard tower and helicopter, and a wooden wall serves as both the interior of the refugee camp dorms and the exterior of a small-town Arkansas home. Playfully animated projections let us know when and where each scene is taking place. Director Jaime Castañeda has fun with surreal sequences, such as the montage of Tong's and Quang's romance that whirls through reenactments of famous movie scenes and the slow-motion fight sequences (choreographed by Jonathan Rider) featuring ninja backup for the villain and an impressive knife catch by our hero Quang.
The only element of the show that didn't convince me were the rap sequences that Quang and Tong delivered about their situation. (The music, new for this production, is by Shammy Dee.) The words were deftly arranged and well spoken (and on the rare occasions when melody crept in, Jenelle Chu proved to have a lovely belt voice), but I was always impatient for the raps to end. Nguyen's snappy dialogue was more compelling.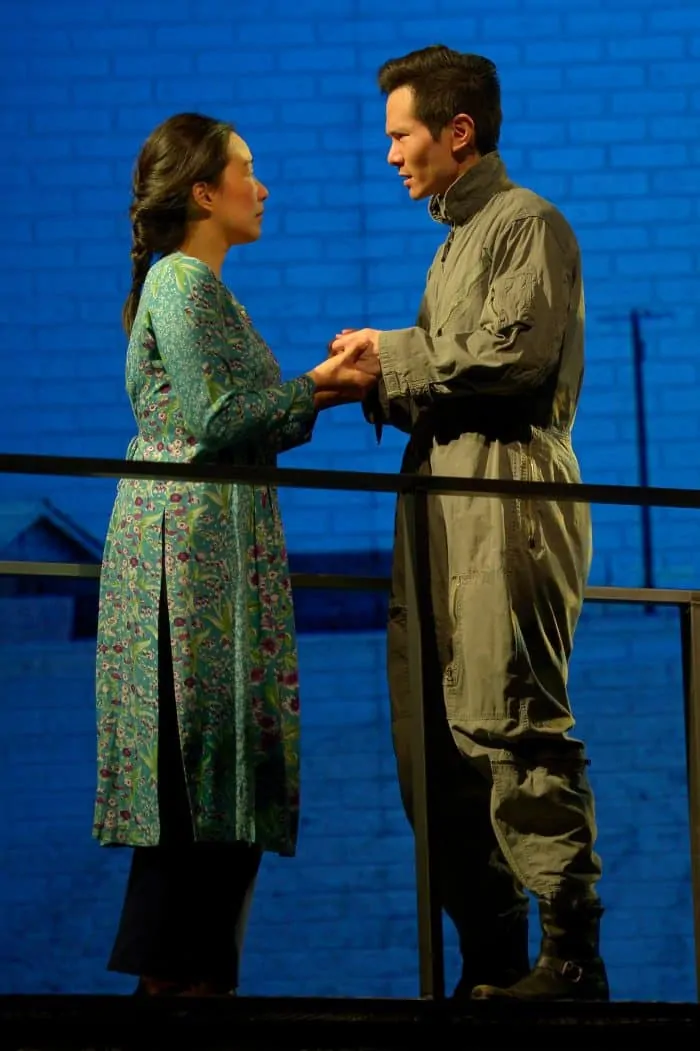 In the final, meta-theatrical scene of the show, Quang tells embarrassing stories of his son's childhood (which his son insists will not appear in his play). When his son tries to focus Quang on tales of the Vietnam War, Quang insists that they are "too sad for an old man like me to recount to help you write just another war story." Vietgone is far from "just another war story." It has sad and serious moments, as characters struggle with uncertainty about the fates of those they've left behind and the impossibility of returning to their homes. But its refugee protagonists are also badass heroes—and great fun to spend the evening with.
Vietgone
American Conservatory Theater (A.C.T.), The Strand, San Francisco
4.5 / 5
Photos by Kevin Berne