Pebble Beach Food & Wine is just weeks away. The 11th edition of the famed epicurean event features just about anything an avid foodie, oenophile or wanderlust seeker could ever dream of.
The four day experience at Pebble Beach Resorts boasts "interactive cooking demonstrations, rare wine tastings, epic culinary collaborations, musical performances, intimate dinners, outdoor grilling and taco events, and the most luxurious Lexus Grand Tasting tent in the country."
WATCH: Behind the Scenes at Pebble Beach Food & Wine with Chef Graham Elliot and Stark Insider's Loni Stark
Organizers say this year's PBFW has expanded musical offerings with performances by Allen Stone And Citizen Cope at the NoMad Supper Club series.
See below for all the details.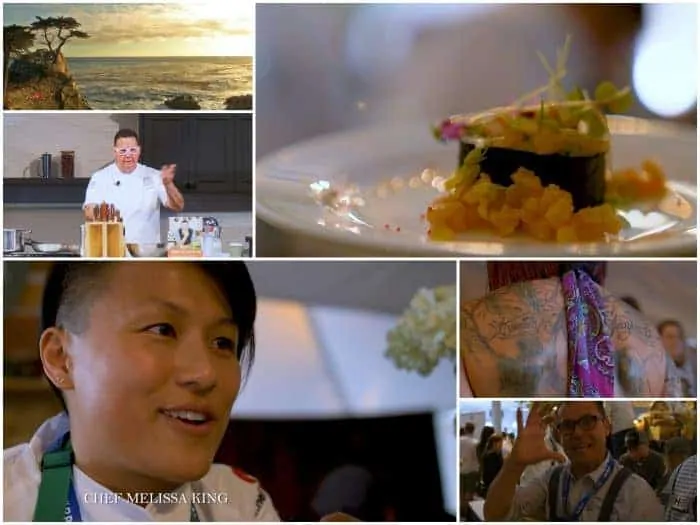 Once again Pebble Beach Food & Wine is scheduled to take place along the stunning California coastline at the Pebble Beach Resorts — within the vicinity of the famed 17-mile drive.
Among some of the chefs in attendance this year: Daniel Boulud, Fatima Ali, Alex Guarnaschelli, Jeremiah Tower, Naomi Pomeroy, Ludo Lefebvre, Angie Mar, John Tesar, Valerie Gordon, Elizabeth Falkner, Richard Reddington, Ravi Kapur, Matthew Accarrino, Chris Flint, Bruce Kalman, Peter Armellino, Alvin Cailan, Abram Bissell, Roland Passot, and Kyle Connaughton, amongst many others.
Stark Insider hopes to see you at Pebble Beach Food & Wine!
Pebble Beach Food & Wine

April 5-8, 2018

Pebble Beach Resorts

Tickets: $125 to $7,500 for all-inclusive four day pass

Lunches & Dinners

Lexus Chef's Table Lunch – A Cut Above: Lexus Culinary Masters Angie Mar and Naomi Pomeroy rose through the culinary ranks on very different paths successfully carving their own space in the industry. Food lovers flock en masse to their respective acclaimed restaurants, The Beatrice Inn in New York and Beast in Portland. Lexus invites guests to celebrate these two powerful female chefs over a protein-centric meal that is sure to amaze in both taste and presentation. Wine pairings curated by Lexus Master Sommelier Carlton McCoy. Date: Friday, April 6, 2018 from Noon-2:30 p.m.

Aloha! Historic Hawaiian Cuisine: Chef Roy Yamaguchi (Roy's) plays host to three of the best practitioners of the historically correct Hawaiian fare. With each new group of ethnically diverse settlers Hawaiian cuisine morphed throughout its history. San Francisco Chefs Ravi Kapur (Liholiho Yacht Club) and Chris Yang ('āina) join Chef Mike Lofaro and Hawaiian Historian Kainoa Horcajo from The Grand Wailea, Maui to cook up "Aloha Spirit" for the soul.Date: Friday, April 6 from Noon-2:30 p.m.

Single Thread Grower Champagne Dinner: Single Thread of Healdsburg, CA is one of only four restaurants in the U.S. to be awarded two Michelin Stars in its freshman year of business. Known for creating a dining experience that touches all the senses, Chef Kyle Connaughton and his wife Katina farm five acres of land to produce many of the delicious offerings they serve. Taste what everyone is buzzing about as Chef Connaughton comes together with champagne fanatic Santa Zamuele and an epic curation of bubbles and personalities, featuring special guest Rodolphe Peters of Champagne Pierre Peters along with wines from Vilmart, Chartogne Taillet, Legras & Haas, and Savart. Prepare for an evening filled with more than 20 grower champagnes! Date: Friday, April 6 from 6:30 p.m.-10:30 p.m.

NoMad Supper Club Featuring Allen Stone (Fri) and Citizen Cope (Sat): NoMad has become an icon in NYC and now recently opened NoMad Los Angeles is where La Dolce Vita and So-Cal cool meet. Chef Chris Flint and Mixologist Leo Robitchek are the collective geniuses behind this culinary event complete with a grand piano manned by none other than Citizen Cope who creates a soulful blend of folk-R & B with a laid back reggaefied beat and an occasional hip-hop flourish. On Friday night Allen Stone's uncompromisingly soulful music transcends all pop convention and will transport the evening's guests to a higher and more exalted plane. Date: Friday and Saturday, April 6 & 7 from 6:30 p.m.-10:30 p.m.

Dinner with Jeremiah Tower: Celebrating and American Icon with Mark Gaier & Clark Frasier: There are only a handful of people who can lay legitimate claim to having forged the world in which we dine today. Jeremiah Tower is one of them. Stars restaurant was the place seen and to be seen in San Francisco. It was like attending an elaborate play every evening. Jeremiah Tower was the mentor to many of today's culinary stars including Chefs Mark Gaier and Clark Fraisier who met one another while working at Stars and have been creating amazing restaurants together ever since. In this event, they will all reunite to create a historic and once-in-a-lifetime experience, dining with The Stars of Stars. Date: Saturday, April 7 from 6:30-10:30 p.m.

Wine Seminars

Domaine Coche-Dury, Liquid Gold: Domaine Coche-Dury is composed from nine hectares of vineyards on minuscule parcels over six communes: Meursault, Puligny-Montrachet, Auxey-Duresses, Monthelie, and Volnay. The most critical writers in wine have sung the praises of Coche resulting from the hard work of the Domaine: "This is one of the finest white wine domaines in the world." – Clive Coates. This event will present a full horizontal of these wines, one of the most sought after houses in the world. Date: Saturday, April 7 from 10 a.m.-11:15 a.m.

Mac n' Cheese – Wine and More Cheese: While everyone else may be waxing poetic about the provenance of the goat that produced the milk that became the cheese and what it ate for breakfast daily, Laura Werlin and Kent Torrey take an in-depth look at something we all know and love, the humble favorite – warm, creamy, dreamy Mac n' Cheese! Enjoy some of the creations straight out of Laura Werlin's popular book while Kent Torrey pours the best wine pairings for the elevated wine and cheese pairing. Date: Friday, April 6 from 3:30 p.m.-4:45 p.m. 

Chateau Haut-Brion Retrospective: Among the great wine estates in the history of the world, Haut-Brion is a distinguished 2,000-year-old vineyard and the first Estate to be mentioned by name in 1660. The oldest of the five First Growths to the Haut Medoc in Bordeaux, this exceptional estate bound as we know it today in 1549 by Jean de Pontac. The wines of Chateau Haut-Brion are sought after today for the exact pedigree that has captivated generations of artisans and aristocracy. This event will dive into a library tasting of outstanding vintages. Date: Friday, April 6 from 3:30 p.m.-4:45 p.m.

The Future is Female – The Next Generation of American Wine: A generation ago, few leading wineries in America had women at their helm. Today, the picture couldn't be more different. Female vintners are shaking up the industry, shaping the global wine conversation and crafting some of the best bottles around. Join San Francisco Chronicle Wine Critic Esther Mobley for a tasting and discussion with four women whose families built some of the West Coast's most renowned wineries, such as Ponzi Vineyard, Wayfarer, and Staglin Family – and who are now taking charge of their family businesses. Date: Saturday, April 7 from 10 a.m.-11:15 a.m.

Ray Isle Presents Wines That Changed the World (of Wine): This seminar with Food & Wine'sExecutive Wine Editor Ray Isle delves into wines of true significance that represented breakthroughs in winemaking technique, heralded the birth of new regions, or caught the cultural moment in a unique way. Groundbreaking producers include Egly Ouriet, Eyrie Vineyards, Williams Selyem, Clos Mogador, Stag's Leap Wine Cellars, and more. Date: Saturday, April 7 from 3:30 p.m.-4:45 p.m.

Cooking Demonstrations

Alexandra Guarnaschelli – The Home Cook: Recipes to Know by Heart: Energetic and highly skilled sprinkled with warmth and a touch of spice, Chef Alex Guarnaschelli returns to Pebble Beach Food & Wine to demonstrate how she became one of the Iron Chefs. Her book, "The Home Cook: Recipes to Know by Heart" should be required reading for anyone looking for love on a plate.  Date: Friday, April 6 from 3:30 p.m.-4:45 p.m.

The French Connection with Chef Daniel Boulud and Ludo Lefebvre: Lexus brings together two world-renowned chefs of French heritage, Lexus Culinary Master Daniel Boulud and Chef Ludo Lefebvre, for a refined take on classic French comfort foods. Guests will watch these two culinary stars express their combined joie de vivre! Date: Saturday, April 7 from 10 a.m.-11:15 a.m.

America's Test Kitchen with Bridget & Julia: For nearly two decades, over two million viewers tune in weekly to watch Julia and Bridget on the critically acclaimed PBS show "America's Test Kitchen." Spend the morning learning the best way to do just about everything with these two culinary mavens. Date: Sunday, April 8 from 10 a.m.-11:15 a.m.

Lexus Grand Tastings

The weekend's most spectacular tasting events. With more than 300 wines from world renowned producers to a "who's who" list of 30 top celebrity chefs offering exclusive tastes of their best dishes, the Grand Tasting events provide an intimate environment for guests to mingle with the very best chefs and winemakers in the world. Join Lexus for photo and book signing opportunities with many of the weekend's biggest and brightest names. Date: Saturday, April 7 from Noon-3 p.m., Sunday, April 8 from Noon-3 p.m.