Ava DeVernay's multi-million production of A Wrinkle in Time, from the classic children's novel by Madeleine L'Engle, has succeeded in bringing the beloved novel to life. The book (in great detail) and film (less detail) depict three brave youngsters who go on a great adventure, armed only with love and faith in themselves.
My chiropractor was excited when I mentioned that I was reviewing A Wrinkle in Time this week, because years ago she had read the science fiction/fantasy novel by Madeleine L'Engle. The author's manuscript was rejected more than two dozen times before it went into print in 1962. Although the young adult novel won multiple prizes, the author and her book were criticized by conservative religious groups.
According to the Washington Post, L'Engle considered herself a Christian and she responded to her critics by saying "This is my psalm of praise to life, my stand for life against death." Before she died in 2007 at the age of 88, Madeleine L'Engle succeeded in adding conservative evangelicals to her many fans. Her granddaughter Charlotte Jones Voiklis has said her grandmother "preferred scientific metaphors, and scientists to theologians, because she understood that science is more open to revelation than religion." Her religious influences and quotations are largely absent from the film. However, a poem from Rumi and a quote from the Buddha are included.
The film gives us a closely knit family consisting of mother and father scientists with two remarkable children. Gugu Mbatha-Raw is marvelous as Kate Murray and her husband Alex is played by a charismatic Chris Pine. Kate thinks small (atoms) and husband Alex thinks big (universe). They suggest we can wrinkle the worlds of time and space, by using our minds to tap into the right frequency.
Meg Murray (talented newcomer Storm Reid) and her younger brother Charles Wallace (Deric McCabe) have suffered greatly since the strange disappearance of their brilliant father. When the children are visited by three other-worldly angels, young intuitive Charles Wallace persuades his sister and her classmate Calvin (Levi Miller) to go with them to find their father.
Mrs. Whatsit (Reese Witherspoon) drops in first, wrapped in white cloth layers, full of humor and dry wit. Mrs. Who (Mindy Kaling) comes along later, colorfully attired and quoting famous personages from human history. Most imposing of all is Mrs. Which (Oprah Winfrey), who guides and admonishes the younger angels in handling fragile humans as all six (human children and angels) literally fly between dimensions and planets. When the children ask who these otherworldly women are, the angels reply, "We are light warriors; we rescue; we guard."
As long as the viewer remembers this is an adventure seen through the eyes of children, the film works very well.
Given the budget from Disney Studios, there was no limit to special effects on the journey from a modest scientists' home in the United States to another planet and then the terrifying world where Evil waits. While a smaller screen and gentler sound effects would have been beneficial, nevertheless the glorious color arrangements coupled with dizzying movements through time and space are successful in conveying wonder and suspense. As long as the viewer remembers this is an adventure seen through the eyes of children, the film works very well.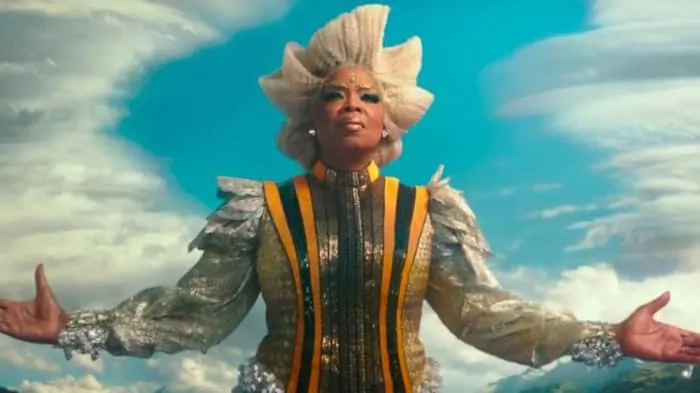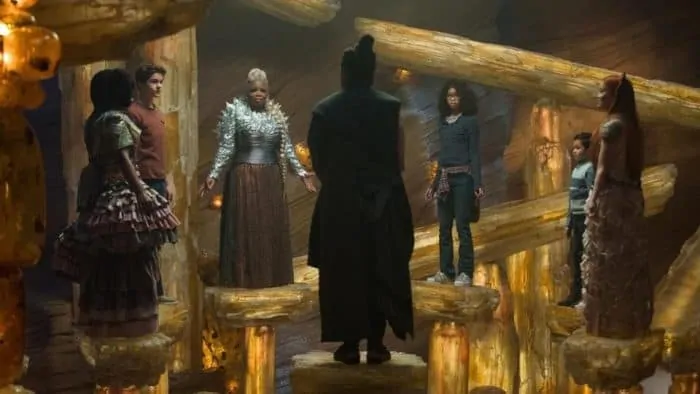 At one point visual deceptions designed to mislead the youthful humans remind one of colorful distractions in the acclaimed television series "The Prisoner" with Patrick McGoohan (1968), where he fights to maintain his hold on reality as his former employer seeks to disable his mind.
After great struggle and danger, there is a happy ending, one which brings tears to the eyes of the most sophisticated. The three "missus" remind the children, "Some of our best warriors have come from Earth, those who bring the best of themselves to the Light." Use your positive thoughts, Mrs. Which says.
Before the film starts, director Ava DeVernay speaks directly to the audience: "This is a love letter for people who are young at heart. Prepare to believe."
Is there a better message for today's world? See this film, and prepare to believe.