In 2013 filmsdefrance.com described director Cedric Klapisch as "an idiosyncratic auteur filmmaker with mainstream appeal" and a knack for pleasing both critics and audiences. His early commercial successes included Le Peril jeune (1994) and Un air de famille (1996). In 2003 he received the Lumiere award for best screenplay (The Spanish Apartment). Back to Burgundy from Music Box Films is his latest effort.
Framed by beautiful views of wine country in the south of France, Back to Burgundy (2017) is a sweet and engaging film about family love, loss and reconnecting. A widowed winemaker dies, and his oldest son Jean (Pio Marmai) returns to the family domain after a ten-year absence. His reception is mixed – joyous acceptance from his sister Juliette (Ana Girardot) and ambivalence from his younger brother Jeremie (Francois Civil).
After watching 'Back to Burgundy', you may wish to fly to Burgundy to find a farmhouse of your own.
So many decisions to make when a winemaker dies. Should Jean, Juliette and Jeremie try to run the domain themselves, or sell off some of the 17 grape varietal parcels to acquisitive neighbors, or simply sell the main house to those pesky Americans who all seem to want a home in the south of France? However, Inheritance taxes, family dynamics, in-law pressures on Jeremie, entreaties from Jean's companion in Australia – all take a back seat to the grapes.
Regardless of human conflicts and challenges during a period of grief and recrimination, the grapes must be attended almost daily – planting, irrigation, pruning, decisions about when to harvest, rushing samples to the lab in town, supervising the harvest workers, de-stemming, crushing, fermentation, clarification, aging and bottling. This is the life, and it is a glorious life, albeit a busy one. The time-lapse photography gives us breathtaking images for every season, thanks to Alexis Kavyrchine.
The grape varietals thrive under expert tutelage, even as Jean and Jeremie sometimes challenge business decisions made by Juliette. Very quiet and always her father's favorite, Juliette (luminous performance by Ana Girardot) tries to make peace between her brothers and to learn more about Jean, who was absent even when their mother died.
Heartwarming images and moments include seeing Jeremie and wife Oceane's (Yamee Couture) toddler son snuggled between his parents at night; the three adult siblings recalling childhood memories of racing through the family courtyard and climbing trees; little Juliette sitting in her father's lap as he puts her tiny hands on the wheel and teaches her to drive a tractor; Jean's joy at being reunited with his young son, born to Alicia in Australia; the three siblings as children being embraced fiercely by their mother when their collective mischief brings out their father's anger; and incredibly joyous celebrations after the harvest is in with owners and workers dancing and drinking and singing together.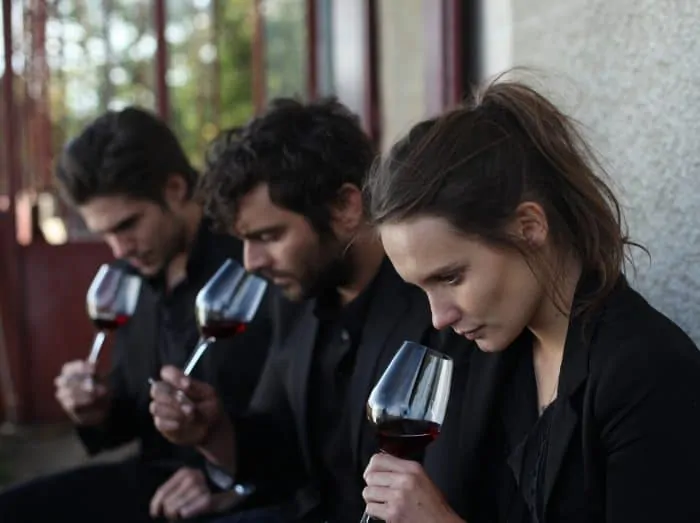 Jeremie and Jean laugh with glee during the post-harvest celebrations as they hear Juliette speaking; "she's dropping her consonants." After several glasses of wine, Juliette asks, "why do you need consonants?" And crushing the grapes is done the old-fashioned way – take off your shoes and trousers and jump in (but hold on to the sides of the barrel, please). During the harvest celebration at Jeremie's in-laws (much larger domain), Jeremie finally finds the courage to tell his father-in-law what he really thinks of him – well, almost.
Two moments in the film bring to mind the work of director Ingmar Bergman – Jean says a silent farewell to a ghost of his much younger self as he prepares for a journey. And in the other scene, Jean is putting his son to bed during the surprise visit from Alicia (Maria Valverde). As he looks up, he sees his father putting him to bed from 20 years earlier. Perhaps not subtle enough for some, but reassuring and uplifting for others.
After viewing this film, you may wish to fly to Burgundy to find a farmhouse of your own. But this one is not for sale.
Photos: Courtesy of Music Box Films