It was a memorable evening at SFJAZZ Center when Tony award-winning dancer Savion Glover joined with drummer Marcus Gilmore to celebrate rhythmicity and the amazing complexity of jazz. In a four-day residency, Glover worked first with Marcus Gilmore and on a later date with Jack DeJohnette.
An acknowledged jazz tap maestro, Savion Glover first performed at SFJAZZ (then called Jazz in the City) in 1989 at age 15. He made his Broadway debut at age 12 in The Tap Dance Kid. Achieving as an actor, teacher and choreographer, Glover has received three Tony nominations.
In celebrating its fifth birthday, SFJAZZ continues to offer musical gems.
A child prodigy like Glover, Marcus Gilmore is the grandson of iconic drummer Roy Haynes, whom Gilmore has described as "one of the original drummers creating the language [of the drum] for everybody." Gilmore was DownBeat magazine's 2012 Rising Star Drummer in its Critics Poll. He has performed with legendary pianist Chick Corea, with whom he recorded an album at age 25.
The Dance of the Drum residency began with nearly a full house. Stage setting was minimalist – a wooden platform for Glover, with two black speakers in parallel, and a trap set for the drummer. Wearing a brown two-toned Ivy cap, Gilmore faced in the direction of the dancer. A laptop on Gilmore's right completed the set, although he never glanced at it. Glover faced the drummer three-quarters of the time he danced, his movements communicating with Gilmore as much as with the audience.
Watchers were spellbound by the flashing white shoes and the seemingly effortless percussion. This longstanding duet was inspired, a blend of rehearsal and improvisation, with tapping soft and light, then rapid and forceful, syncopation, dancer dominant, then dancer deferring to the drummer. Just as you wondered how much longer Glover could keep up that breathtaking pace, the pace changed.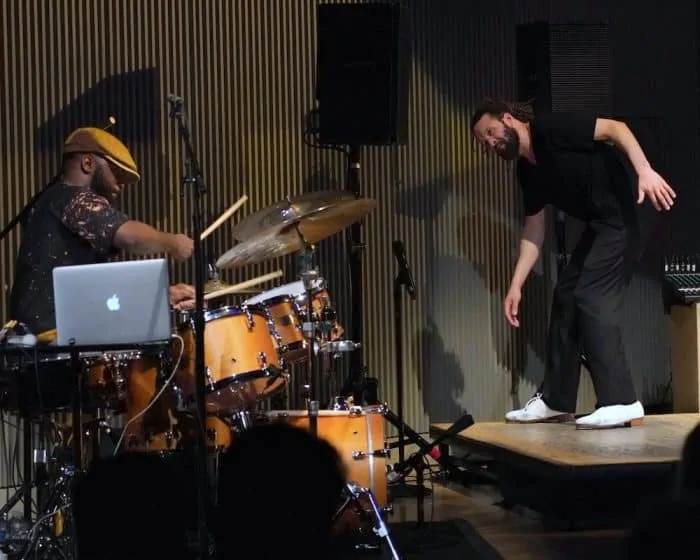 For Savion Glover, rhythm and melody converge. It has been said that Gilmore's ongoing work as part of Vijay Iyer's trio, blending rhythmic sophistication with contrasts in dynamics and texture, was the ultimate preparation for work with Glover.
The last two days of Glover's four-day residency paired him with 2012 NEA Jazz Master Jack DeJohnette, celebrated for his work with Miles Davis and Keith Jarrett. DeJohnette has been called "one of the finest living jazz drummers, a limber musical thinker and technical dynamo" by the Los Angeles Times.
January 2018 marks the fifth birthday of SFJAZZ Center. Founder Randall Kline has said:
"We conceived the Center as a community-gathering place for artists and audiences to come together in an environment that encourages engagement and dialogue ….

When that connection occurs we can be witness to something that moves us, something that makes us feel better for the experience – what I've heard described as a 'transcendent moment'."
And that is what we had in this brief but brilliant residency by Savion Glover.
In celebrating its fifth birthday, SFJAZZ continues to offer musical gems. Trumpet superstar Chris Botti is featured January 9th through 14th. Pianist and composer Vijay Iyer is featured with SFJAZZ for the entire season, paired first with Craig Taborn and Kris Davis in an evening of piano duets; then performing with his longstanding trio including Stephan Crump and Marcus Gilmore; and then augmenting his band with three horns (Graham Hayes on cornet, Steve Legham on alto saxophone and Mark Shim on tenor sax).
February 2nd through 4th, the Preservation Hall Jazz Band is featured at SFJAZZ; this band is known as "the heart and soul of New Orleans." February 14th and 15th SFJAZZ will feature drummer Jaz Sawyer and singer Tiffany Austin who team to perform music immortalized by Chick Webb and Ella Fitzgerald during their residency at New York's Savoy Ballroom in the late 1930s.
February 14th through 18th, SFJAZZ will present Leonard Bernstein's 1951 classic one-act opera, Trouble in Tahiti, collaborating with Opera Parallele to include Jake Heggie's 2005 work, At the Statue of Venus as a prequel.
And Oakland's own singer and harpist Destiny Muhammad will be featured at SFJAZZ playing "Celtic to Coltrane," March 9th. According to Examiner.com, "When one contemplates the great musicians of Jazz a list of harpists do not immediately come to mind, but that is destined to change with Sound Sculptress, Destiny Muhammad." Having heard her play a number of times at Grace Cathedral and at jazz clubs in the Fillmore, I could not agree more.