In this Stark Insider interview, writer-director Petra Volpe talks with Loni Stark about her new film The Divine Order and her research into the struggle for women to gain the right to vote in Switzerland.
In The Divine Order a young housewife refuses to do what the men traditionally expect of her. Instead, she rallies a group of strong-minded woman in a small Swiss town and petitions for their right to vote.
If it sounds familiar it's probably because you've seen similar stories play out across other countries in the 20th century — Suffragette (2015) starring Carey Mulligan likely the most recent, high profile example.
We learn about all these battles that brave Swiss fought on this mountain or that mountain against the Germans. But we don't learn how Swiss women fought for a hundred years for the right to vote.
However, this one is a little different in that in Switzerland (a direct democracy) were not granted the right to vote until 1971. Yes, that year, the one of the Bee Gees and The Osmonds and Carole King.
Director-writer Petra Volpe notes the irony in that. "It was extremely humiliating" she says, while we chatted about the film at the Mill Valley Film Festival. "There were very strong organizations who were still rooting against this. They said 'It's against the divine order. God doesn't want women to be in politics. God has created the world with clearly assigned roles and if we mix up that order it's the apocalypse."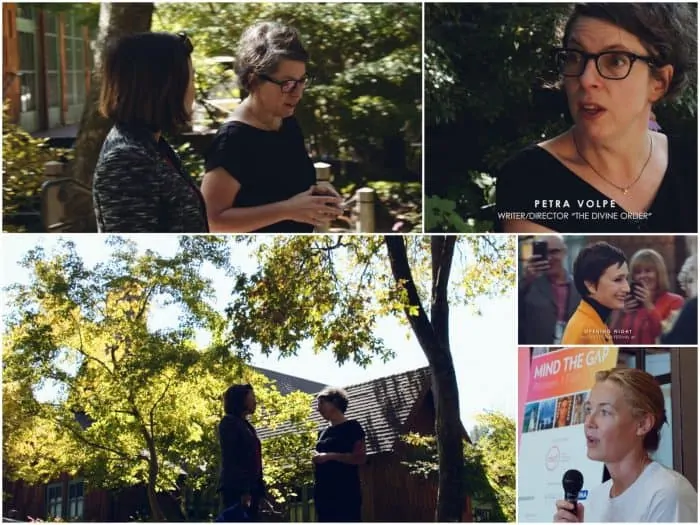 Although The Divine Order, marketed as a dramedy, is a fictionalized account, the inspiration draws from a real Swiss woman.
"When we had the idea to make a movie about the women's right to vote in Switzerland, that's a very conceptual idea. You don't have characters. You don't have a story. You don't have a perspective," Volpe says. " So I really opened myself up. I read a lot of American feminists. I read Betty Friedan, Marilyn French's novel 'The Women's Room.'"
Another interesting point: many of those who voted against their own spouses for the right to vote were, in fact, their own husbands. As you might guess it didn't exactly lead to domestic bliss.
… when I actually went to art school my parents were really scared and thought I'd end up under a bridge with a bottle of vodka.
Despite it's serious subject matter, Volpe, who earlier this day spoke at the MVFF Mind The Gap Summit (a day-long session focused on female filmmakers), tells the story with delightful charm, and isn't afraid to poke fun at women too, fusing plenty of laughs a long the way. One scene in particular involving a guru and an ode of sorts to the female anatomy and its personal uniqueness may cause alternating laughs and squirminess. Date night? Hmmm, have fun with that one.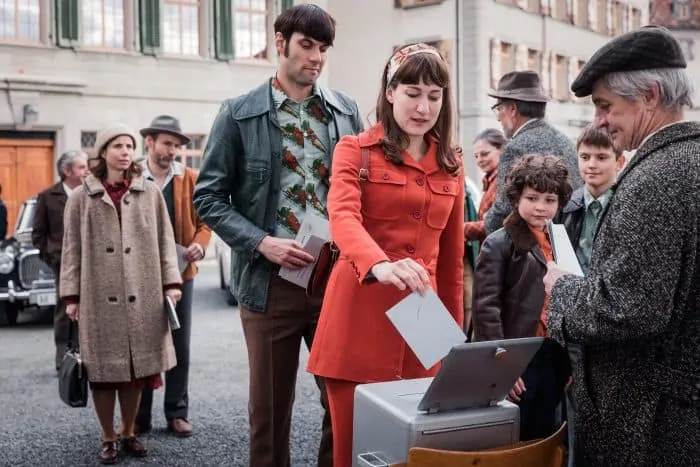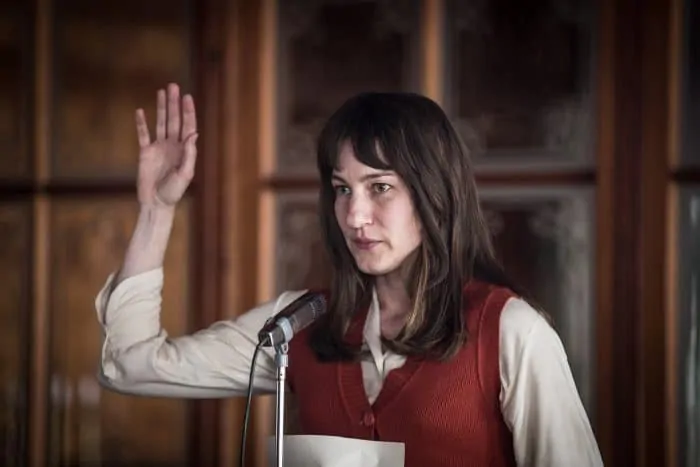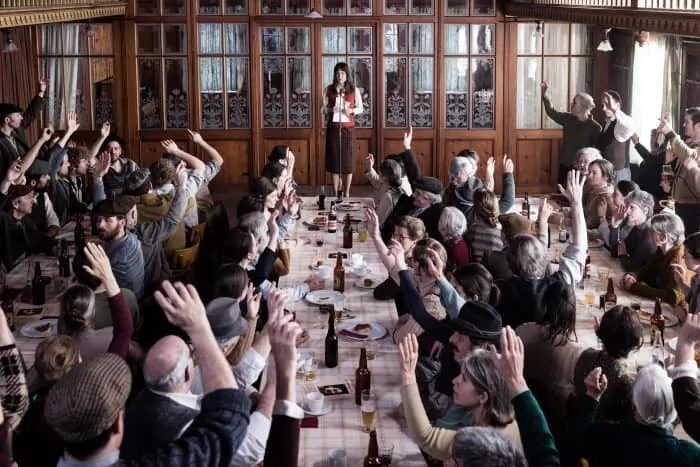 In this Stark Insider video interview we dive a little deeper and so it runs longer than most from the past. I wanted to ensure we had time to discuss not only suffrage and its impact on world history, but also touch on the creative process, and how someone like Petra Volpe was able to bring such an ambitious project to the big screen. Shot at MVFF40 in Mill Valley, California, you can check out our chat in the below video.
The Divine Order, which has an impressive Tomatoemeter of 83% with critics, is Switzerland's official submission to the Foreign Language Film Award of the 90th Annual Academy Awards. Look for it now playing in theaters across the US, and over the coming months and into 2018, across Europe.
** Fair warning **
The ending of this interview contains a moment the likes of which has never ever been recorded in Stark Insider history. And I doubt we'll ever see something like this again! We're not sure how exactly to warn you, other than to say this is an adult topic and an adult conversation. So, yes, it's for adults, folks.
The Divine Order

Written and Directed by: Petra Volpe
Starring: Marie Leuenberger, Maximilian Simonischek, Rachel Braunschweig
Log line: In 1971, a young housewife organizes the women of her town to petition for the right to vote.
Awards: Winner Audience Award Best Feature (Tribeca Film Festival 2017) / Best Foreign Fiction Film (Traverse City Film Festival 2017) / Swiss Film Award 2017
Trivia: Switzerland's submission to the Foreign Language Film Award of the 90th Annual Academy Awards.
Shot on location at the Outdoor Art Club in Mill Valley, California. Includes scenes from MVFF 40 opening night including actress Kristin Scott Thomas and director Joe Wright (Darkest Hour), MVFF board member Jennifer MacCready, actress Connie Nielsen (Wonder Woman), programming director Zoe Elton, director Dee Rees (Mudbound), director Jason Wise (Wait For Your Laugh), and actress Amy Hargreaves (Homeland)
Download: your very own Pussy Card.
Our thanks to Petra Volpe, the Mill Valley Film Festival and Larsen & Associates for making this interview possible.