"A fun weeknight out @cirquedusoleil with the kiddos and my parents  🏟 #LUZIA"
Cirque du Soleil's new show Luzia – A Waking Dream of Mexico apparently has Jessica Alba's seal of approval. The actress and model Heidi Klum attended the Los Angeles premiere at Dodger Stadium, and were spotted earlier on the red carpet. Later, Alba posted to her Instagram:
Luzia, which features Cirques's first-ever major water feature — a massive rain curtain — is in L.A. through February 11, 2018.
Reviews have been, if slightly predictably given that is the gold standard of live theater performances, uniformly positive. In the Stark Insider review, we called Luzia "a mind-bending dream." And:
"Bringing it all together – lighting, set design, choreography, music, falling water, carefully rehearsed jumps and falls – the effort is gargantuan. What motivates this remarkable company with performances all over the world is the profound influence of live theatre on the audience." – Stark Insider review of Luzia by Cirque du Soleil
The Los Angeles Times was also effusive in their praise, calling the show "part circus, part technology trade show" and noting in their review that the addition of water "enhances a couple of aerial acts," making the degree of difficulty seem "almost absurd."
Safe to say if you're looking for a weekend of family entertainment Cirque du Soleil is a pretty good choice.
Luzia by Cirque du Soleil:

Fun Facts

The name LUZIA combines "luz" (light in Spanish) and "lluvia" (rain), two themes of the show.
The Big Top seats more than 2,600 people.
The entire site set-up takes 8 days. This includes installation of the Big Top, the entrance tent, the VIP tent and the rehearsal spaces.
The Big Top stands at 19 meters (62 feet) high and is 51 meters (167 feet) in diameter.
The 4 steel masts stand at 25 meters (82 feet) tall each.
550 pegs are required to hold the big top firmly to 48,500 square feet of asphalt.
The Big Top can withstand winds up to 120 km/h (75 mph).
The light-coloured canvas helps counter the effects of the sun, thereby reducing energy consumption and minimizing greenhouse gas emissions.
LUZIA travels via 65 trailer trucks carrying close to 2,000 tons of equipment

Source: Cirque du Soleil
Meantime, we've posted below some photos from the show. In addition, Stark Insider went backstage at Luzia to learn more about the show and talk with some of the many talented performers who make it their life's work to train hard to entertain. You can watch that short film below.
We hope to see you under the Big Top!
IN PHOTOS: 'Luzia' by Cirque du Soleil
(Now at Dodger Stadium, Los Angeles)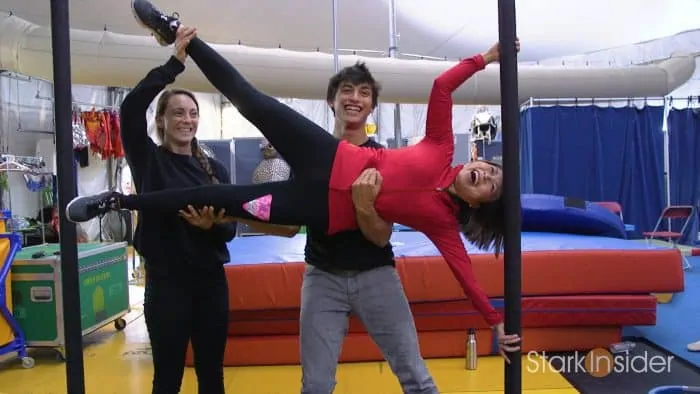 Loni Stark of Stark Insider heads backstage to discover the secrets of new show Luzia by Cirque Du Soleil.