Lead photo: (front row, l to r) Jonah Horowitz (Bodo Muller), Emma Curtin (Babette Muller), and Elijah Alexander (Kurt Muller); (back row, l to r) Sarah Agnew (Sara Muller) and Silas Sellnow (Joshua Muller) in Lillian Hellman's Watch on the Rhine at Berkeley Rep.
It makes sense that Lillian Hellman's 1941 play Watch on the Rhine is rarely produced, and also that Berkley Rep would choose to stage it now. It has the hokey feel of a Nazi spy thriller – a slow-paced one by today's cinematic standards. Our hero Kurt Muller (the gruffly sincere Elijah Alexander) is a man of many languages and identities. He takes a holiday from fighting fascists, only to end up sharing a country house with Romanian Count Teck De Brancovis (the suave Jonathan Walker), an opportunist so unscrupulous he deserves a moustache to twirl. They engage in a war of words and espionage, complete with code names, a locked briefcase, a high-stakes poker game (sadly offstage), and a pistol.
These are moral people who have politely discussed fascism from afar without making it their problem, until it landed in their living room.
It's fun to cheer for an anti-fascist who can naturally spout phrases like, "I cannot just stand by and watch. My time has come to move." But the self-sacrificing hero and the greedy villain are short on moral ambiguity. (There's lip service paid to good people doing bad things, but it's clear who the good guys are here, and it's hard to blame them for any of their actions.) The glimmers of complexity come from Fanny and David Farrelly, the wealthy hosts of Kurt and the Count. (Family background: Fanny is the Farrelly clan matriarch; her daughter Sara became the black sheep of the family by marrying Kurt, while her son David stayed home and took up law.) These are moral people who have politely discussed fascism from afar without making it their problem, until it landed in their living room.
Fanny Farrelly (Caitlin O'Connell) is also responsible for the show's best zingers. She chatters and shouts ceaselessly, peppering her guests, children, and grandchildren with brash insults and inappropriate questions. She quarrels with her maid Anise (Leontyne Mbele-Mbong) for the sheer amusement of it. It's a shame such a larger-than-life character produced two relatively dull children. The mousy lawyer, David (Hugh Kennedy), is perpetually stuck in his dead father's shadow, unobtrusive even when engaging in a dangerous flirtation with the Count's elegant wife (Kate Guentzel). The idealist, Sara (Sarah Agnew), boasts an arresting presence and frantic energy, but ultimately plays the good soldier's wife to her heroic husband. Sarah's and Kurt's three preternaturally intelligent children at least have their grandmother's wit (and are brought to life by three preternaturally talented young actors: Emma Curtin, Jonah Horowitz, and Silas Sellnow).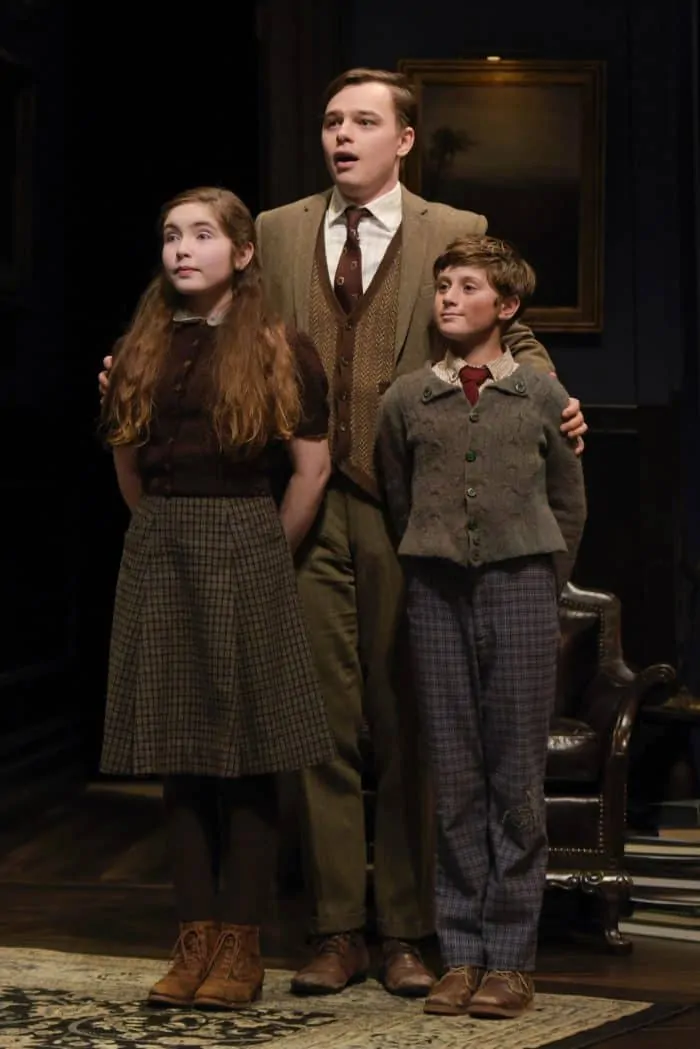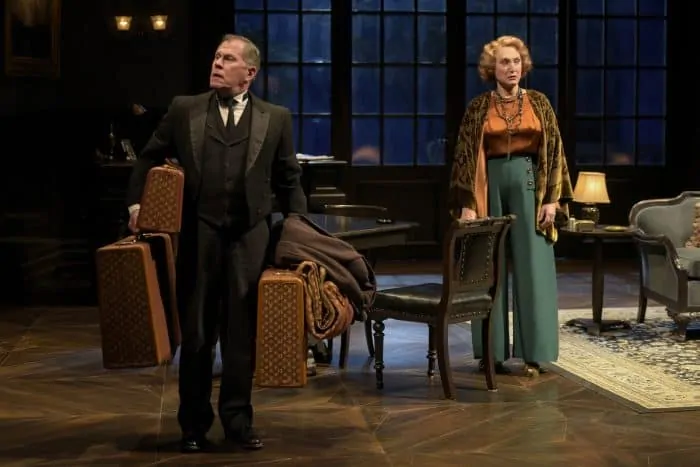 Lisa Peterson's direction plays up the cloak-and-dagger aspects of the script. Dramatic confrontations (both verbal and physical) are juxtaposed with exaggerated politeness. Overly ominous (and too-loud) music plays between scenes. It often seems a bit much (especially because it lasts for nearly three hours). Still, there's an irresistible energy to the whirl of old-school intrigue. Much of the magic is thanks to Neil Patel's sets and Raquel Barreto's costumes: I spent the whole play itching to jump onto the stage and carry off every stick of furniture, elegant dress, and two-toned pump. And beyond considerations of era and style, Hellman's play has the simple pull of human tragedy. Overdone and dated as parts of it were, I was still unable to keep my eyes dry during the tearjerker ending.
Watch on the Rhine
Berkeley Repertory Theatre
4/5
Photos courtesy of Kevin Berne/Berkeley Repertory Theatre