Girls of the Golden West is the latest historical opera composed by John Adams, and it is of particular interest to California residents. The opera's premiere is taking place just 200 miles from the mining camps of the High Sierra. The work was created expressly for the San Francisco Opera. Utilizing letters, journals and song lyrics of the period, Adams and librettist Peter Sellars faithfully recreate the colorful story of the California gold rush, a clash-filled and tumultuous period which reshaped the history of our state, changing its culture significantly.
Adams is one of the best known and most often performed of American composers. The Death of Klinghoffer and Nixon in China both exhibited his "depth of expression and brilliance of sound." He also wrote "On the Transmigration of Souls," for which he received a Pulitzer Prize in 2003. And Adams was the first Harvard student to be allowed to submit a musical composition as a senior honors thesis.
Except for the name, Adams' latest composition bears little resemblance to "The Girl of the West," a gold rush opera composed by Giacomo Puccini in 1910, based on a play by American author David Belasco. In researching the gold rush period, Peter Sellars has said he consulted some 80 works of state history including The Shirley Letters written by a doctor's wife, Louise Clappe, under the pen name Dame Shirley. He also consulted poems of Chinese immigrants, the diary of Chilean miner Ramon Gil Navarro, memoirs of fugitive slaves, a speech by Frederick Douglass and a book by Mark Twain.
Adams is one of the best known and most often performed of American composers.
Soprano Julia Bullock makes her San Francisco debut as Dame Shirley, an educated woman who lived in the miners' world for more than a year and chronicled her experience during the early days of the gold rush. Bullock's voice and acting have been praised by the Financial Times for "combining purity and sweetness of tone with absolute honesty on stage."
Bass-baritone Davone Tines also makes his first local appearance in a fully staged opera as Ned Peters, a cowboy and fugitive slave who is drawn to the western frontier. His relationship with Dame Shirley and her husband is intriguing and multi-layered, as Sellars' lyrics illustrate. He was praised by the New Yorker for his "astonishing two-and-a-half octave range."
Mezzo-soprano J'Nai Bridges portrays Josefa Segovia, a beautiful hostess at the mining camp's Empire Hotel. She is modeled on a Mexican woman of the same name who was lynched in 1851 after defending herself against the sexual advances of an aggressive miner. Her texts are drawn from the works of Argentine poet Alfonsina Storni. Bridges sings powerfully in both English and Spanish, her vibrant voice conveying both anger at the assault by the miner and forgiveness of the armed men who are about to execute her.
Korean soprano Hye Jung Lee lights up the stage in beautiful costumes with sensual lyrics and a piercing voice as Ah Sing, a Chinese bar girl who falls in love with the all-American miner Joe Cannon. Lee previously appeared with San Francisco Opera as Madame Mao Tse-Tung in Adams' Nixon in China in 2012.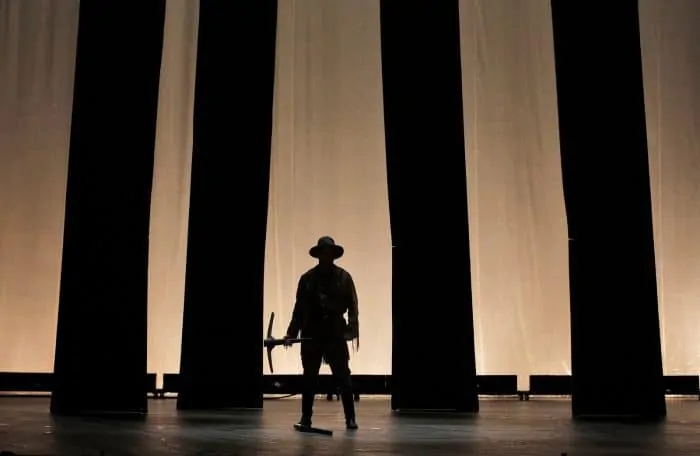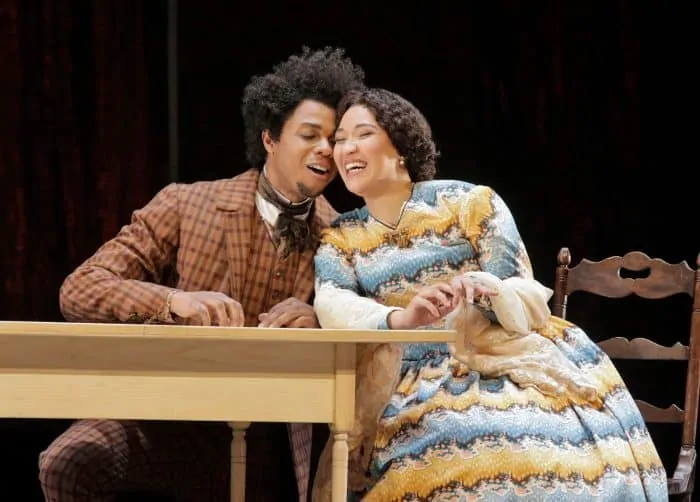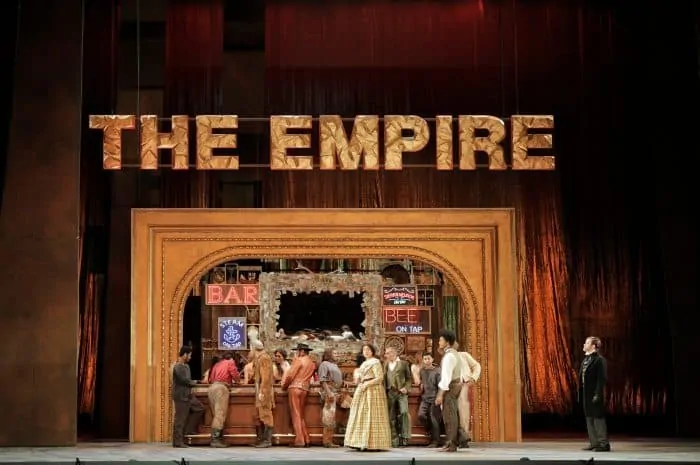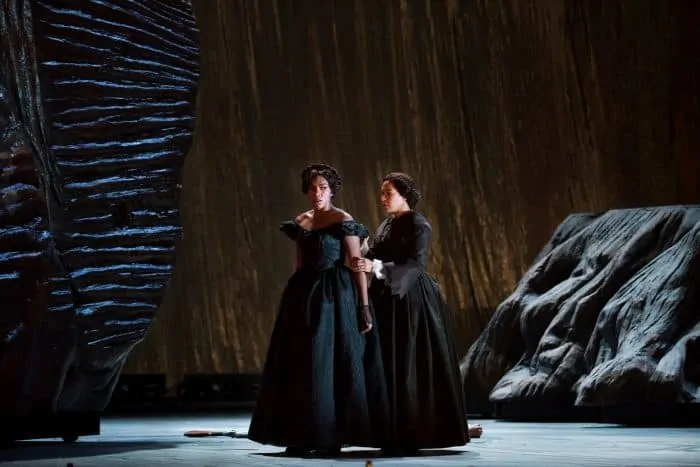 And then there is Joe Cannon, portrayed by tenor Paul Appleby, a miner who turns to drink and to bar girls after he receives a "dear john" letter from his girl Sal back home. His actions are pivotal to the opera's plot, and illustrate how many were called to the mining life with the dream of getting rich quickly, and too often wound up broke and bitter from gambling, alcoholism and poor skills at mining.
Former San Francisco Ballet principal dancer Lorena Feijoo is Lola Montez, the 19th century showgirl and courtesan who performed in the gold fields and was known for her provocative "spider dance." Her life was immortalized in a film by Max Orphuls in 1955 and romanticized in John Huston's Life and Times of Judge Roy Bean with Paul Newman and Ava Gardner in 1972.
These artists are going to change opera.
Librettist and director Peter Sellars has commented on the assemblage of artists for Girls of the Golden West:
"The cast is the new generation of opera singers. They are of every color and come from everywhere. You may not know them yet, but you will. These artists are going to change opera. It's refreshing and exhilarating to be in their presence."
Girls of the Golden West will be performed through the middle of December 2017. An extensive schedule of public engagement events and exhibits is planned in collaboration with gold rush authorities, historical organizations and the opera's creators.
Girls of the Golden West
San Francisco Opera
4 out of 5 stars
Photo credit: Cory Weaver/San Francisco Opera