Stephen Frears' latest film, Victoria and Abdul, is a sequel of sorts to John Madden's Mrs. Brown from 1997. Both films feature the incomparable Judi Dench as a widowed Queen Victoria, lifted from her deeply held grief by a bold and captivating male servant. Both films are firmly based in fact, and remind us that we still have something to learn about the Victorian era and its long-reigning queen.
Young Victoria takes the throne of England at age 18. She is quickly married to her cousin Prince Albert. Some 20 years later, her beloved Albert dies and the queen enters an extended state of mourning. Scottish ghillie John Brown helps to revive her interest in life, against the wishes of her overly protective courtiers. After his death in 1883, the queen sinks into another fog of boredom and grief.
Here, the journey of Abdul takes on special interest because we did not know about him earlier, and because we are reminded that colonialism carries certain attributes with it – racism and class prejudice.
Stephen Frears brings us a charming version of the queen's last embrace of passion, her final rebellion against the burdens of wearing the crown – her close friendship with young Muslim clerk Abdul Karim from Agra, India, beginning with the celebration of her golden jubilee (1887). Plucked from his job as clerk of records at the central jail in Agra, Abdul travels to England with orders to present a British colonial present to Victoria – a golden coin minted for the occasion.
Delectable particulars we have come to expect from BBC historical dramas are prominent here – from detailed costumes and elaborate meals to impressive castles and vicious political scheming in dulcet tones. My personal favorite is the young herald or page boy (Benjamin Haigh) – in perfect costume — whose task it is to race from the royal dining room down a long corridor to the huge kitchen and back, shouting out the queen's arrival by horse-drawn carriage, and then alerting the kitchen when the next course is to be served (about 100 guests).
Judi Dench as Queen Victoria is the only choice, of course, given her performance in the same role 20 years earlier in John Madden's Mrs. Brown. By the way, Frears also directed Helen Mirren as Elizabeth II in The Queen (2006), so the Victoria & Abdul film is not his first venture into the multi-layered world of royal rule.
New to many audiences will be the Bollywood star, Ali Fazal, who plays Abdul Karim. Frears knew he wanted a skilled actor from India, and not a person of Indian descent who was raised in England. What was important here was the ability of the actor to portray a sense of wonder in this personable clerk as he entered the icy, formal world of English royalty, so different from the warm and colorful climate of Abdul's youth. That he was a young man of intelligence and quick observation is not in doubt. We have his journals from the golden jubilee year to the queen's diamond jubilee ten years later, translated by journalist Shrabani Basu and previously kept hidden by his family for decades. We also have the Queen's journals written in Hindi-Urdu, which she learned from Abdul Karim's devoted teaching.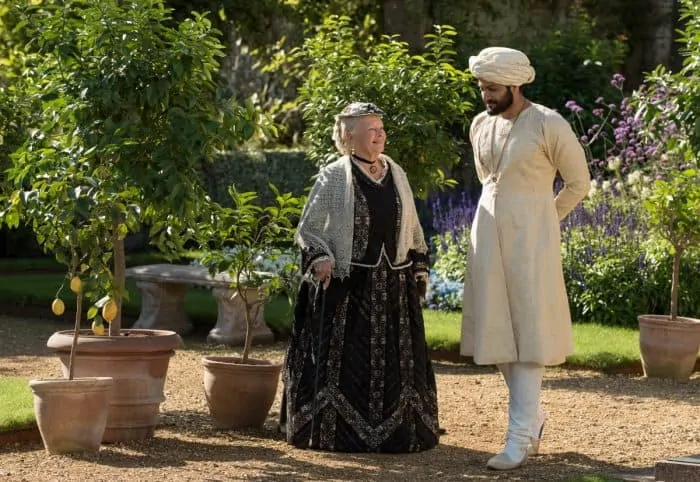 The quick rise and influence of royal favorites is not a new story. Here, the journey of Abdul takes on special interest because we did not know about him earlier, and because we are reminded that colonialism carries certain attributes with it – racism and class prejudice. The hostility of the queen's court to this young outsider is made quite clear – he is "colored," he is of the lower classes (a mere clerk), and he is Muslim. However, rank does have its privileges and the Queen is not without her own wily strategies to combat both her courtiers and the jealousy of her heir, Edward, the Prince of Wales (Bertie), played by Eddie Izzard.
Most lovely are the moments when Abdul is telling Victoria about India – the Taj Mahal commissioned by the great Mughal emperor Shah Jahan, the greatness of Indian history, joys of Indian spices and especially the deliciousness of chutney. And when he overcomes his hesitation about teaching her Urdu, you observe mutual pleasure as Abdul realizes he can teach and the queen demonstrates a joy in learning.
Yes, there are those who wish the film had taken a harsher tone about class differences and colonialism, but the point really is made, BBC style, without bashing the viewer over the head. Watching Englishmen ignore their own kind living in poverty and begging at wharfside, while they extol the joys of being back in "civilization," is reminder enough of how blind humans can be to each other.
Playwright and screenwriter Lee Hall wrote the script. He also wrote Billy Elliot (2000). Nicely done. Another intriguing aspect of Queen Victoria's life, who reigned over England and the British Commonwealth longer than any other monarch (until most recently Elizabeth II).
Victoria and Abdul (2017)
3.5 out of 5 stars