The American Conservatory Theater's Hamlet marks the debut of two greats who somehow (strangely) have never tackled this great play. John Douglas Thompson premieres his Hamlet, direct by A.C.T. artistic director Carey Perloff. The results make me thank whatever theater gods brought these two together to work on Shakespeare's masterpiece—and wonder why it took them so long.
First, the man himself: John Douglas Thompson (whom American Conservatory Theater devotees will remember from Satchmo at the Waldorf) makes a brilliant Hamlet. An experienced and talented classical actor, Thompson delivers lines with modern naturalness without depriving them of their gravity and melody. Thompson is in his fifties, and he neither looks nor acts the angsty teen. His world-weariness and disappointment come from years, not youth. This lends his many well-known soliloquies surprising emphases and fresh heart.
… this Hamlet sizzles with energy.
I hope my talk of age doesn't give a false impression, because this Hamlet sizzles with energy. The great irony of Hamlet is that for all his pondering about murder, he accomplishes his three kills (Polonius, Laertes, Claudius) in moments of unpremeditated impetuosity. That leaves a lot of in-between time for fruitless thinking—here as gripping as the eventful scenes of violence. Credit goes to top-notch performances and a compelling staging, but also to smooth cuts of the script. No program of cuts can please everyone, but these serve the pace of the drama and only make themselves noticeable in retrospect (when you realize a famous line or two was never said). Three hours in the Geary Theater fly by.
Cool-guy Laertes Teagle F. Bougere enlivens the stage with his every appearance, and Rivka Borek makes an overwhelming Ophelia, more terrifying than pitiful in the force of her madness. Even the windbag Polonius (Dan Hiatt) bores his onstage listeners without boring us, thanks to his comical pomposity and palpable affection for his children. Rosencrantz and Guildenstern (Teddy Spencer and Vincent J. Randazzo), so often forgettable, captivate with over-the-top exuberance and easy comedic rapport. Their enthusiastic reunion with Hamlet makes his realization of their betrayal more painful. Horatio (Anthony Fusco) is less convivial but more heartfelt in his friendship, and his final farewell to Hamlet is touching.
Gertrude (Domenique Lozano) and Claudius (Steven Anthony Jones) remain ciphers amidst the sharply drawn characters of their court. Gertrude is as inscrutable as she is elegant, ambiguous about her feelings towards her husband and son. Her level of complicity in the older Hamlet's murder remains unclear. Claudius is regally restrained, even when alone with his conscience. There's a slow deliberateness to his manner, accentuated by his limp.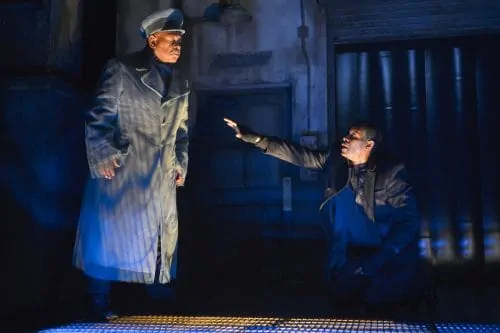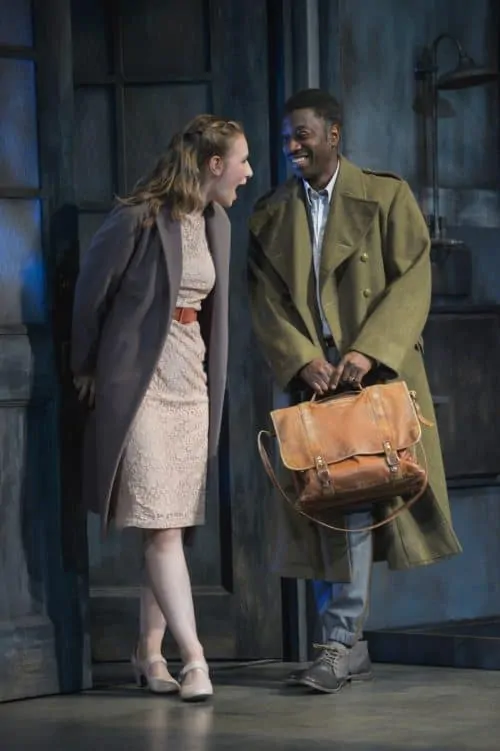 Director Carey Perloff states that her concept for the show was driven by the frequent textual references to rot and corruption. Inspired by images of post-nuclear sites, she and set designer David Israel Reynoso have created a warehouse onstage. Mold creeps up industrial-looking walls, and a giant garage door crashes open to let the players in. For court scenes, translucent curtains and a mid-century chandelier soften the vibe. The veneer of civilization is thin and easily swept away. The weapons of choice are brutal: short sticks with sharp spear heads, wielded (in a thrilling duel choreographed by Jonathan Rider) in a mix of baton- and knife-fighting styles.
The play's events will have a lasting impact, even though the chief actors are all dead.
Lighting by James F. Ingalls reinforces the mood, with a turquoise-based palate that seems at once sad and eerie. This mixes with a royal purple during the ghost's appearances and a memorable jolt of bright red as Hamlet is confirmed in his bloody resolution. Sound (designed by Jake Rodriguez, with music composed by David Coulter) also plays an essential role, from the madcap piano playing that accompanies a silent-movie-inspired farce to the dissonance of Hamlet playing the exposed strings of an upright piano.
Hamlet closes anticlimactically, an abrupt flurry of deaths followed by Fortinbras' and Horatio's discussion of political matters. It's a reminder that the end of the show does not mark the end of Denmark's story. The play's events will have a lasting impact, even though the chief actors are all dead. The impression made by these performances will linger in your mind, too, long after the curtain falls.
Photo credit: Kevin Berne
Hamlet
American Conservatory Theater (A.C.T.), San Francisco
4.5/5