Have you been yearning for Hamlet, the Musical? If so, bad news: you just missed the operatic adaptation in Oakland. Perhaps what you really wanted, though, was a musical about a (fictional) failed attempt to create Hamlet, the Musical, before the original play had even been written. In that case, you should head to the SHN Orpheum for the Kirkpatricks' Something Rotten!.
The plot: Nick Bottom, an actor, writer, and producer desperate for a hit show, asks Nostradamus to tell him the future of theater. That's easy enough: the musical! But Nick still needs a topic for his musical, so he decides to steal Shakespeare's greatest play. A confused Nostradamus identifies this as Omelette, an egg-themed show that has something to do with a Danish. Nick's poetic and lovesick brother Nigel writes about a Danish prince instead—but Shakespeare both steals that script and ruins Nick's musical (in a convoluted scheme involving disguises and a mid-show reveal). All's well that ends well: after resolving some legal difficulties, the Bottoms and their new genre are banished to America.
Larger-than-life characters keep the show energetic
In isolation, Something Rotten! would be a parade of catchy but homogenous pop tunes strung together by the flimsiest of plots. But this isn't a musical that asks you to appreciate its inherent quality; it's a musical that exists solely to poke fun. Fortunately, it doesn't try to lampoon the past (except—following Shakespearean tradition—the Puritans). Instead, the Kirkpatricks' Renaissance is to modern musical theater what Gilbert and Sullivan's Japan was to Victorian England.
The teasing begins with the very concept of musicals: it boggles Bottom's Renaissance mind that such an improbable genre could possibly succeed. Nostradamus's muddled insights into the future mash up decades of hits. Costumes, lyrics, melodies, and choreography evoke Cats, Pippin, Fiddler on the Roof, My Fair Lady, The Sound of Music, A Chorus Line, Phantom of the Opera, The Producers, and many, many more. Chimney sweeps materialize, revolutionaries march in a triangle, and half-crouching boys snap their fingers threateningly. Not to mention the endless tap dancing and the giant feather fans.
IN PHOTOS: Something Rotten!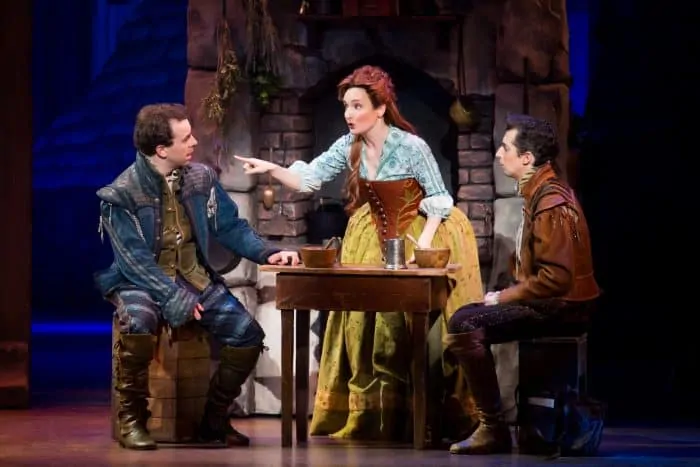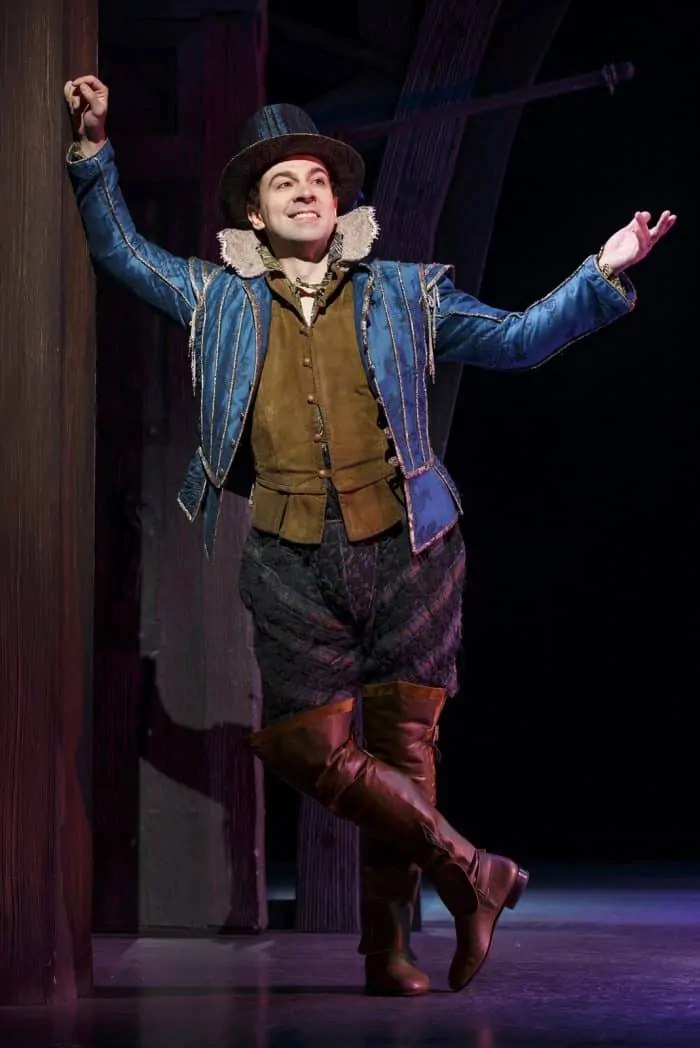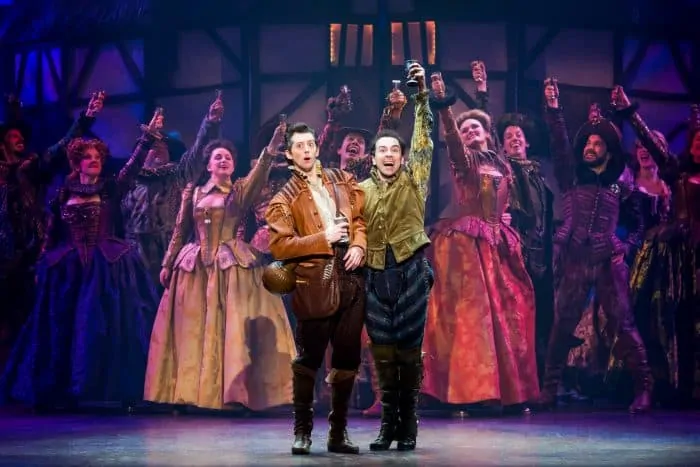 If you don't trust yourself to catch all the musical theater references, don't despair. Shakespeare cognoscenti will recognize plenty of lines, characters, and situations. For those without background knowledge, there's bawdy humor in the form of drawn-out sexual metaphors and pointedly awkward innuendos. Larger-than-life characters keep the show energetic, especially the cross-dressing feminist Bea (Maggie Lakis) and literal rock star Shakespeare (Adam Pascal).
There's nothing serious or meaningful about Something Rotten!. Still, if you know the lullaby of Broadway and brush up your Shakespeare, it's sure to make you laugh.
Something Rotten!
SHN Orpheum, San Francisco
3.5/5 stars