Halle Berry's latest film causes us to see her in a new light, perhaps in keeping with this summer's other action films – a woman relentless in pursuit of her goal. She is not Wonder Woman or an MI-6 agent in the Cold War (Charlize Theron), but she is unstoppable when it comes to rescuing her young son from criminals who grab him and drive away.
Kidnap is a 90-minute action thriller taking place on a summer-like day. A single mom (Karla played by Halle Berry) works her shift at a short-order restaurant and then takes her son Frankie (Sage Correa) to an amusement park. A phone call from her divorce attorney distracts her, but Karla still calls out to the boy to be sure he remains where he is supposed to be.
She will do whatever it takes to protect her child.
"Marco," she says, as she turns away to take the call, not wanting her boy to hear negative words about the divorce. "Polo," Frankie calls out in a prearranged communication they use whenever they are away from home. The phone conversation becomes heated as Karla says she will not give up custody, but she remembers to call out "Marco" again, and Frankie responds, "Polo." The third time Karla sings out "Marco" to her son, there is no response.
First signs of panic. Shutting down the call, Karla turns around and runs to the bench, grabs her purse and Frankie's electronic toy, while calling his name. Others in the park tell her to go to the police kiosk "over there" and as she moves toward it, she sees the kidnappers shoving Frankie into their green Mustang GTO. Her cell phone slips from her bag as she runs to the car, clings to the car while the kidnappers drive away (Margo and Terry played by Chris McGinn and Lew Temple). Thrown to the ground as the car accelerates, Karla gets up and runs to her red van to follow the abductors.
And it is a wild ride on the freeways and back roads of Louisiana, from daylight to the middle of the night. As the movie trailer says, "in the U.S. a child goes missing every 40 seconds. You never think it will happen to you, until it does."
Karla's dialogue is sparse, ranging from talking to herself, to shouting for help through a window, to flagging down strangers and asking them to call 9-1-1. She is not a lone ranger type; every chance she gets she asks for help. But the one thing she knows is that she must never lose sight of that green Mustang GTO containing her kidnapped son.
The character of Karla is an average divorced mother, struggling to keep custody of her son when her ex is affluent and uncooperative. She has no weapons and has lost her cell phone. In a touching moment, Karla prays out loud as she is chasing the Mustang on freeways and byways, "Hey, God, I know I never pray to you unless somebody is sick or I want something, but please, please help me…."
Comparison has been made with Liam Neeson in Taken, but I do not see the resemblance there at all. The father in Taken is a retired spy, an international operative with lots of contacts and experience; he knows exactly what to do in order to find his daughter's abductors.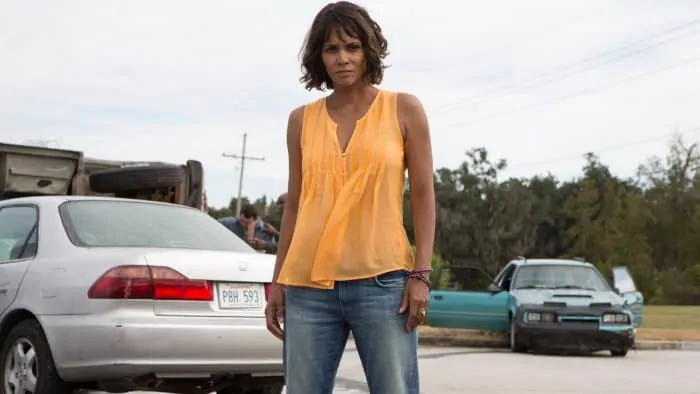 A better comparison is with Jody Foster films. Foster's 2005 Flight Plan and 2002 Panic Room each featured a single mother risking everything to protect her young daughter from abductors in the first film and from burglars turned robbers in the second film. Neither woman had any special powers or any weapons. Sheer raw courage and a fierce determination to protect their offspring were their only assets. A mother protecting her young.
Berry as Karla is quite good in this film. Karla is happy working in the restaurant, with her child sitting at the counter waiting for mom's shift to end. She is pleased to be in the park spending time with her son. She grows agitated on the phone with her divorce attorney when custody matters come up. She is frantic when she cannot find Frankie. Full of fear, she drives her red van in hot pursuit of the green Mustang. She goes into shock momentarily when the male abductor extends his arm out the window, holding a switchblade.
Drawing on deep reserves within herself, reserves Karla did not know she had, she perseveres through one trauma after another, calling out for 9-1-1- help whenever she can pause for breath – to a fisherman and his son on the river nearby, to a driver who stops to help when she is almost out of gas. For three minutes she even finds a small police station near the roadway, and files an Amber alert before getting back on the road in pursuit of the green Mustang GTO.
You are watching a fear-filled mother move from panic to anger to deadly fierce focus; she will do whatever it takes to protect her child.
Hally Berry carries this film; her performance makes it worth watching.
The action sequences are violent, but well edited. The point is made each time without gratuitous violence. You see the heroine grow in her ability to think under pressure, to improvise. You understand her scream of frustration when she sees the Amber alert on a sign over the freeway, because by then the abductors have switched cars and so the Amber alert description is out of date. Berry carries this film; her performance makes it worth watching.
Halle Berry's acting range and credits are impressive: Things We Lost in the Fire (2007), Their Eyes Were Watching God (2005), Monster's Ball (2002), Introducing Dorothy Dandridge (1999), Losing Isaiah (1995), and Queen – an Alex Haley memoir (1993).
Directed by Luis Prieto, and co-produced by Halle Berry, this action flick is well worth a summer's visit to the cinema.