Danielle de Niese performs at opening night of Festival Napa Valley at the Meadowood. Ilana Walder-Biesanz sits down with "opera's coolest soprano."
At 30, many opera singers are still finishing training programs and trying to get their careers off the ground. Danielle de Niese was being named "opera's coolest soprano" by the New York Times. But as Danielle's story makes clear, she has always been both precocious and charismatic, winning accolades and roles at young ages and winning over audiences wherever she performs.
Danielle grew up in Australia and Los Angeles, singing, dancing, and acting throughout her childhood. She seemed superhumanly talented at all the performing arts. At nine, she became the youngest winner of the Australian talent competition TV show Young Talent Time. At eleven, she appeared on L.A. Kids, a show she would later win an Emmy for guest hosting. She made her LA Opera debut at fifteen and her Metropolitan Opera debut at nineteen. After her freshman year at conservatory, she became the youngest singer ever to join the Met's Lindemann Young Artist Program.
A successful opera career has not prevented her from continuing to explore other genres. Her credits include a singing role in the film Hannibal, the TV documentary Diva Diaries, an appearance on the show Popstar to Operastar, and a rap-opera collaboration with LL Cool J at Carnegie Hall.
Her silky voice, striking looks, and dancing skills have helped Danielle make a name for herself playing seductresses. She sings a wide variety of roles, but two of her most iconic are Norina and Cleopatra—two women who get their way by ensnaring the men around them. (Her dream roles also fit the mold: Manon and Carmen.) It was her Cleopatra at the Glyndebourne Festival in 2005 that made her a household name among opera fans and propelled her career to new heights. In David McVicar's whimsical production, she combined difficult coloratura singing with demanding choreography. She captured both the hearts of audiences worldwide (the production was released on DVD) and the heart of Glyndebourne Festival chairman Gus Christie, whom she married in 2009.
Danielle now lives in England, and her life as a superstar soprano keeps her traveling around the globe. She appears regularly at top houses in New York, London, Munich, and Vienna. She was most recently in the Bay Area in the title role of Handel's Partenope at San Francisco Opera. She will be back on July 14th to open Festival Napa Valley in a gala concert with pianist Paulo Szot.
Despite the fame and responsibility that come with a busy opera career (not to mention philanthropic pursuits, parenting, and a host of genre-crossing side projects), Danielle comes across as very approachable. I can imagine her giggling as she types the answers to my questions, which she punctuates with exclamation marks, all-caps, and emoticons.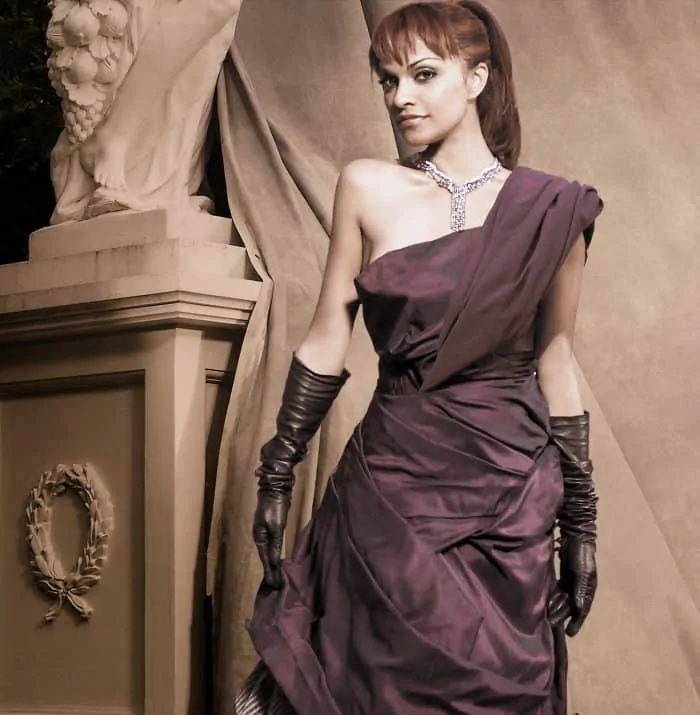 The following interview has been edited for clarity and concision.
You were very successful at a young age in all sorts of performing arts, including television, dance, and pop singing. How did you decide on opera as your career?
I was doing everything as a kid—I was bitten by the performing bug as soon as my mom enrolled me in singing and dancing lessons! At the ripe old age of 8, it seemed like I could do just about anything. At that point my parents thought it would be wise to give me some technical training to give me a proper vocal foundation—what amazing and wise parents I have!  My mother searched and searched and finally found a classical voice teacher who would take me on as an eight year old to train my voice—at that first lesson I became hooked!  I think I realized, even at eight, that of all the things I could do, this was the most special and organic way of using my voice. I thought, "All my friends can sing, dance, and act, but they can't sing with a classically produced voice the way that I can!" :)
You bypassed the usual conservatory route, making major house debuts in your teens and becoming the youngest singer ever in the Lindemann program at the Met. Was that difficult? Do you feel like you missed out on anything?
I didn't bypass the conservatory route—in fact, I spent my freshman year at Mannes College of Music and it was while I was singing Susanna in Le Nozze di Figaro there that the Met heard me and asked me to sing for James Levine [the Metropolitan Opera's Music Director from 1976 to 2016]. I then spent the first two years of my apprenticeship as a Met Lindemann Young Artist also tutoring with teachers at Mannes! I don't feel I have missed out on anything. My parents were great about allowing me to still lead a normal life, even though I was doing extraordinary things from a young age. I still got to have sleepovers and birthday parties as a teen. I experienced dormitory life while at Mannes—my two best friends today are friends I made at Mannes. I am very fortunate to have been able to find a balance between this fast-paced career and a wonderful family life.
My dance training (ballet, tap, jazz, Spanish dance) has given me a great sense of body awareness, which I think is really crucial in theater.
How did you manage to simultaneously sing all that coloratura and execute all that choreography in the McVicar Giulio Cesare? Have there been other performances where you drew on your dance talent to that extent? 
I am so proud of this iconic role of Cleopatra in Giulio Cesare. It has such resonance with people, some of who tell me that their kids watch "Julius Caesar" at home. It had a global impact, and people knew it from the moment we were rehearsing. When we did the first run of the first Cleopatra number, as the aria finished and I exited, I was on the side hyperventilating, but everyone else was clapping, they were so excited! It was an opera that really changed the way we use choreography; it was one of the first productions where the singers themselves participated in full choreography. I performed the role in that show four times. Each time I started rehearsals (it's a very aerobic role!), I thought, "Oh, I must have some stamina reserved from having done it last time," and each time I didn't; I had to start from the beginning again, to learn how to regulate my heart. I had to do cardio exercises on a treadmill while I was rehearsing, trying to sing an aria while running, because I had to get used to singing with a high heart rate! I have done dance numbers in other operas (Partenope, Acis and Galatea (where I actually danced with Ed Watson, principal of the Royal Ballet!), and Orfeo ed Euridice). In a way, all my operatic performances allow me to use my whole body to incarnate a role. My dance training (ballet, tap, jazz, Spanish dance) has given me a great sense of body awareness, which I think is really crucial in theater.
One of my silly but most adored treats is a California native: the Ice Blended from The Coffee Bean and Tea Leaf. I do not leave California without indulging!
You largely grew up in L.A. Do you feel a special connection to California? Do you have any traditions or go-to spots when you're back in the state?
I am a California girl through and through! Hancock Park is where I grew up, and I went to school at Crossroads School in Santa Monica. My teenage years in Los Angeles are very much a part of the person I am today. I adore the coast of the Pacific. The golden light, the crisp air—everything about California is a part of me. One of my silly but most adored treats is a California native: the Ice Blended from The Coffee Bean and Tea Leaf. I do not leave California without indulging!
What future projects are you most looking forward to? 
NAPA! Also, my debut in the United Arab Emirates for major concerts this autumn, as well as my return to Australia in a sparkling, sizzling new production of The Merry Widow with Opera Australia! I also can't wait to do Bernstein with Sir Simon Rattle for my London Symphony Orchestra debut in London this year!
What's your dream role?
Massenet's Manon.
If you could be any other voice type, which would you choose and why?
I would choose to be a mezzo so I could sing Carmen! But I may actually sing Carmen one day anyway… ;-)
Festival Napa Valley, July 14–23. Tickets $39–$10,000.