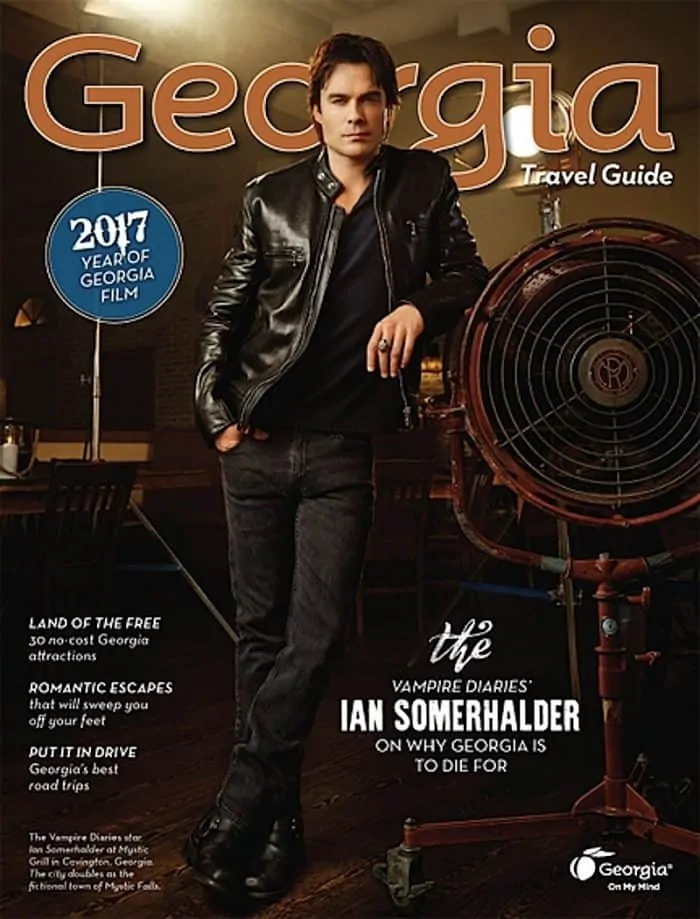 Only in Georgia is this not the beginning of a joke but a frequent occurrence! Did you know that Georgia is rated number three in film/TV production? No wonder it's nicknamed the "Hollywood of the South" since almost 250 shows were shot here last year.
Three films nominated at this year's Oscars: Hidden Figures, Sully, and The Passengers, all used locations in Georgia including Atlanta, Monroe, Alpharetta, Atlanta, and Covington. Filmmakers have many reasons why they prefer shooting here, such as the impressive local production teams, the incredible diversity the state offers, that Southern hospitality, the tax benefits, and the amazing sets that Fayetteville's Pinewood Atlanta Studios creates. For example, many of the sci-fi landscapes in The Passengers were magically shot inside Pinewood.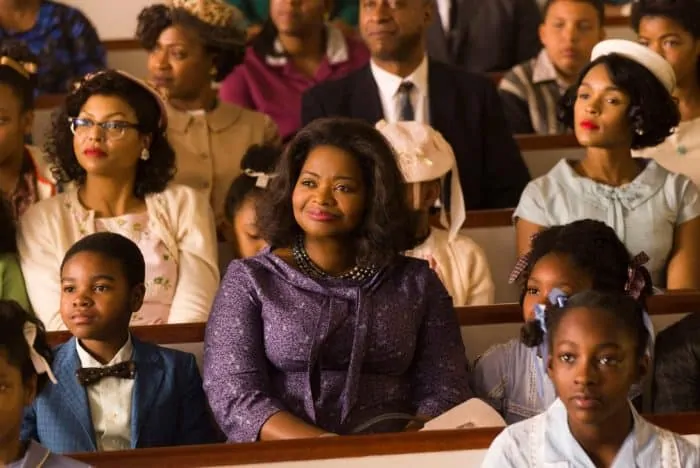 But where Georgia really shines is when it comes to shooting blood, guts and gore, from your favorite zombies, vampires, werewolves and other "undead". Fans of "The Vampire Diaries", "The Walking Dead", "The Originals" etc. can immerse themselves in a variety of shops, restaurants, and other sites featured in their favorite shows.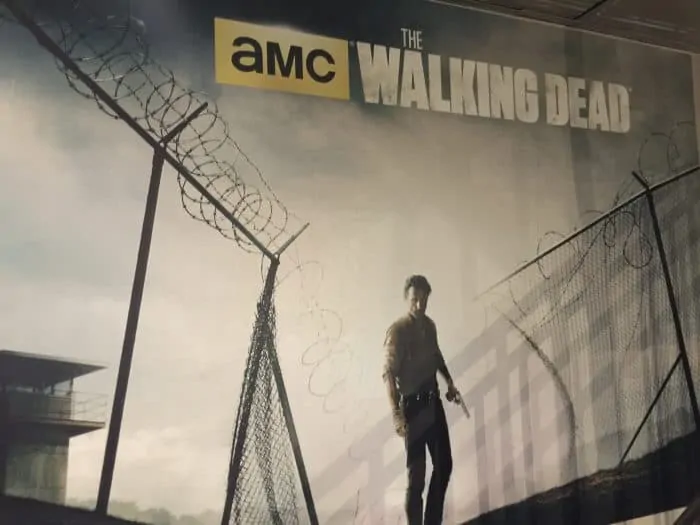 Whether you choose to grab some "On-Location" brochures for a DIY site tour (Georgia Tourism & Travel Site has a bunch of easy to follow film itineraries you can download) or sign on for a professional tour, keep your eyes peeled for celeb sightings. Don't forget to update your headshot and resume for a chance to get on the set as an extra!
Fiddle-dee-dee, I never wanted to leave.
If you start your filmy road trip in the capital, Atlanta Movie Tours offer a whole laundry list of location tours including Big Zombie Tours (from bite-sized hour long mini tours to 6+ hours of Zombies for the die-hard Walking Dead fan) or a much tamer, Gone with the Wind tour. The guides, all professional actors who have worked on set, enthusiastically dish on behind-the-scenes stories you won't hear anywhere else.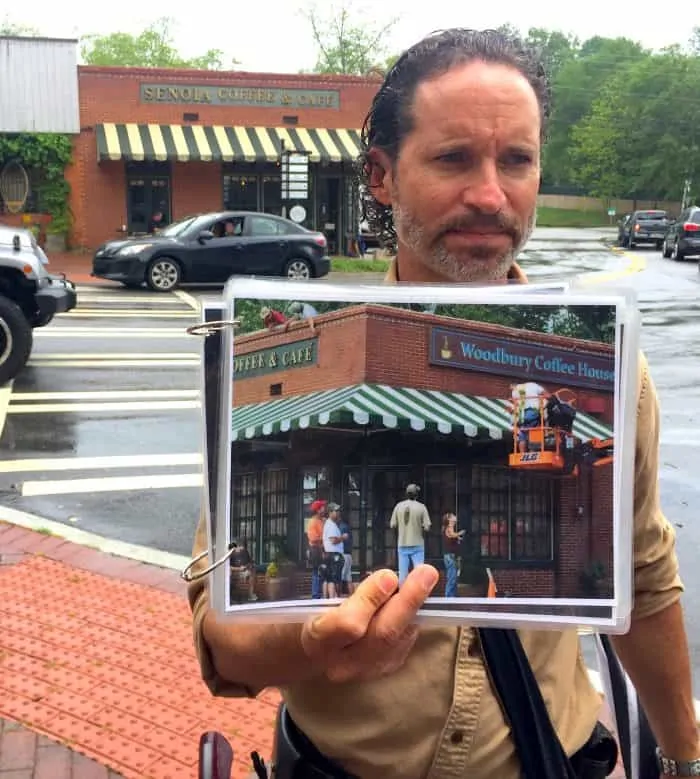 Hardcore "Walker Stalkers" will want to add the town of Senoia to their itinerary, which is definitely ground zero for AMC's "The Walking Dead". Georgia Tour Company does a fun-filled "Touring Dead" walk through town led by celebrity doppelgangers from the show.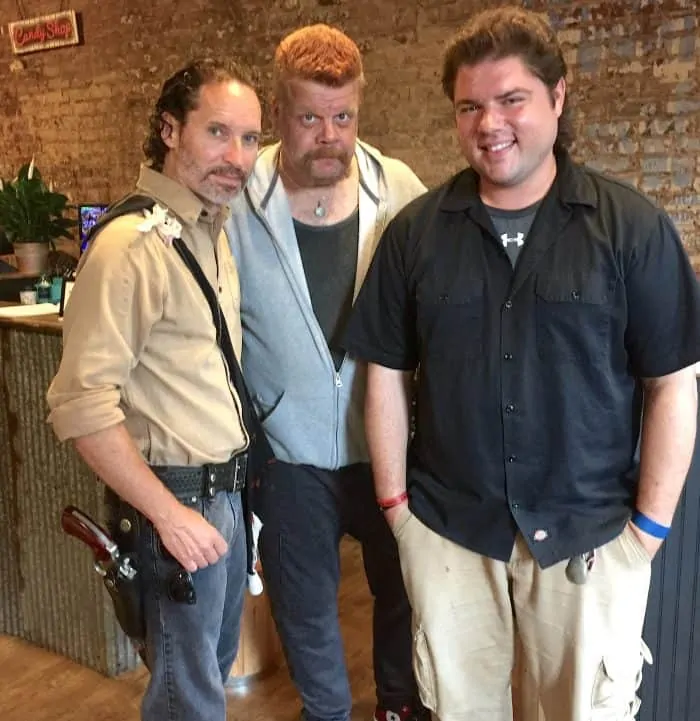 Even the undead have to eat (or do they?) so lunch at Nic & Normans, owned by the series producers, where you'll get a tasty bison burger and a good chance to see some of the cast members.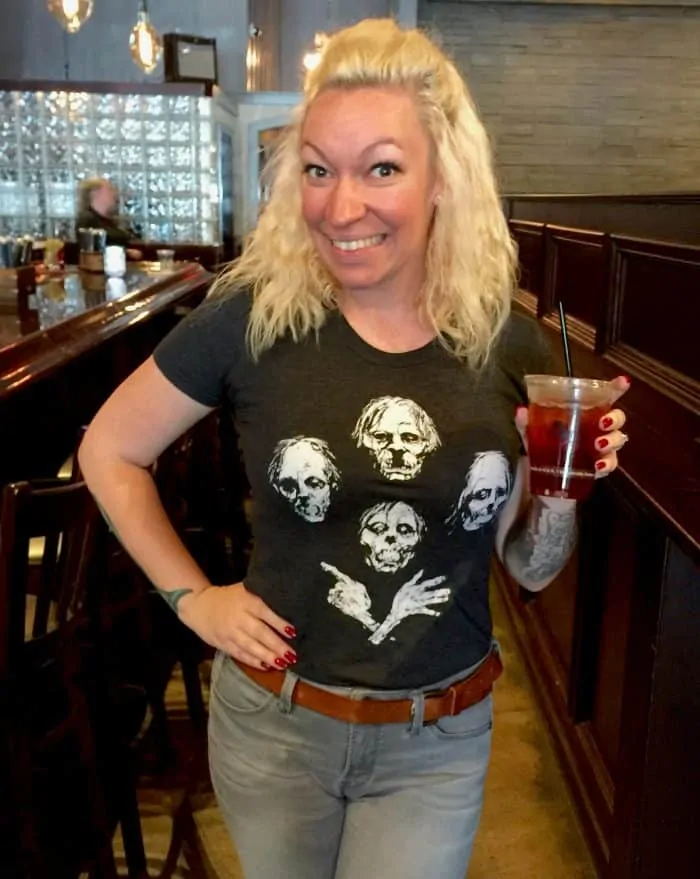 But my favorite town, and trust me you won't want to miss it is:
COVINGTON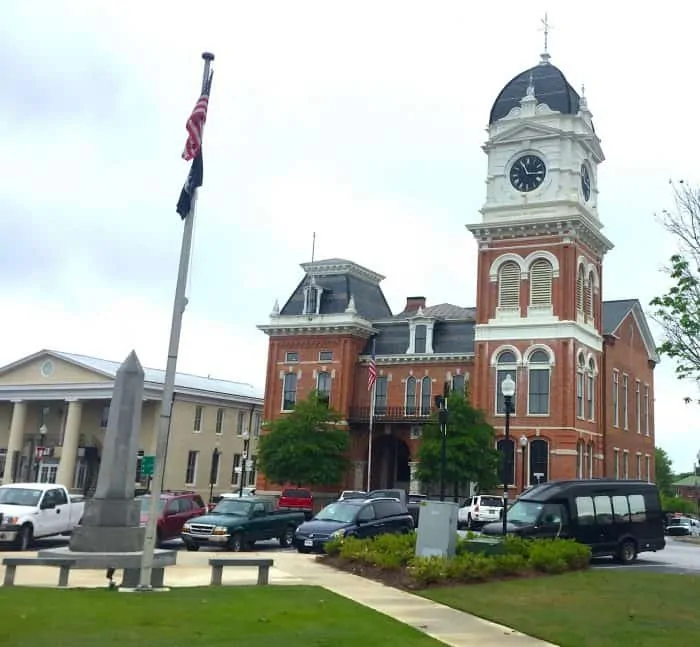 Covington's iconic, all-American town square and courthouse have been featured in over 60 shows, ranging from TV classics such as 'In the Heat of the Night' and 'Dukes of Hazzard', to the hugely popular "The Vampire Diaries". Local Vampire Stalker extraordinaire, Jessica Lowery, offers "The Originals Stalking" tour as well as "The Mystic Falls V.D. Tour" where you'll visit The Mystic Grill, the Mystic Falls Courthouse, ​The Damon and Elena Rain Kiss scene from Episode 6:06, Whitmore Campus, the entrance to the tunnels and many more scenes from all eight seasons of the show.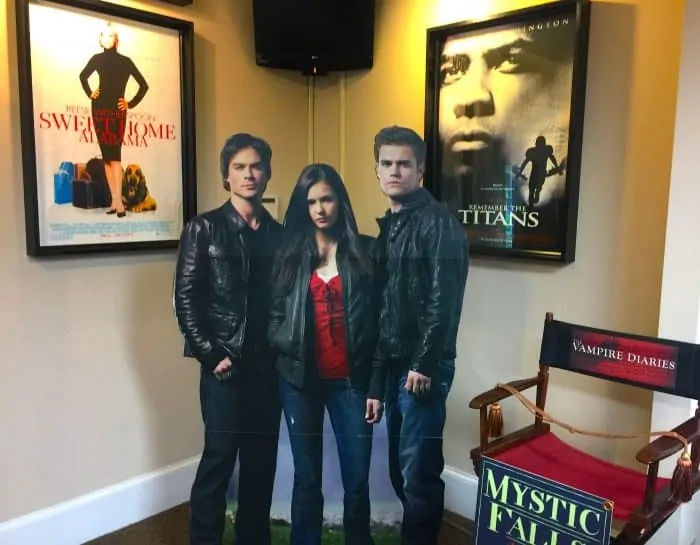 Bravehearts can sign on for a Covington Ghost Tour where experienced Ghost (believers)Guides will walk you to a multitude of haunted sites, including the local graveyard. Covington Ghost Tours differ from most haunted tours because many of their locations have been investigated by paranormal experts that are associated with T.A.P.S. (The Atlantic Paranormal Society).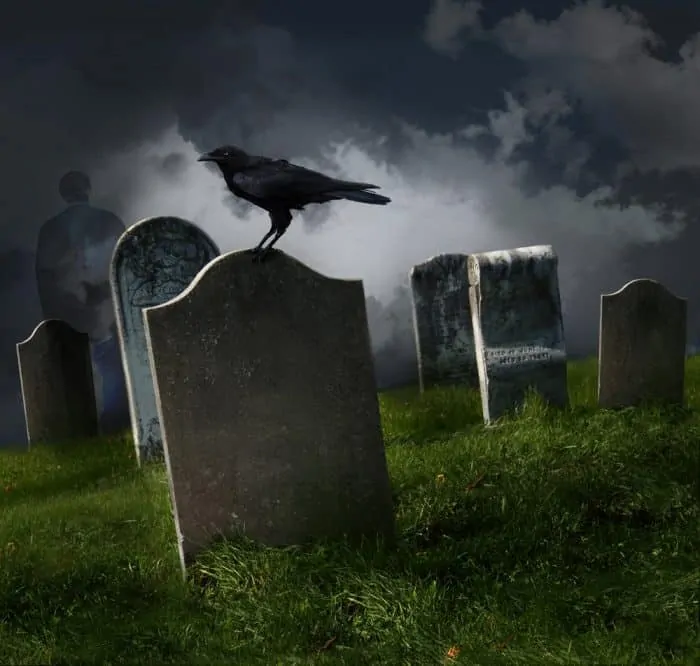 Where To Eat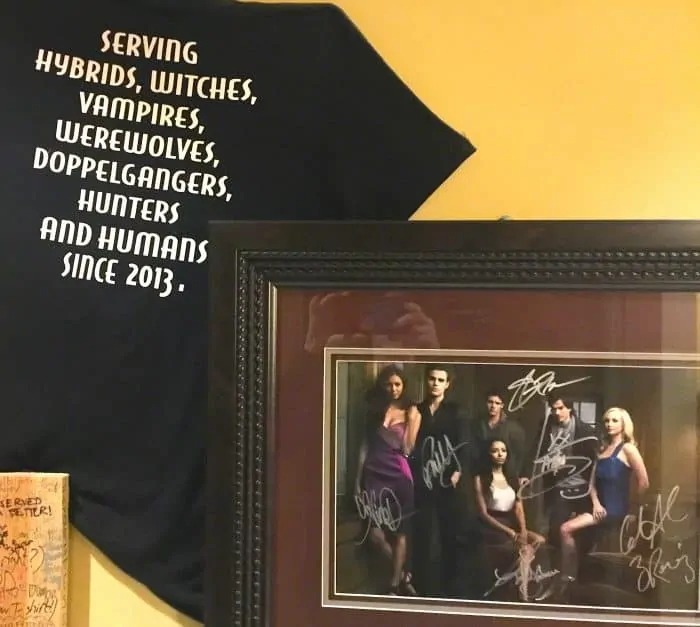 Stalker fans and foodies alike will appreciate the creative Southern cuisine served at Mystic Grill, which was featured on The Vampire Diaries. I couldn't decide between the Sweet Tea Fried Chicken, Shrimp & Grits and Grilled Meatloaf so I ordered them all and they were scrumptious. Afterward, head downstairs to the V.P. gift shop.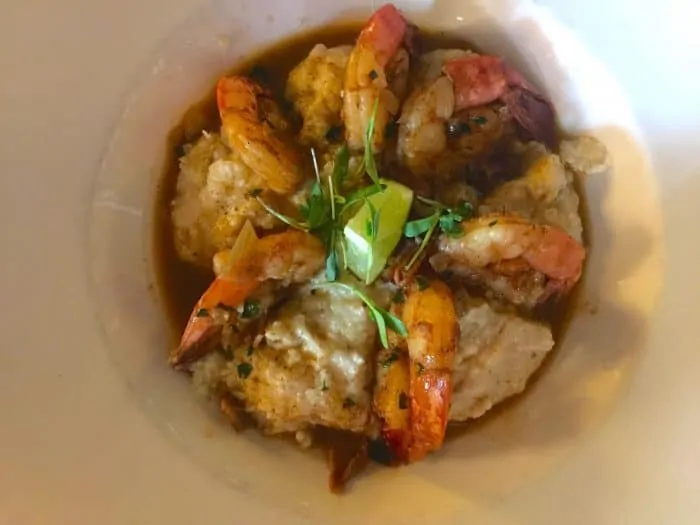 Pop into The Cork, a gourmet wine store for a wine tasting and to pick up some only-in-Georgia specialty food products. Of course, you'll want to buy a bottle of the surprisingly tasty Vampire Wines which comes packed in a coffin shaped box. Or if you prefer a cocktail, The Irish Bred Pub makes a mean Vampire Kiss Martini.
And it should come as no surprise that Scoops ice-cream parlor's best-selling flavor is Damon's Delight, a banana pudding concoction named after–you guessed it.
Where to Sleep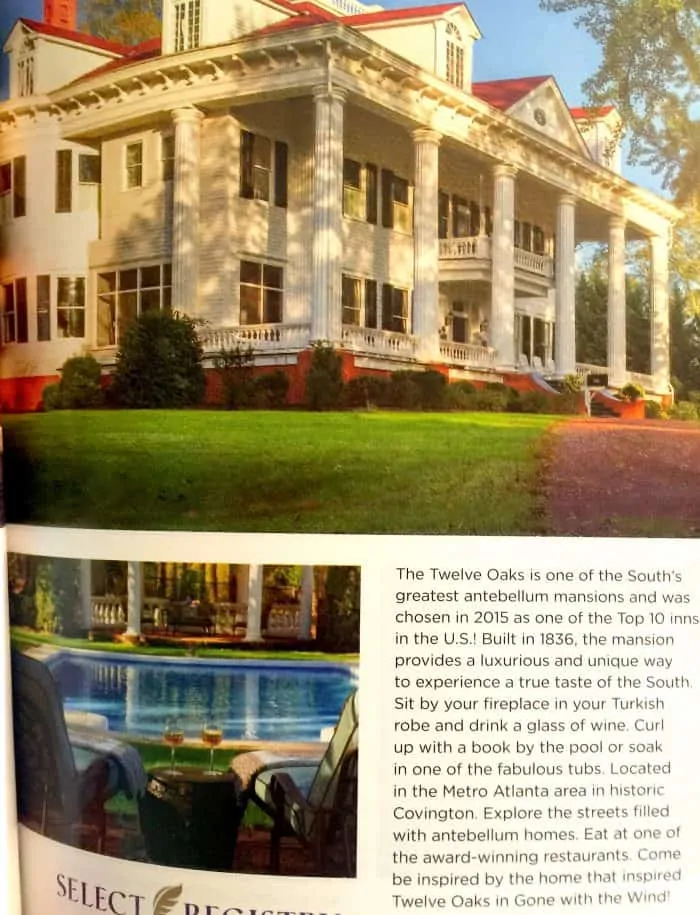 Visiting The Twelve Oaks, one of the South's most gorgeous antebellum homes, left me as breathless as Scarlett was when Rhett carried her upstairs. Built in 1836, the 11,000 square foot mansion was painstakingly renovated in 2012 and reopened as a luxury B & B complete with crystal chandeliers in the bathrooms, spa-jetted pedestal tubs or unique rib cage showers, remote control fireplaces, and amazing breakfasts with stuffed French toast, pancakes and eggs, and biscuits and gravy. Fiddle-dee-dee, I never wanted to leave.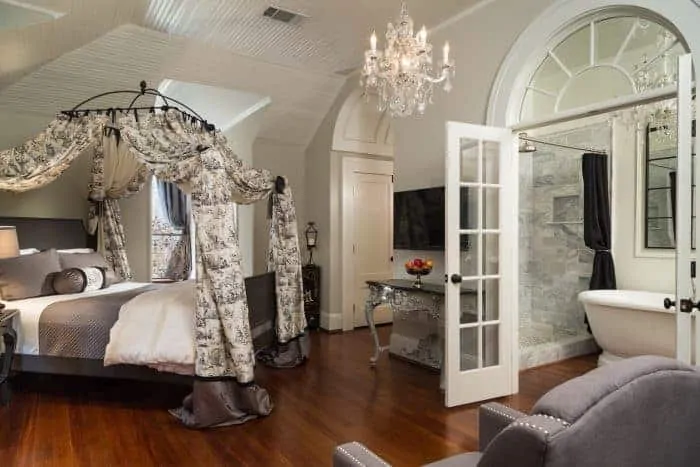 Side note: After Margaret Mitchell spied a photograph of the house in the Atlanta Journal in 1939, she sent the clipping to the set designers of Gone With the Wind, saying, "I like this for Ashley's home," referring to Twelve Oaks. It is now on the National Register of Historic Places.
FYI:

For some great ideas in planning your itinerary check out the helpful, super informative, and easy to navigate, Georgia On My Mind, the official Georgia Tourism and Travel sites.
P.S. Watch where you park!