When it comes to musical theater, the only thing more fun than a Gilbert and Sullivan operetta is thirteen Gilbert and Sullivan operettas. If you agree, you'll love the Lamplighters' A Song to Sing, O!, a pastiche of the duo's shows that tells their creators' story.
Dialogue between songs offers biographical background on Gilbert's and Sullivan's lives and collaboration. It has a few shining moments—most notably the demonstration of the safety of electric lighting and Gilbert's convoluted plot summary of The Mikado followed by a deadpan, "It's simplicity itself!". But by and large, it's just the glue between a parade of greatest hits.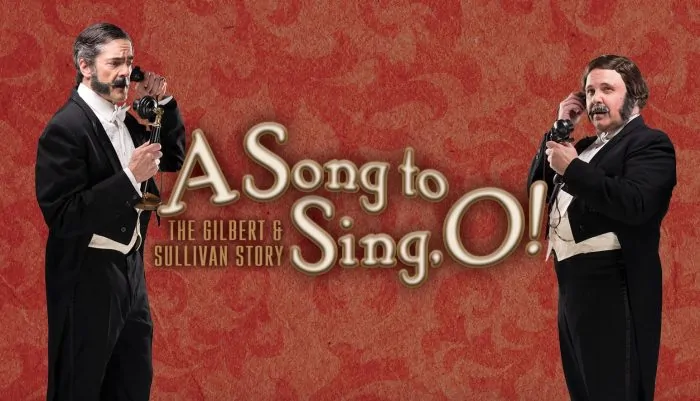 Every G&S show (except the lost Thespis) is represented by at least one number, with the most popular works (H.M.S. Pinafore, The Pirates of Penzance, The Mikado, The Yeomen of the Guard, and The Gondoliers) contributing between three and six. Writer and director Barbara Heroux's choices are excellent. We get a mix of patter, upbeat ditties, and tightly harmonized quartets. Current G&S fans will nod along happily, and newcomers are sure to be impressed by Sullivan's catchy melodies and Gilbert's witty lyrics.
Those melodies and lyrics are delivered as well as you'll ever hear, by a cast of Lamplighters principals old and new. Opening night slips notwithstanding, all are immensely talented singers and actors. Standout numbers included Cary Ann Rosko's businesslike lesson in evolution "A lady fair of lineage high" (Princess Ida), Jennifer Ashworth's effortless coloratura in "Poor, wand'ring one" (The Pirates of Penzance), Sonia Gariaeff's truly terrifying Katisha in excerpts from The Mikado, and F. Lawrence Ewing's quick-tongued delivery of the nightmare song from Iolanthe. In the (mostly) non-singing roles of Gilbert and Sullivan, Charles Martin and Jonathan Spencer were alternately congenial and fiery, the ideal pair of clever, sharp-edged late Victorian gentlemen.
… passions for Gilbert and Sullivan run high.
The ensemble sported gorgeous late-nineteenth-century evening dress (designed by Melissa Wortman and costumed for this production by Hannah Velichko). Accessories took us between the shows' various settings—boater hats for Pinafore, fans for The Mikado, and tambourines for Utopia, Ltd. The choreography was cute and precise in a typical Savoyard manner, with repeated gestures to accompany repeated verses, visual gags, and plenty of waltzing and galloping across the stage.
A Song to Sing, O! runs long for a pastiche (around three hours), especially with the Lamplighters' traditional cast meet-and-greet tacked on at the end. Then again, a shorter show would contain fewer musical numbers. Audience members leaving the theater complained about the absence of their favorites, as though the 33 included were insufficient! It just goes to show that passions for Gilbert and Sullivan run high. If anyone doubts that G&S deserve such devotees? Send them to A Song to Sing, O!, and see if they can avoid being caught up in the sheer joy of it.
A Song to Sing, O!
Lamplighters San Francisco
4 out of 5 stars