Beach escapes offer a perfect girlfriend getaway choice and it simply doesn't get much easier (or more pleasurable) than booking a stay at the CasaMagna Marriott Puerto Vallarta Resort & Spa.
A mere 3-hour flight from San Francisco followed by a 10 minute shuttle ride from the airport to the hotel, a speedy check-in, and before you can say "O.M.G. – check out the gorgeous view from our terrace!" my gaggle of gal pals and I were floating in CasaMagna's shimmering infinity pool overlooking Banderas Bay's tranquilizing turquoise waves, sipping passion fruit margaritas. All was finally right with the world.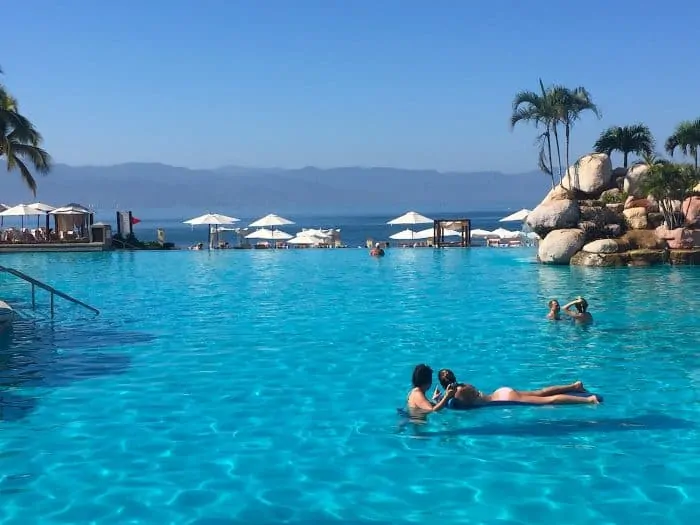 Why CasaMagna Marriott Puerto Vallarta Resort & Spa?
Scrumptious Eats

For one thing, it's not one of those all-inclusive, quantity over quality hotels. Instead the resort offers a handful of carefully curated restaurants which run the gamut from pristine ceviche and fresh-caught, grilled seafood (shout out for the lobster tacos) served at the romantic, beachfront Las Casitas, some excellent sushi, tempura or Teppan-Yaki at the sophisticated Mikado, or if your in the mood for something casual, head to the lively Champions sports bar to tackle a tower of sliders and wings. Jump start your day at La Estancia's bountiful brekkie buffet which features traditional Mexican favorites such as sun-dried beef, chilaquiles, steaming menudo and a array of homemade Mexican pastries. If you smile sweetly, the tortilla cook will pat you up a fresh pair filled with huitlacoche, a local delicacy aka "corn smut" or Mexican truffle.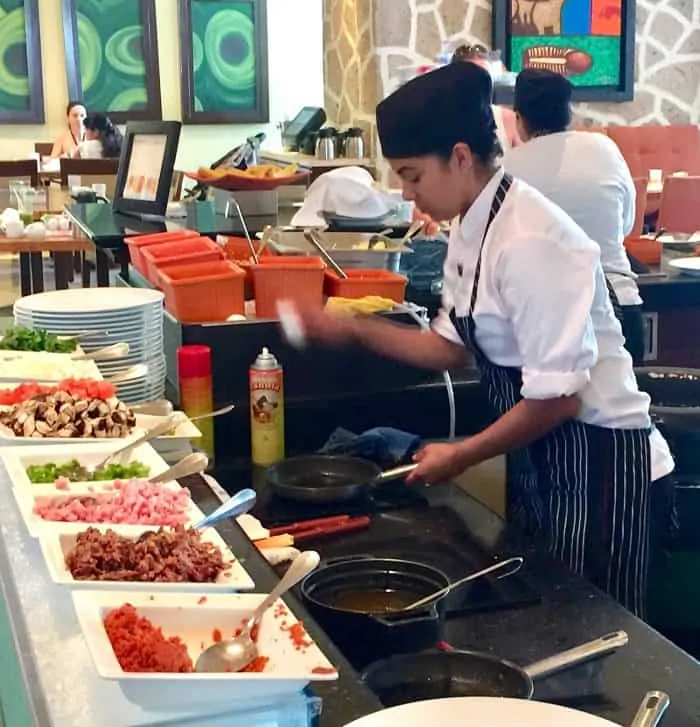 No matter which eatery you choose, you'll be served only the freshest, locally sourced ingredients with a large side of the friendliest service imaginable.
Case in point, at the breakfast buffet one morning I saw a guest call over Reyna, her server, to show her the latest photos of her new grandchild, and afterwards, they hugged like they were total besties. The next morning I sat in Reyna's station and I swear she took care of me like she was my long-lost Abuela (grandmother.) When I asked her if I could have milk instead of cream for my coffee, she brought me 3 mini-pitchers filled with low-fat milk, skim milk and even a lactose- intolerant choice.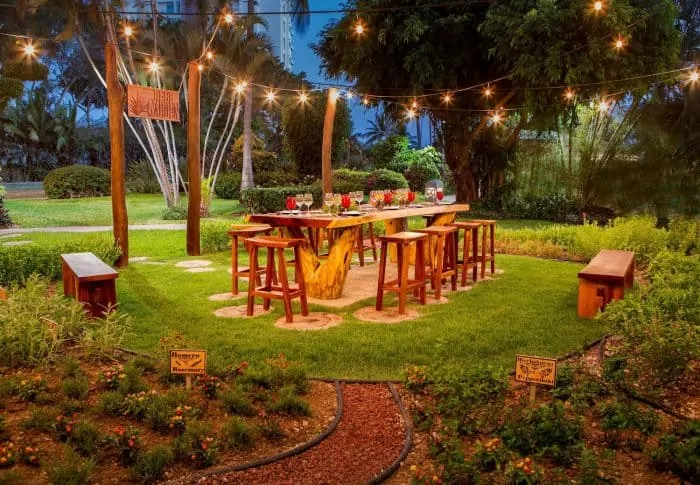 For a magical girlfriend experience book a Dine Around Mexico dinner served in CasaMagna's secreted Herb Garden, surrounded by the fragrance of "parsley, sage, rosemary and thyme". The resident tequila sommelier led us in an informative tasting highlighting the hotel's incredibly smooth signature brand, made with blue agave grown at the resort. Our six-course, "Dine Around Mexico" dinner was an imaginative, gastronomic trip through the different regions in Mexico. My favorite stops were the lime soup from the Yucatan, the Veracruz-style crab enchiladas, and the cornbread dessert accompanied by a Chiapas coffee sauce.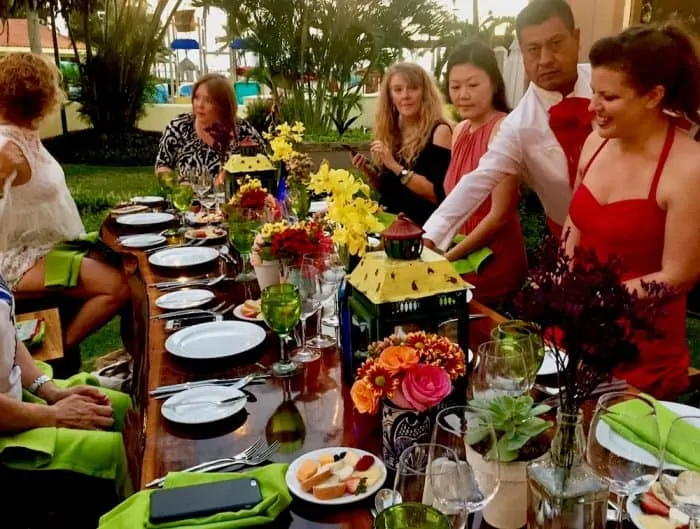 Sweet Suites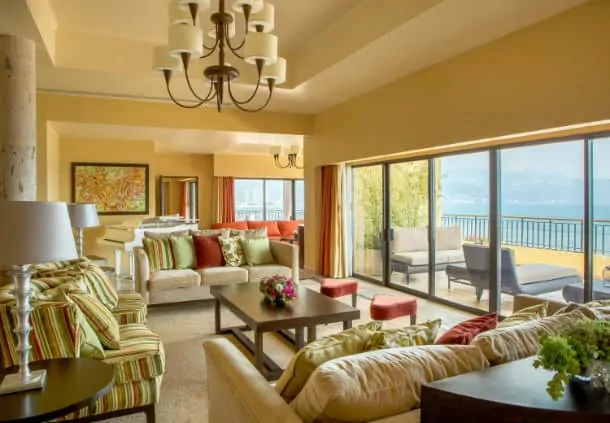 This upscale, beachfront property features 433 rooms including 29 suites (which are well worth a surprisingly small splurge for your girlfriend headquarters) decorated with a jazzy Mexican-inspired palette and patterns, floor-to-ceiling windows and sliding doors, their signature Marriott "Revive" bed (complete with my name on the pillow) contemporary marble and granite bathrooms, plush bathrobes and slippers, balcony/terrace, air-conditioning, flat-screen cable TV with premium channels, safe, daily newspaper, mini-bar, and coffee maker.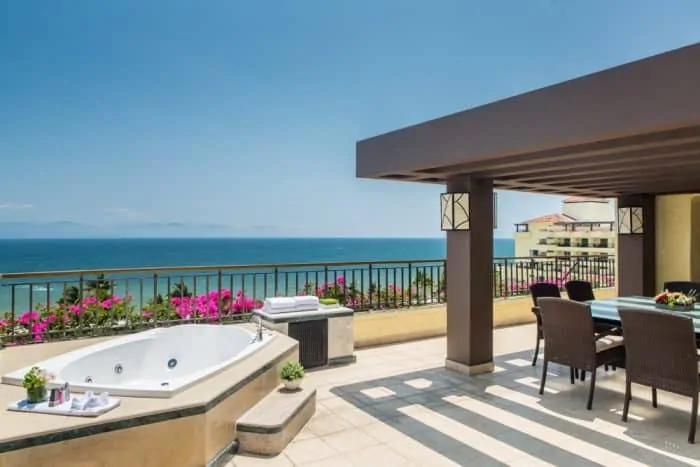 Spacious Spa
The spa-mazing Ohtli Spa marries ancient healing treatments from the ancestral Huichol culture with modern techniques, providing lovely afternoons of girly indulgence as we hopped between the dry sauna and eucalyptus steam room, Swiss pressure showers, whirlpools, hot and cold plunges and Swiss pressure showers, before surrendering our purified bodies to the fabulous massage therapists. (Loved my masseuse, Miatrella, who really honed in on my sore footies.)
It's hard to choose between the indigenous Mexican Fire Opal Balancing Stone Therapy, a Blue Agave Syrup & Sea Salt Body Scrub, or a Hydrating Tequila Coconut treatment, or an Organic Avocado Facial, so best to try them all!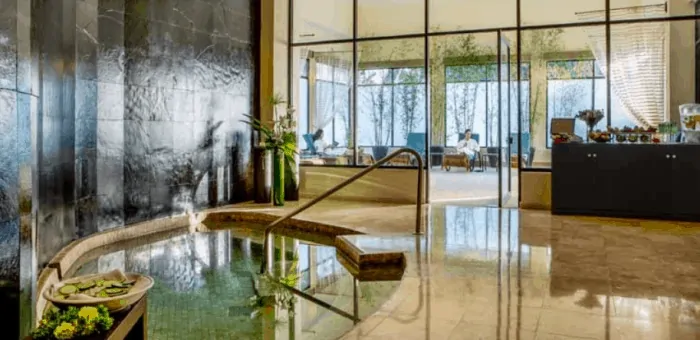 To keep the buffet breakfasts poundage at bay there are outdoor pools, an indoor lap-pool and a fitness center filled with high tech cardio and weight training equipment. The gym is impeccable, with a helpful fitness instructor standing at the ready to assist you on any of the machines.
Two Not to be Missed Extra Curricular Activities
If your gang is even remotely foodie you'll want to sign up for Vallarta Food Tours — 3.5-hour eating and walking tour. Not only will you feast on an incredible array of delectable treats but you'll also learn many interesting facts as you explore Puerto Vallarta´s Downtown and Old Town's rich culinary history. Three thumbs up to our knowledgeable guide, Anna Marie. There is little that she doesn't know, and enthusiastically shares, about the history, culture, and the local food scene in Puerto Vallarta. As we strolled from one food stop to the next she was greeted by locals at every turn, and hearing her back stories about the families who took such pride in their food, added greatly to our experience.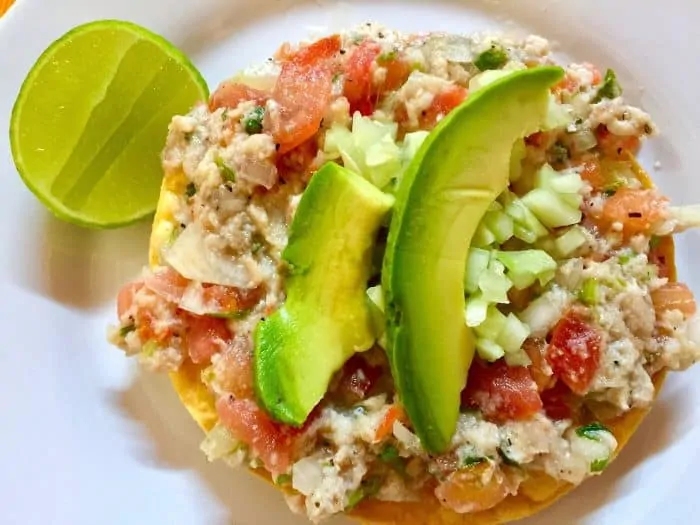 Wear your stretchiest pants since you'll be sampling mole enchiladas, fresh ceviche, tostadas, hot-off-the-press tortillas, authentic tacos, traditional drinks, handcrafted artisan chocolates and regional candies and  much more.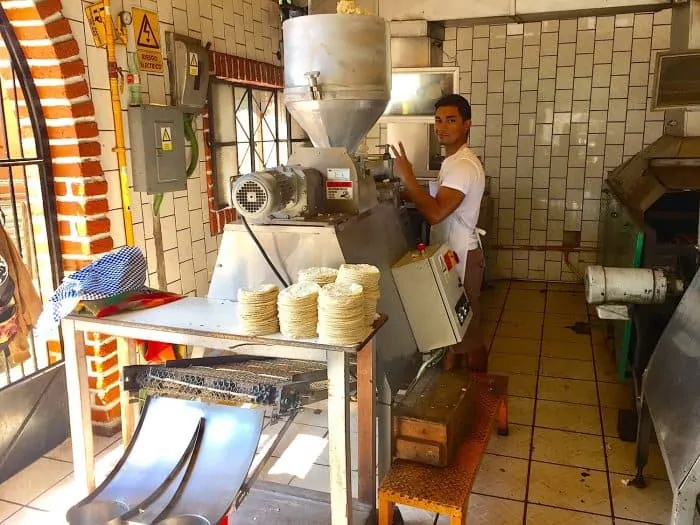 As you walk around town you'll see posters everywhere touting the "Rhythms of the Night" Dinner Show, and rightly so! Rhythms of the Night is an amazing journey that will transport you (on a fun-filled, drink-laden, hour long sunset cruise) to the magical cove of Las Caletas, once home to Hollywood movie director John Huston.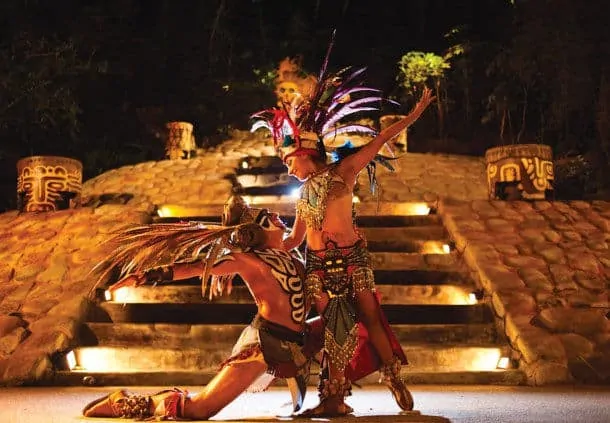 Once you land at the cove, dramatically lit by flickering torches, you'll hear the haunting sounds of mermaids serenading you from their rocky perch as you follow the pulsating drumbeats along a candle-lit path to the jungle amphitheater.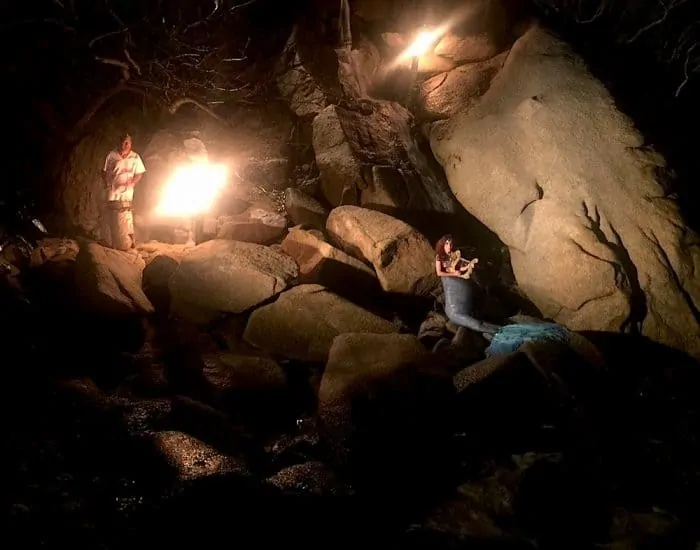 For the next hour prepare to be blown-away by a spectacular theatrical performance, as the talented troupe of local performers mesmerize you with tales of mystical Aztec ceremonies shared through song and dance. I couldn't believe the high caliber of the performance and the fabulous, Lion King-ish costumes until I later learned that the choreographer had trained at the prestigious Cirque du Soleil academy.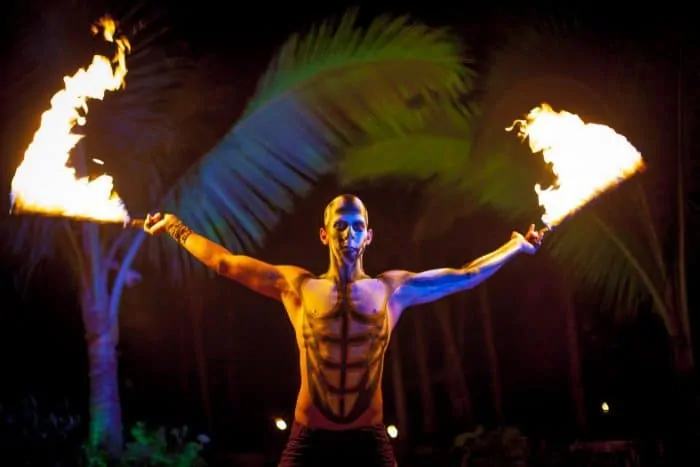 The buffet dinner was equally surprisingly since there were many stations set up resulting in very short lines. The food was excellent with a tantalizing assortment of grilled steak, tender chicken, barbecued ribs, grilled fish, various salads, fruit, veggies and a variety of homemade dessert selections.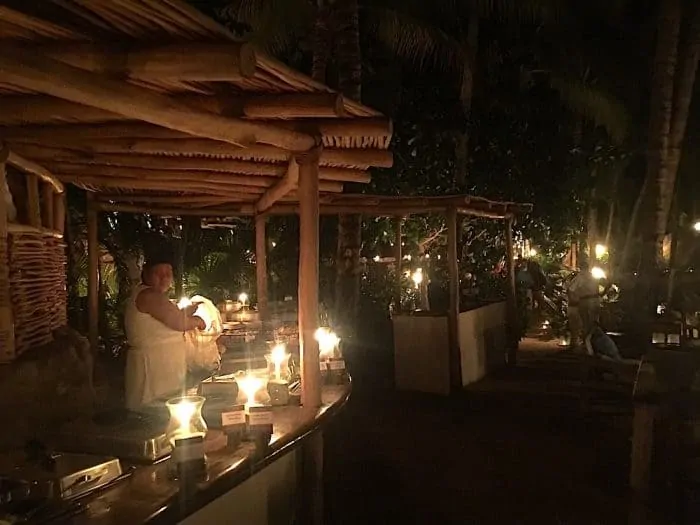 Sadly, we were "voted off the island" and had to return home but our wild and crazy cruise director, Leon, soon had us in high spirits as the crew kept us entertained with "guest performances" by Elvis, Prince and Sinatra.