Springfield, Missouri is located at the central belly-button area of America. That was my sum knowledge of the place before last week's visit. I was going to do a drive-by on my way from Columbia to Branson but decided to spend the night, honestly not expecting much. Three days later I have to say that this San Francisco girl has left her heart in Springfield! I know! I'm as shocked as you but Springfield turned out to be such a cool, creative, low-key, super nice place that I was completely enamored. As I write this I have to keep checking my thesaurus to find other words for "cool" because everything there was just so dang cool there.
Springfield oozes small town charm combined with the best big city offerings. There are dozens of original attractions (thoughtfully gift-wrapped in the natural beauty of the Ozarks), some noteworthy farm to table cuisine, fantastic antiquing, a vibrant art community, and a new, ultra hip hotel that Tribeca would kill for, all of which can easily fill a long weekend visit.
TO DO
Take a walk around the Historic Downtown area. Pop into these unique shops to get a feel for what Springfield is really about.
5 Pound Apparel is a clothing store that was started in 2010 by a group of college students that wanted to make the world a better place. Their (successful) vision was to offer distinctive, quality goods and every item must give back to someone/someway. For example, if you buy one of their T-shirts they will donate five pounds of food to the needy. How cool is that?
Art Inspired is an exciting non-profit biz that not only provides employment opportunities for people with developmental disabilities but it's also a retail store selling a designer line of innovative, hand-made, environmentally correct, StonePaper Art™ products made from recycled waste paper.  All proceeds go to help individuals with developmental disabilities.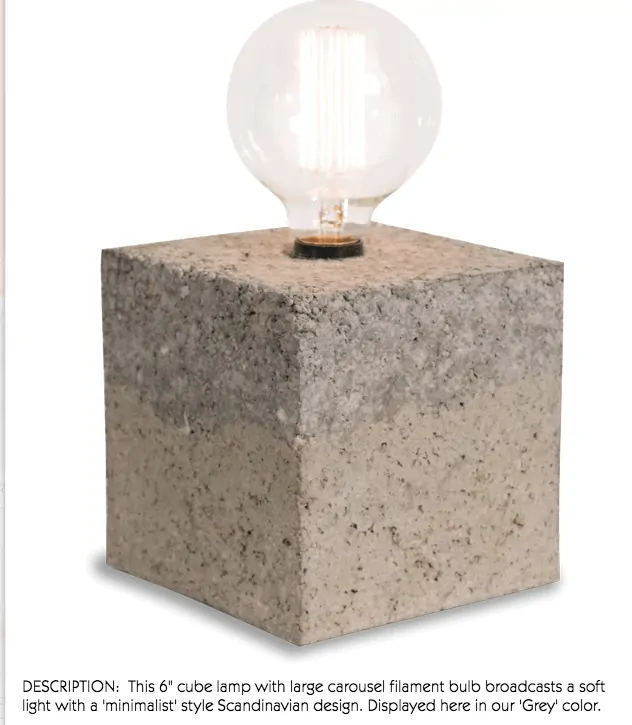 A Cricket in the House has a pleasing jumble of what the owners refer to as "items made with character and purpose".  They specialize in vintage pieces as well as reclaimed, restyled, and re-purposed furniture, unique accessories, and artwork supplied by local craftspeople.
Inside tip

The historic downtown arts district offers a First Friday Art Walk, where 25 galleries offer original art, live music, and demos. Don't miss the father and son glass blowers at Springfield Hot Glass Studio, where you can stock up on their stunning hand blown oil bottles.
Hang out on HISTORIC C Street – Springfield's new hipster nabe. This six block section of Commercial Street once a turn-of-the-century railroad district, has been completely revitalized and is loaded with eclectic stores, antique & flea markets, a trendy barber shop, quirky tea room and a fabulous old ballroom.
Creative Escape Glass is a fused glass studio open to the public. You can shop their gallery filled with custom made glass plates, bowls, tinkling wind chimes, and a kaleidoscope of iridescent glass jewelry made by various CEG artists but it's way more fun (and surprisingly easy) to make your own fused glass piece. Under the patient tutelage of owner Rebekah, I produced a magnificent (or at least my mommy thinks so) sun catcher in about an hour for only $15!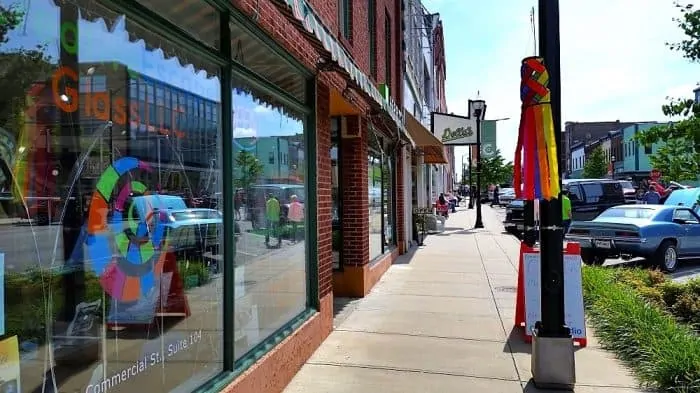 Lindberg's Tavern opened in 1870 and became to go-to stop for railroad workers looking for a cold one after a long shift. Order one of the locals craft beers made by White River Brewing Company or Mother's Brewing Company, to pair with a duck fat fried Lindburger, while you check out the beautiful tin ceiling, ancient piano, antique back bar, and the framed copy of the arrest warrant of Belle Wilson, a notorious madam at the upstairs brothel.
Treat yourself to a sampling of award-winning chocolates at Askinosie Chocolate, a small batch bean to bar chocolate manufacturer where 100% of their beans are sourced directly from farmers.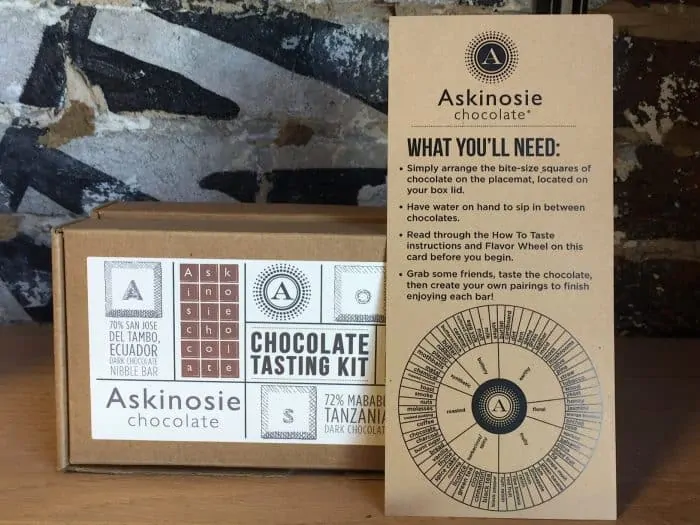 The interesting back-story on owner Shawn Askinosie is that he previously worked as a successful criminal defense attorney. After one high-profile murder case too many, he decided to chuck it all and fulfill his passion for chocolate. And I for one, am glad he did! Mail order is available and you definitely need to trythe 77% Whiskey Dark Chocolate bar (the nibs are aged in an old Jim Beam barrel for 2 years) and the wonderfully weird Dark Milk Chocolate and Black Licorice CollaBARation Bar.
Inside tip

Just for fun I was checking out Airbnb and like everything else in this nabe, there are tons of 2cool4school ones available.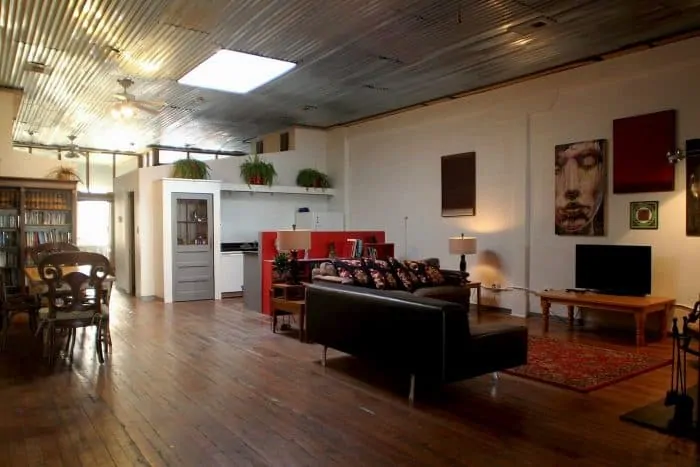 The privately owned Route 66 Car Museum currently boasts about 70 diverse American and European automobiles, some of which are incredibly rare.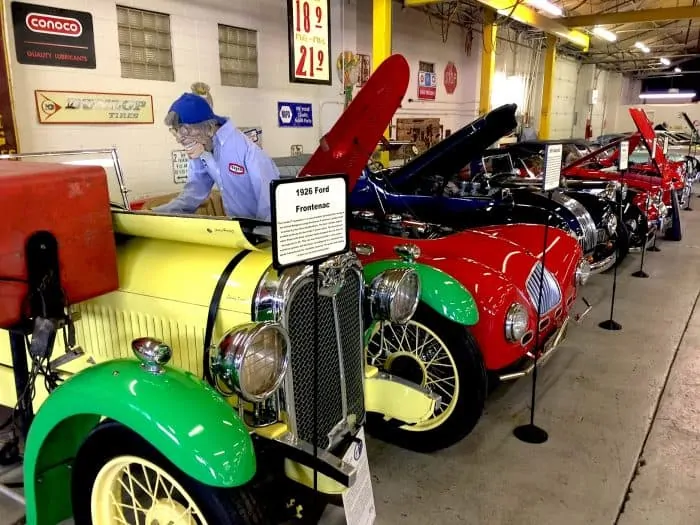 These impeccably restored cars run the gamut from a 1936 Horch, one of about 50 that were sold to the German government in 1937 for use by the military's General Officers, to the 1926 Hudson used in "The Grapes of Wrath" film, the Zombie Protection Truck from the movie series "Resident Evil," the "Batmobile" as well as some gorgeously, pimped-out Jags, Studebakers, Rolls Royce, Delorean and many others.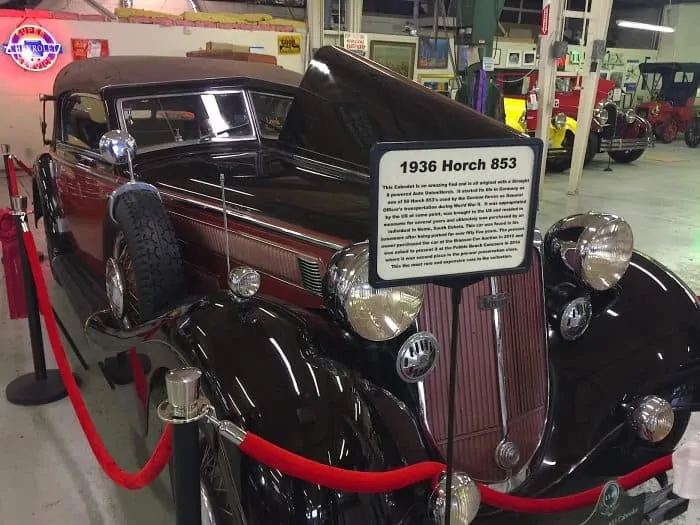 Inside Tip

The gift store has some very reasonably priced auto memorabilia including old signs, tools, oilcans, vintage toy cars etc.
Bass Pro Shops Outdoor WORLD really deserves its own category: something like "The Big Daddy of shopping!"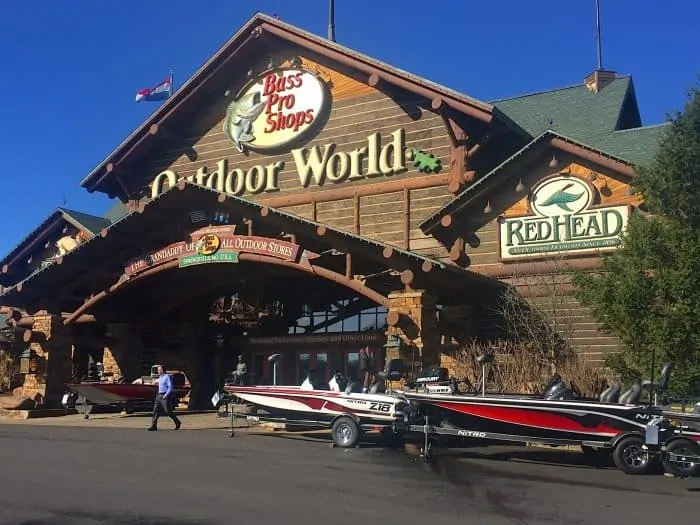 Not being remotely into hunting or fishing my initial plan was to just pop my head into Bass (simply because I had read that it was the first and largest store, measuring a whopping 500,000 square-feet and that's no fish tale!) but once I went in, it totally blew my city-slicker mind and kept me mesmerized for a good couple of hours.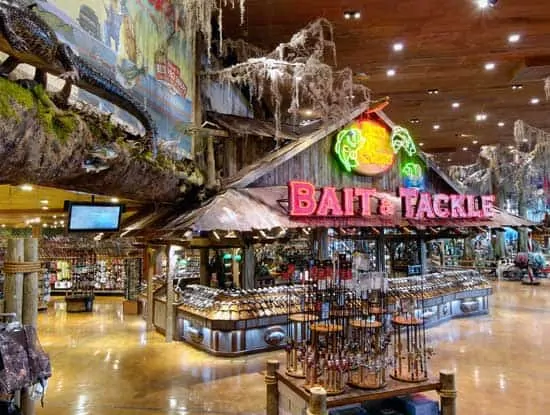 Not only is there a HUGE selection of outdoor apparel and gear, this Crocodile Dundee wonderland has three-story high cascading waterfalls, a swamp filled with live alligators and snapping turtles, a trout pond shared with some squawking ducks, both a shooting and archery range, gigantic freshwater and saltwater aquariums, an art gallery, life-like stuffed animals, a stunning gun shop that sparkles like a jewelry store, a barber shop, Hemingway's restaurant and there's probably a partridge hidden in a pear tree somewhere.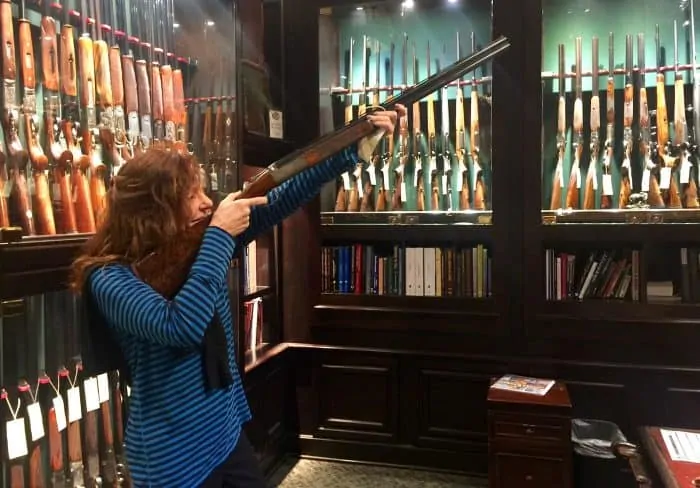 HEAD OUTSIDE
Whether you're running, biking or hiking, Springfield has a plethora of gorgeous trails to choose from, which is one reason why American Trails named MO the "Best Trails State".
The 112-acre, Nathanael Greene/Close Memorial Park has it all going on with three miles of trails, a beautiful lake, a butterfly house, and a botanical center. There are 26 different gardens to explore including a Zen-like Japanese stroll garden, an ornamental grass garden, and if you visit in the summer you'll want to seek out the shady hosta garden. At the nearby Gray/Campbell Farmstead you'll find the oldest cabin in Springfield and a historic Liberty one-room schoolhouse.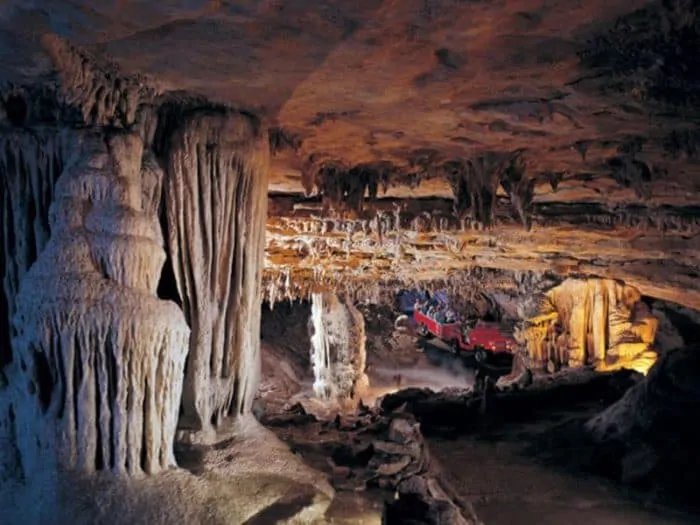 Fantastic Caverns – America's only ride-thru cave! This amazing cave is aptly named since I oohed and ahhed all through the hour long ride. It was discovered in 1862 by an Ozark farm dog but wasn't explored until five years later when 12 brave women from Springfield, answering a newspaper ad seeking explorers, ventured into the cave.  You'll find their names carved into the cave wall.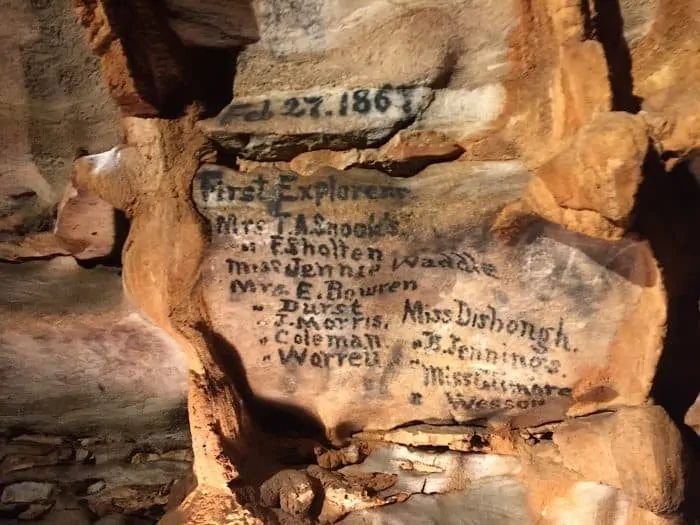 Inside tip: Loved this useful tip passed on by our guide for remembering which formation is which: stalactite has a "c" in it, as in "ceiling," and stalagmite has a "g" in it, as in "ground."
EAT
Gailey's Breakfast Café-Fuel up at this retro diner over the best brekkie in town. The sweet tater hash browns, sprinkled with brown sugar are killer. Ditto for the hippie omelet: three eggs, hummus, spinach, tomatoes and walnuts.
Aviary Cafe and Creperie-This cute, birdie-themed café does have a full roster of delectable crepes but I'd make a repeat visit for their perfectly prepared steak frites with Béarnaise sauce, and frisee salad. Of course, I'd follow it up with their Bananas Foster crepes for dessert.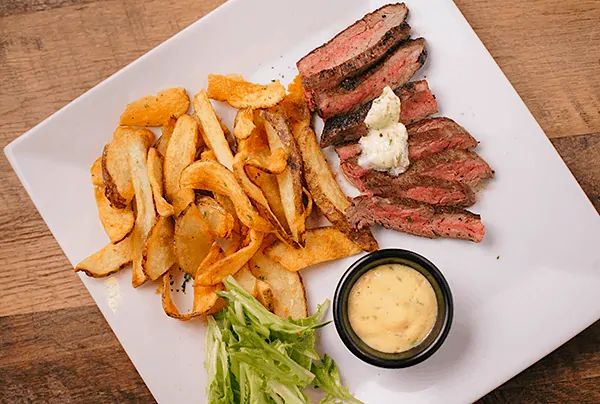 Inside tip

If you're one of "those" ask about their Gluten-Free Crepes.
Metropolitan Farmer is the ultimate farm-to-table spot. Chef Wes Johnson's menu is constantly changing to showcase the freshest local offerings from his partner farmers. Pray that the Fried Brussel Sprouts: Flash fried Brussel sprouts, crisp pear, fresh greens, garlic chips, burnt honey vinaigrette, garlic aioli and the Fried Pickles: Cornmeal breaded pickle chips, pimento cheese spread, grilled sourdough are on the menu because they both raise the bar to new standards.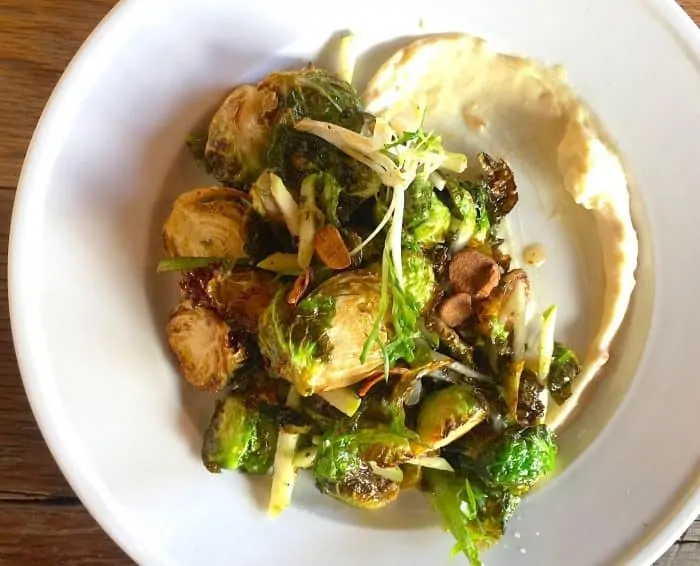 Hurts Donut Company, a junk food icon, is so worth busting a diet. It's impossible to choose between all the flavors but fan favorites include Cookie Monster, Jesus, and Fred Flintstone. But if I had to pick one, I say go for the 6-inch, sweet & salty, Maple Bacon Long John (no delicate sprinkles here, chunks of bacon are piled on top!)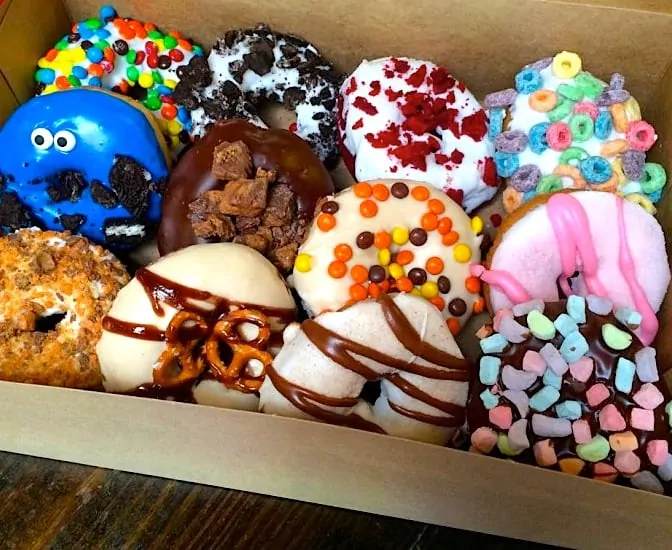 The shop is loaded with fun signage featuring their logo, a donut sporting a band-aid for "Hurts Donut" ….get it???? Perfect pit stop when you have the late night munchies since their sign says they're open 25 hours a day, 8 days a week!!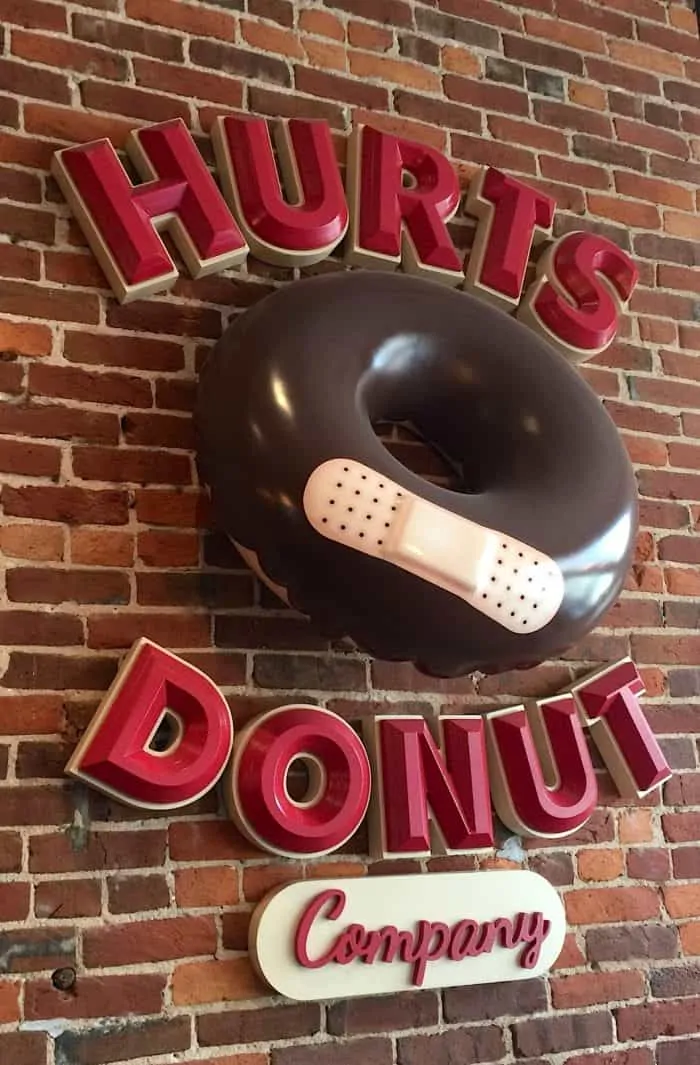 Inside tip

They deliver their donuts in a photo-worthy "Wambulance" which, unfortunately, was never around when I was there, yet I never tired of going up to the counter to ask "Where's the Wambulance?"
SLEEP
Ok, I admit I'm using "cool" yet again, but Springfield's downtown Hotel Vandivort, a one-of-a-kind, urban retreat is just so freakin' cool that I'm going for it.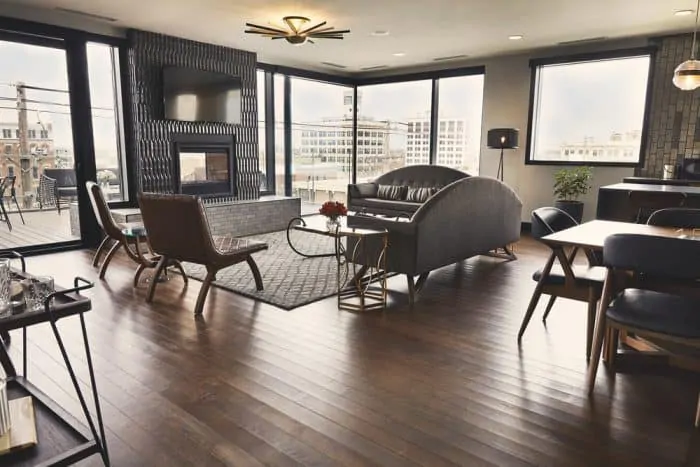 Originally built in 1906 as a Masonic Temple, it caught the attention of the local McQueary family. After owning successful businesses in Springfield for 100 years they wanted to give back to their community by creating, with great love and style, the Hotel Vandivort, a cultural hub that would revitalize the downtown community. This luxury boutique property has 36 rooms and 14 suites ranging from the "Humble Queen" to the 1,500 square-foot "Master Suite". All of the rooms have sky-high ceilings, exposed-brick walls, premium bedding, natural wood floors, 55″ HDTV, large bathrooms with walk-in showers, in-ceiling speakers with mobile device control of audio, video and lighting, with many whimsical touches.
The lobby, with its welcoming fireplace, comfy conversation pits, and over-sized communal work tables made from recycled wood, has become the informal gathering spot for both guests and locals and who stop by to plug in while ordering craft cocktails and nibbles from the lobby bar.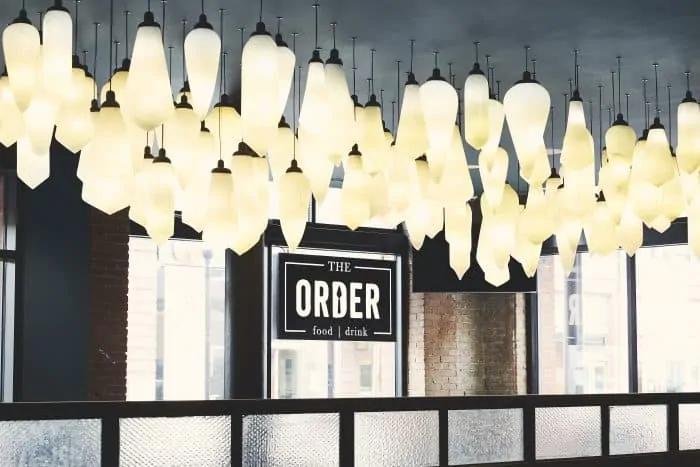 The Order, Vandivort's trendy fine dining restaurant, manages to simultaneously pull off an industrially chic yet still warm and inviting vibe. Much of the coziness is due to the 90 hand-blown glass globes made at the nearby Springfield Hot Glass on South Campbell Street coupled with their hospitable service. When I asked for some suggestions from the everything-sounds-great menu, my helpful server gave it serious thought before passing on her recommendations. They were all spot-on, particularly her favorite Lil' Somethin' Somethin' starter Double Dip-with Terrell Creek Farm goat cheese and grilled naan. And don't even think of leaving without trying their deadly Hurts Donut Bread Pudding with Askinosie chocolate ganache and salted caramel, passing on the love to two more artisan suppliers.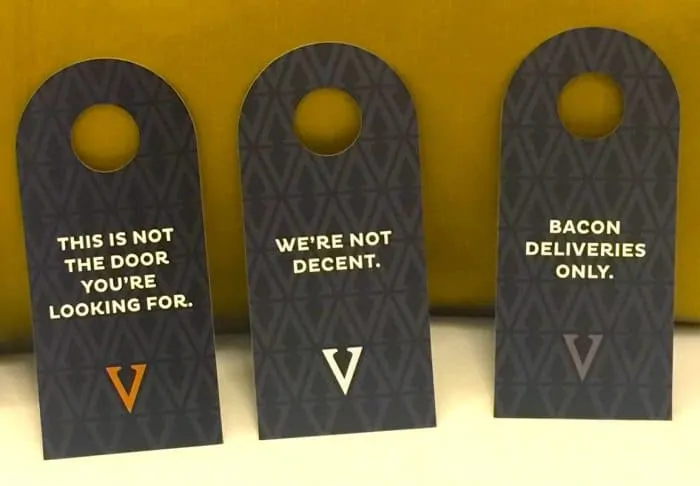 Inside Tip

If you're having a good hair day, head to the downstairs to the unisex bathrooms that have become famous for producing unbelievably flattering selfies.
For proof positive go to #HotelVandivortBathroomSelfies