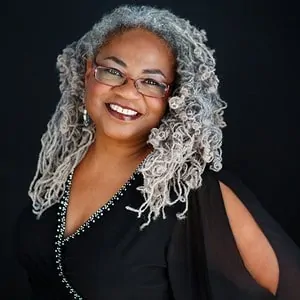 Society Cabaret musical presentations at the Hotel Rex have been called "the essential San Francisco experience," with quality performers in an acclaimed venue featuring excellent cocktails and food. The Hotel Rex is a "boutique" hotel owned by Joie de Vivre and located near Union Square.
A recent visit to the venue confirmed the above description. The chanteuse that evening was Le Perez, who performed before a full house, an audience who loved her and the venue. Since Valentine's Day had just happened, Perez built her evening around "roses are red and blues are inevitable…."
This popular jazz bar is just a couple of blocks from the theater district.
Resplendent in a red wrap dress and sparkling jewelry which highlighted her salt and pepper curls, Perez entered with long-stemmed roses in hand and distributed them to favorites in the audience before going onstage. Her program of 12 songs leaned toward jazz and blues, with a delightful gospel influence accentuating the evening. She began with "Sister Sadie," lyrics by Dee Dee Bridgewater, and ended her 12 song set with "Somethings' Got a Hold on Me" with lyrics by the great Etta James.

Although she has been singing for a public audience only two years, you would not know it from her relaxed presence in front of the microphone. Accompanied by three seasoned musicians on piano, bass and percussion, Perez moved effortlessly from wistful ballads through saucy blues. Her encore included "The Nearness of You," written by Hoagy Carmichael, and "Thanks for the Joy" with lyrics by Ruthie Foster.
After the performance, a happy crowd moved to the Library Bar in the Hotel Rex; Perez joined friends and family (husband, siblings and daughter) there for conversation and drinks. Cozy and welcoming, the Library Bar features books to read and photos of literary figures along with a menu of classic American food. This popular jazz bar is just a couple of blocks from the theater district.
The owners of Society Cabaret aim to recreate that special ambiance we associate with the best music clubs of bygone days – "a warm room, wonderful guests, talented performers." The idea is to share the creative experience, with magic happening between the artist onstage and the audience. We think they have succeeded.