Tested in the Stark Insider labs: IdeaUSA AtomicX Wireless Active Noise Cancelling Headphones (ANC V201).
Have you heard the news? It seems as if our dear friend, the headphone jack, is not long for this world. Too bad. I'll definitely miss the audio fidelity and old school simplicity of just plugging in my phones. Then again, I certainly won't miss the tangled messes cables always seem to create; nor the crackling the connection seems to incur when bumped or accidentally wiggled.
Fortunately, two technologies have come a long way, and our making our transition to wireless not only acceptable, but even preferred.
First, Bluetooth. Thanks to something known as "aptX" sound quality is quite impressive. In the past, the idea of wireless audio would automatically be associated with a drop in fidelity. That's no longer necessarily the case today.
Then there's active noise cancelling technology. Perhaps Bose made it most famous with its storied line of wired noise cancelling headphones — the ones we saw blissfully worn on planes by those trying to escape nearby drama.
And, thankfully, all of this cool stuff needn't break the bank.
Take these over ear headphones from IdeaUSA, for example. They retail for $159 (USD), but you can typically find them on sale for far less.
The company sent me a pair of their AtomicX V201 headphones to test out. I was anxious to see how they'd perform against some of my serious gear. Yes, I own a pair of Sennheiser HD 800s. I'm one of those guys. Look, after a long day, I just adore an hour or so of Miles Davis or Wagner or Vangelis or, heck, even Adele's magnificent new material. To escape from this world — albeit briefly — is, indeed, Valhalla no?
AtomicX V201 Wireless Headphones: Design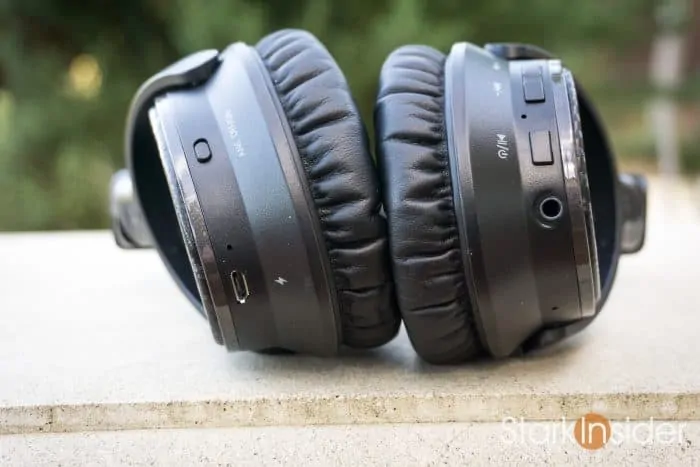 How I would describe the build quality: solid. In a word these headphones feel every bit as well made as my Bose. I appreciate the understated black and grey texturing that yield an understated and modern appearance. The padding is surprisingly soft and comfortable. Fit, superb. There was no wiggle room. As you'd expect, even without the headphones turned on and activated, there was an appreciable drop in outside noise.
A 500mAh battery provides power (up to 25 hours) and can be charged via a micro USB port on the bottom of the left headphone (2 hour charge time, consistent with my tests).
On the right side you'll find volume controls, a play/pause button, and, a 3.5mm jack for, if you prefer, a wired connection. All the buttons provide a nice, tactile response and after a few minutes of acclimation are easy to use thanks to muscle memory.
In addition to the V201 headphones, in the box you'll find a 3.5mm cable, a USB to micro USB cable, airplane jack (don't think I'll ever use this!), user guide, and a zippered carrying case (reminiscent of… Bose).
AtomicX V201 Wireless Headphones: Performance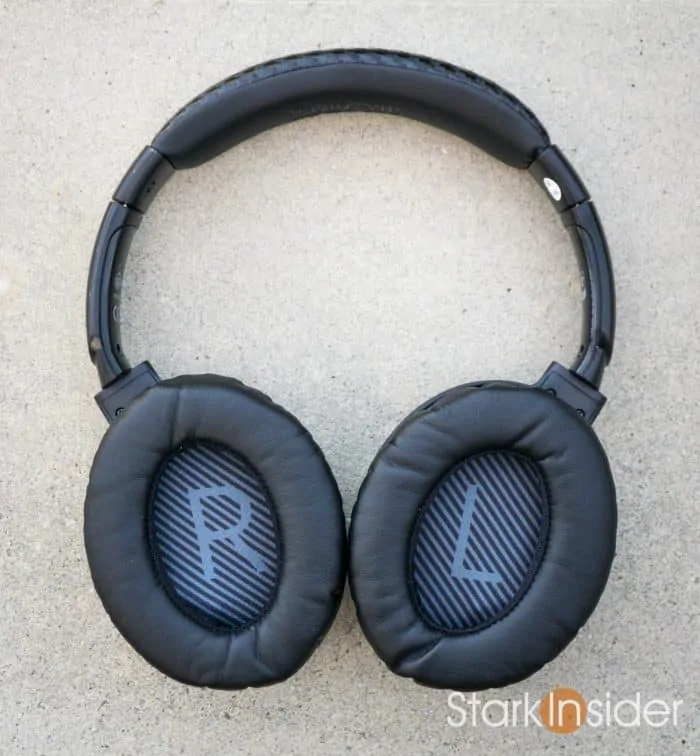 All is well out of the box then. But what about performance?
TL;DR: outstanding.
Noise cancellation, which is rated by IdeaUSA to reduce about 85% of background noise seemed about right in my tests. In a side-by-side comparison, it was right up there with the more pricey Bose headphones.
I queued up all my favorite Spotify playlists, then ran the gamut: jazz, classical, metal (yes, of course!), some hip-hop, top 40, and, even some of my favorite comedy albums.
To be fair, my HD 800s still outperform during critical listening sessions where I must — absolutely must — hyper-analyze every nuanced bass line or snare. But those are $1,400, so really not a fair comparison… still, an idea of what the ultra high end will get you. For the price, however, the price-performance of the V201s is unmistakable. Unmistakably good. In fact, I'd go so far as to say this is the best performing pair of wireless headphones (with active noise cancellation) I've tested in the last few years. Easily.
Specs: IdeaUSA AtomicX Wireless Active Noise Cancelling Headphones (ANC V201)

Model: iDea V201
Dimensions: 7.87*7.48*3.15in (L*H*W)
Inner Earcup Dimensions: 2.36*1.57in (L*W)
Weight: 0.47lb
Color: Black
Chip: Bluetooth 4.1 with apt-X
Noise Level: 20db
Speaker Diameter: 40mm
Speaker Impedance: 32ohm
Range: 33ft (No obstacle to prevent the single)
Driver Sensitivity(S.P.L): 103±3dB
Frequency Response: 20Hz—20KHz
Battery Life: 500mAh (20h ANC playback, 25h music playback, 250h standby)
Profiles: A2DP / AVR CP / HSP / HFP

In the box: ANC V201 headphones, USB charging cable, 3.5mm cable, airline adapter, carrying case, user manual

Retail: $159
Noise cancelling-wise if I were to rate the Bose say a 10 (the gold standard), then these AtomicX would come in at a solid 9.
Regarding audio fidelity, bass is outstanding — without the mud and throbbing you get from low end product.
Mids are clean and distinguished. And the highs are also very respectable.
Overall, audio quality is well balanced, clean, and suitable for a variety of music styles.
Overall, audio quality is well balanced, clean, and suitable for a variety of music styles. Sound can be very objective. If you like to drown in bass, there may be better options out there (I would personally not recommend them). On the other hand, if you prefer a nice presentation of dynamic range, with fine-grain tonality, and pleasing power, you've likely found a new best friend.
AtomicX V201 Wireless Headphones: Should you buy them?
In a word, yes. You should buy these AtomicX V201 wireless headphones. If you can find them for under $100 then I'd humbly suggest you're getting a steal — without scarifying build quality or audio performance.
Frequent travelers: if you don't already own a pair of noise cancelling headphones, add it to your birthday list, or, better yet, just go out there and treat yourself already. Flying will never be the same again once you groove in the noise cancelling zone.
IdeaUSA AtomicX V201 Wireless Headphones
5 out of 5 stars
Highly Recommended
$159 retail
IN REVIEW: IdeaUSA AtomicX Wireless Active Noise Cancelling Headphones (ANC V201)