Director Taylor Hackford has been creating critically acclaimed films for decades, and The Comedian is no exception.  Starring Robert De Niro, Edie Falco, Patti LuPone and an all-star cast, this trenchant comedy profiles an aging comedian at a crucial moment in his fading career – raising questions about where he should go and how he can get there.
Jackie Burke (Robert De Niro) is a popular comedian whose best days may be in his past. A nightclub act goes sour when a pesky audience member shoves a video camera in his face, and Burke slugs him. Unwilling to apologize in a courtroom, Burke chooses to go to jail for 30 days. While doing community service in a soup kitchen after the jail sentence, he meets Harmony Schiltz (Leslie Mann), who also has anger management issues. As they dance warily around each other, the film explores the world of the comic performing live, nightclub life in New York, the challenges of family relationships, and the struggles of long-suffering agents in the performing arts as they work around their clients' many shortcomings.
Be prepared to laugh a lot, even when the language is blue. The world of the nightclub comic no longer differs from performances on television. Nothing and no one are off limits, which encourages comedians to take risks both in terms of their material and their marketability.
Harvey Keitel is amusing and menacing as Mac Schiltz, the possessive father of Harmony. He wants her out of New York and back in Florida where he can keep an eye on her choice of boyfriends and her temper. At one point he says caustically to her, "You've been dumped, cheated on and arrested. These are not signs of success in this city."
Patti LuPone and Danny DeVito are a perfectly matched pair as the brother and sister-in-law of Jackie Burke, wondering how long they can tolerate him back in their lives after his stint in Nassau County Correctional Facility.  When asked about the jail experience, comedian Jackie Burke says, "I came up with some good stuff in there."
Edie Falco (as Miller) is wonderful as Burke's patient agent, a martyr to his abusive language and his penchant for fouling up his own career as time passes and public taste runs toward a younger generation of comics.  She is the daughter of his original agent, and took on this career after her father died. Ever resourceful, Miller locates an incredible variety of gigs for her scrappy and hard to please client (Burke) – political conventions, fraternal order meetings, senior retirement centers, reality tv, foreign countries. Burke has to learn:  "Being funny is not enough anymore." Cruise ships? No, Jackie, you can't work cruise ships right now because you are on probation.
Jackie Burke's fame comes from his television portrayal of a sitcom character named Eddie. He wants to move on, if possible, but the public keeps recognizing him as Eddie and he seems ambivalent about what is required to change and grow.
However, Robert De Niro has no ambivalence about New York, a city he has loved his entire life and which is showcased beautifully here as a place to walk, dine and socialize while cool jazz underscores key moments (Art Blakey and the Jazz Messengers, etc.)
Weary and wounded, Jackie Burke and Harmony Schiltz circle each other with care at the Apostles' Mission soup kitchen. "Ok, I'll accompany you to a birthday lunch with your father, if you will be my date for my niece's wedding."  With deft skill, Hackford gives us a luncheon to remember and wedding scenes which will live in hilarity-land forever.
Cloris Leachman appears in a cameo as a legendary comedienne at the Friar's Club, one who makes a memorable exit. Charles Grodin and Billy Crystal appear as themselves at the roast. Up and coming young comedians are showcased at several clubs. All are familiar with the comic legend of Eddie, the character created by Jackie Burke, the character he can't escape.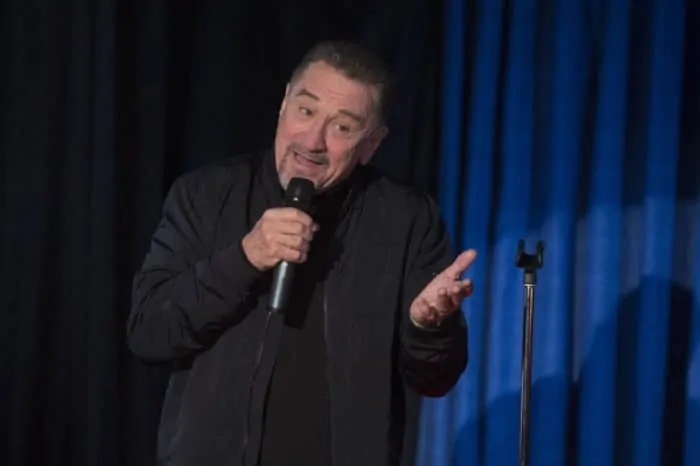 Director, producer and writer Taylor Hackford has contributed to films such as An Officer and a Gentleman (1982), The Long Walk Home (1990) with Whoopi Goldberg and Sissy Spacek, Dolores Claiborne (1995) with Kathy Bates, and Proof of Life (2000) with Meg Ryan and Russell Crowe. Hackford co-wrote, produced and directed Louis & Keely 'Live' at the Sahara in 2009, which went on to win Los Angeles' top theater award for best musical (about Louis Prima and Keely Smith).
And the other central character in this rewarding film? The New York comedy scene featuring real life comics performing and sitting at bars.
Robert De Niro is legendary for his roles in Bang the Drum Slowly (1973), Taxi Driver (1976), The Deer Hunter (1978) with Meryl Streep, Raging Bull (1980), Midnight Run (1988), Jackie Brown (1997) with Pam Grier and Samuel L. Jackson, Stanley & Iris (1990) with Jane Fonda, and Ronin (1998).
The alchemy of friendship, the patience of family members, the inevitably healing nature of humor, even sometimes the "blue" kind, and the "viral" nature of one's behavior on social media – all play a part in the healing of Jackie Burke and Harmony Schiltz.
De Niro as aging and angry comedian is believable right from the start. "Actors are not comics," De Niro has said.  "It's a very different way of performing." Hackford took him to comedy clubs every night during film rehearsals.  Hackford is a comedy fan and once owned a comedy club in New Orleans.
WATCH: 'The Comedian' Official Trailer with Robert De Niro
Flawed and foul-mouthed, Jackie Burke shows tenacity in climbing out of the situation his stubborn behavior created. Burke likes Harmony in part because she gets his humor, not just because she is sexy. He helps her grow up. She gives him tacit support when he needs it most. And the other central character in this rewarding film? The New York comedy scene featuring real life comics performing and sitting at bars.
Highly recommended. Leave the kids at home, though, unless your homelife features a lot of profanity.