"I didn't even know he could dance."
That was actress Emma Stone talking about her dashing co-star Ryan Gosling. Turns out that, yes, they both can dance — exceptionally well.
News broke today that La La Land had done what a lot of critics were forecasting: dominated the 2017 Oscar nominations.
14 Oscar nominations in total to be exact; a total that ties Titanic (1997) and All About Eve (1950) for the most ever.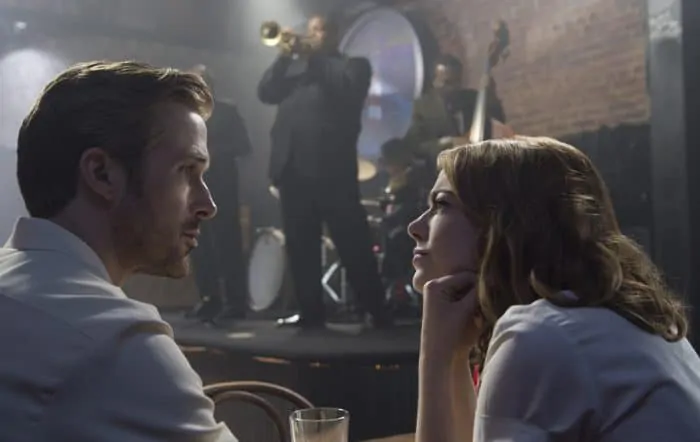 Although Emma Stone literally reaches for the stars in Damien Chazelle's wonderful musical, she's apparently still as grounded as ever.
The Arizona native was in town recently to chat about La La Land. Watch as Emma Stone is joined by director Damien Chazelle and composer Justin Hurwitz at the premiere at the Mill Valley Film Festival in San Francisco. There, Loni Stark of Stark Insider catches up with the trio to learn about some of the magic behind the film that is stealing hearts in this year's awards season.
LA LA LAND – 2017 OSCAR NOMINATIONS

Best Picture
Best Director (Damien Chazelle)
Best Actor (Ryan Gosling)
Best Actress (Emma Stone)
Best Original Screenplay (Damien Chazelle)
Best Film Editing
Best Original Song ("City of Stars" and "Audition (The Fools Who Dream)")
Best Original Score (Justin Hurwitz)
Best Cinematography (Linus Sandgren)
Best Costume Design (Mary Zophres)
Best Production Design (David Wasco and Sandy Reynolds-Wasco)
Best Sound Editing
Best Sound Mixing
After the 2017 Academy Awards there could be even more dancing for the cast and crew of La La Land.
WATCH: Emma Stone on LA LA LAND, Ryan Gosling, Handling Rejection 
Shot on location at the Mill Valley Film Festival. Plus: best director nominee Damien Chazelle and best original score nominee Justin Hurwitz.
With Loni Stark in San Francisco.