During this December month filled with spiritual and cultural traditions, a recent performance by Sweet Honey in the Rock at the San Francisco Symphony lightened our November burden, and brought harmony and joy front and center.
This lovely evening was presented in partnership with the San Francisco Arts Commission, and is another example of the SF Symphony making its venue available to serve community in the best sense of that term. The ensemble group has appeared under SF Symphony auspices since 2006.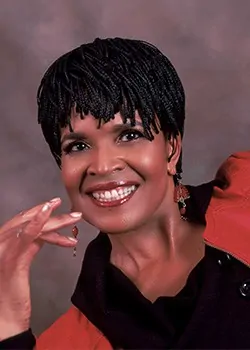 Nitanju Bolade Casel, Aisha Kahlil, and Carol Maillard constituted Sweet Honey in the Rock on this occasion. Special guests included vocalist Rochelle Rice, sign language interpreter Barbara Hunt, and musician Romeir Mendez on acoustic and electric bass. Member Louise Robinson was not present, and neither was sign language interpreter Shirley Childress.
As has been said before, "Sweet Honey … remains among the most vibrant, versatile and relevant musical collectives in music today, both as a performance ensemble and as an ambassadorial African-American organization founded on the triumvirate missions of empowerment, education, and entertainment…"
Sweet Honey in the Rock has recorded 24 albums, and made 32 appearances at Carnegie Hall in New York. In 2015 the a cappella vocal group "embarked on four international U.S. embassy tours with performances and community outreach in Ethiopia, Peru, Jamaica, and Swaziland." In 2008 the ensemble performed for President and Mrs. Obama in the White House.
Such a comfortable and comforting experience this night — the singers dressed as individuals each in different clothing, but came together seamlessly in their intention and their vocals. Sitting, standing, changing positions on the stage, exchanging microphones, waiting for the bass player to adjust one microphone, clapping, encouraging the audience to accompany them on certain songs, honoring each other and the contributions of the bass player, while helping us to recall the unseen heroes of our time.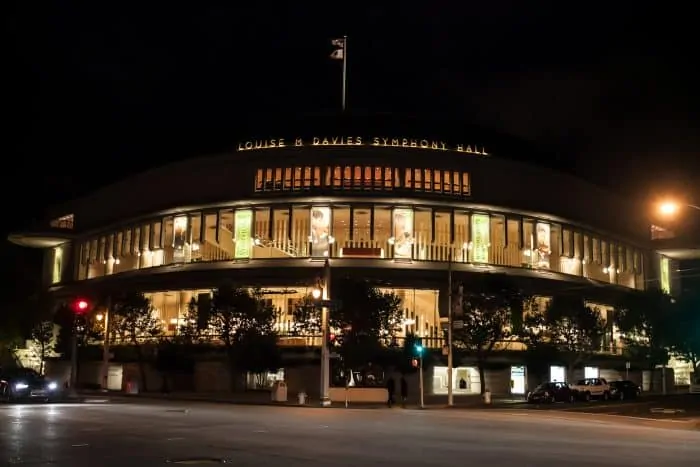 Especially powerful was their remembering of Harry Moore, an NAACP activist who was killed by domestic terrorists in the state of Florida (1905 – 1951) on Christmas day. "No bomb can kill the dreams I hold, for freedom never dies." Moore died instantly; his wife Harriete died nine days later. He was the first NAACP official killed in the civil rights struggle.
They also performed "Are We a Nation?" with lyrics written by Ysaye Barnwell, Nitanju Bolade Casel, Aisha Kahlil, Carol Maillard and Louise Robinson. "This law of immigration, race hatred, separation, Can we find a way to come together?"
A beautiful selection was "Ella's Song," inspired by the civil rights activist Ella Baker, with lyrics and music by Bernice Johnson Reagon. "That which touches me most is that I had a chance to work with people, Passing on to others that which was passed on to me." Reagon was a founder of the musical group, but has retired.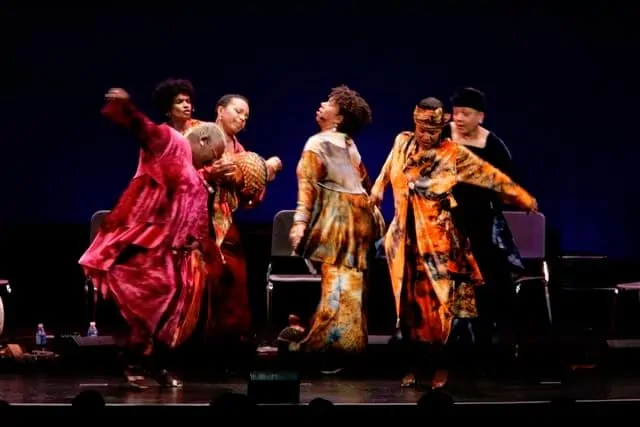 As they sang, one member of Sweet Honey in the Rock said: "We need to have these songs and remember these warrior kings and queens."
Misha Berson said in the Seattle Times, "for nearly 40 years, this unique a capella vocal ensemble has seamlessly blended voice and breath to transport listeners with universal songs and chants from deep in the African-American (and African) tradition. Tradition, improvisation, political expression – that's the Sweet Honey tonic for what ails the world."
We need to have these songs and remember these warrior kings and queens.
Outstanding presents from Sweet Honey in the Rock to the audience this evening included, "Wasn't That a Mighty Day," "Do What the Spirit Say Do," and the marvelous spiritual, "Children, Go Where I Send Thee." The audience was fully engaged.
These last three selections particularly were homilies on the gift of love; actually constituted prayers of protection in the coming secular storms; and put really positive energy into the atmosphere.
After the concert, the happy crowd of listeners mixed and mingled as they purchased CDs and patiently stood in line to have them autographed by Sweet Honey in the Rock. I saw great variety among the fans, from UC professor emeritus Angela Davis to members of The Links, Incorporated.
Founding member Carol Maillard said in a recent interview with Michael Coleman:
"It's really a tremendous honor that the San Francisco Symphony is bringing us back … It really means a lot to us, and we're going to do our best to uplift people. There are so many different holidays that celebrate the changing of the seasons … The seven principles of Kwanzaa – it's the same vibe, having hope and moving forward and transitioning … There are 'holy days' for everybody."
And in that spirit Sweet Honey in the Rock took us all to a better, higher place. Thank you, ladies!