Of all the Christmas pageants performed in the Bay Area during the holiday season, A.C.T.'s annual offering of A Christmas Carol has evolved into a must-see event, required viewing for the entire family. Some have called Charles Dickens "the man who invented Christmas." After experiencing his novella adapted for the stage with lovely costumes, lively music and dancing, one can see why this short book has had such an impact on the celebration of Christmas in the U.K. and in the U.S. since 1843.
The wealthy miser Ebenezer Scrooge (James Carpenter and Anthony Fusco) is stern and unforgiving with his mild-mannered clerk Bob Cratchit (Nick Gabriel). Giving employees a paid holiday to celebrate Christmas seems wasteful in the extreme, from Scrooge's point of view. "What right have you to be merry? You're poor enough!" He has no patience with impoverished urchins – debtors' prison and the workhouses exist to deal with them. We see him berating his housekeeper (Sharon Lockwood), and rebuffing his nephew's good wishes (Albert Rubio). On the night of December 24th, however, the ghosts of Christmas present themselves to Scrooge in ways he cannot ignore. The first ghost is that of his late business partner, Jacob Marley (Ken Ruta), wonderfully imagined, popping out of the grave. The ghost of Christmas past is a radiant Emily Brown dressed in silver and seated on a high swing. And the ghost of Christmas present is a charismatic hostess richly garbed in green with a royal staff in hand (Catherine Castellanos).
Clever scene changes allow us to witness how Scrooge shuts out the world, raging at those who peek through his office windows or who linger on the streets in search of sustenance. As he steps out of his office to go home, however, the world confronts his narrow views via wind, fog, shadows, mysteries, and revelations from his past (scenic designer John Arnone).
To lighten the anger-filled negativity of Scrooge's self-imposed social exile, we are treated to delightful moments with child actors, especially those chosen to play food in one instance – the zest of oranges, spice of cinnamon sticks, tears of onions. We see little ones dancing in the costumes of French plums, Turkish figs and Spanish onions. Kudos to Beaver Bauer, costume designer.
Ken Ruta plays the ghost of Jacob Marley in this version of A Christmas Carol. He first performed in this play as Scrooge himself from 1989 to 1991. Since 2005 he has played the ghost of Marley. Ruta has been part of more than 60 A.C.T. productions since 1967. Anthony Fusco has performed in more than 40 A.C.T. productions. And James Carpenter returns to A.C.T. for his eleventh year as Scrooge (see interview in video below).
The American Conservatory Theatre decided to adapt A Christmas Carol for the stage in the late 1970s, joining other companies in realizing that "audiences wanted a Christmas story at Christmastime." A.C.T. chose to return to Dickens' original work and focus on Ebenezer Scrooge, the wealthy tightwad who disparaged the holiday and anyone who believed in it, rather than on Tiny Tim Cratchit.
IN PHOTOS: A Christmas Carol at American Conservatory Theater (A.C.T.)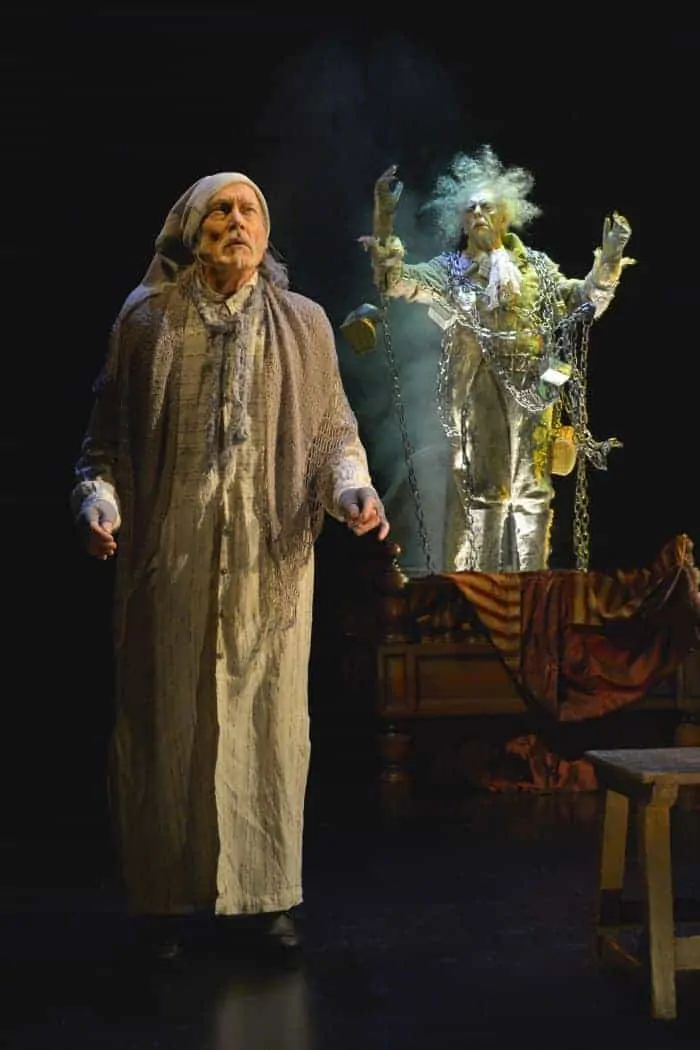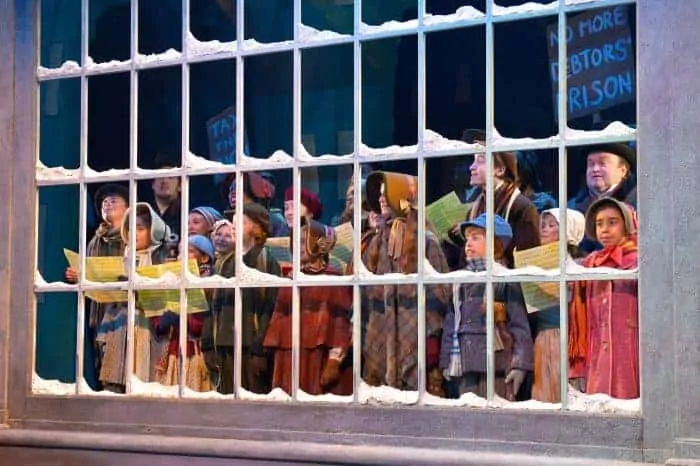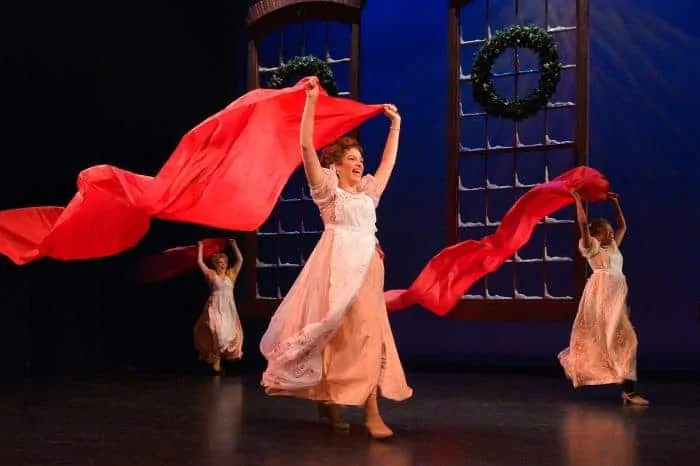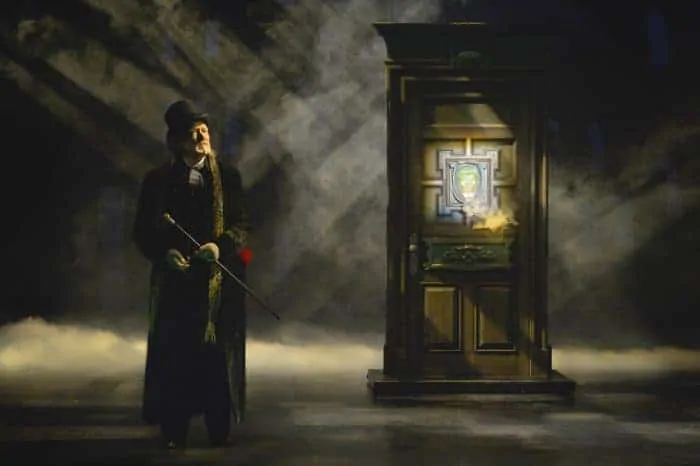 British author Charles Dickens was deeply affected by the great disparities between social classes during the Industrial Revolution in England and in particular during a visit to the city of Manchester. He wrote his novella to decry the emptiness of greed in the face of profound poverty, and intended the transformation of Ebenezer Scrooge to provide hope and to promote charitable giving.
Perloff incorporated what she saw as Dickens' conviction that "imagination can trigger empathy."
Around 2005 artistic director Carey Perloff wrote a new adaptation of A Christmas Carol, with Paul Walsh, the purpose being to more fully incorporate three generations of performers: A.C.T., M.F.A. and YC students. Perloff also incorporated what she saw as Dickens' conviction that "imagination can trigger empathy." From her point of view, Scrooge's willingness to believe in three ghosts creates the possibility of empathy. Consequently, his transformation is believable and heartwarming.
STARK INSIDER INTERVIEW:
Stage actor James Carpenter
If "bah humbug" is becoming part of your attitude during the stressful holiday season, then we suggest you visit the American Conservatory Theater between now and December 24th.
Photo credit: Kevin Berne