A lot of movies are basking in adulation this year. Arrival with Amy Adams. Lion with Dev Patel and Nicole Kidman. Moonlight with Mahershala Ali. Among so many other quality productions.
Bottom line: it's looking to be very competitive come awards season.
But perhaps the most-talked about, most highly praised effort so far is a throwback.
That would be La La Land.
Director and writer Damien Chazelle has re-booted the classic musical with a modern twist. Ryan Gosling and Emma Stone play dancing dreamers whose lives are subject to a "sliding doors" of sorts that alters their destinies.
In addition to the exemplary set pieces (don't miss that astonishing opening scene), wardrobe and music (an all-original effort by Justin Hurwitz), above all else it's especially the story and the strong acting that keep us engaged.
Oh… and the dancing! If you have yet to see La La Land then expect plenty of spectacular, adorable dance numbers.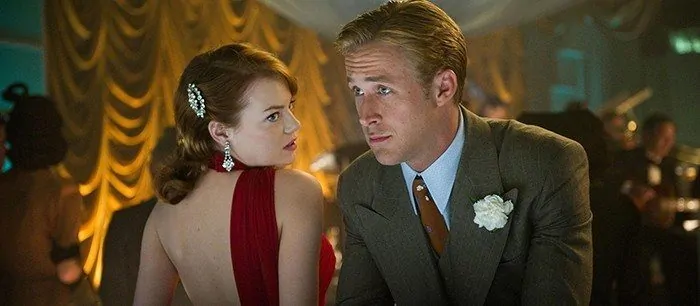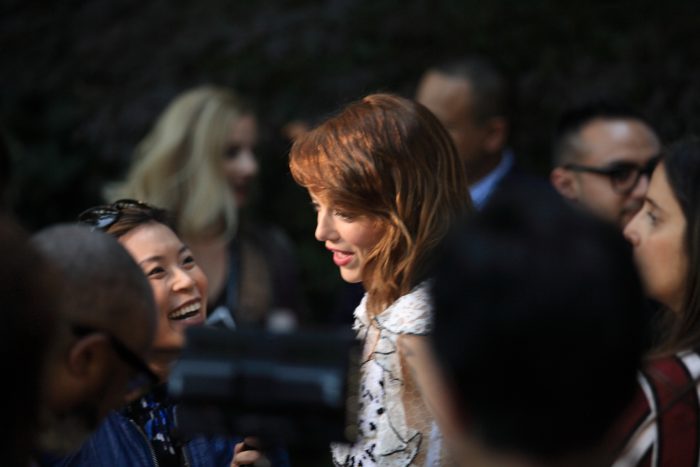 Chances are, you haven't see La La Land, unless by chance you were able to catch it at a music festival in the past year. The film played several marquee festivals including Venice (where it premiered) TIFF, and, most recently, at the Mill Valley Film Festival just north of San Francisco.
But now's your chance.
La La Land opens in theaters on December 9, 2016.
LA LA LAND: The Buzz

New York Times review of La La Land:

"Like a capable bandleader or stage illusionist, Mr. Chazelle knows how to structure a set, to slacken the pace at times in order to build toward a big finish. He memorably pushed "Whiplash" to a complex and thrilling musical climax, and he outdoes himself in the last 20 minutes of "La La Land," and outdoes just about every other director of his generation, wrapping intense and delicate emotions in sheer, intoxicating cinematic bliss."

TIME: Emma Stone on Why the World Needs a Movie Like La La Land Right Now:

"It's a two-hour escape, but it reminds you of the hope and importance of creativity, of still dreaming even when it feels like hope is gone. I think at a time like this, that's a nice thing to be getting to talk about and putting out into the world. Hopefully, it can take people out and remind them of a deeper part of themselves—of heartbreak, and love, and how those things coexist in our lives."

Entertainment Weekly review of La La Land:

"There have been a handful of lavish, big-studio musicals in recent years. But for the most part, they've been bloated Broadway adaptations full of sound and fury. And some moviegoers may, no doubt, feel a little tentative about the genre. But La La Land is the anti-whatever those are. It's more intimate and personal and affecting…more magical. My advice is to see La La Land and surrender to it. It will make you feel like you're walking on air too." A.
Needless to say, we at Stark Insider highly recommend you seek out a screening of La La Land. Grab some of your BFFs, get out there, and dream a little.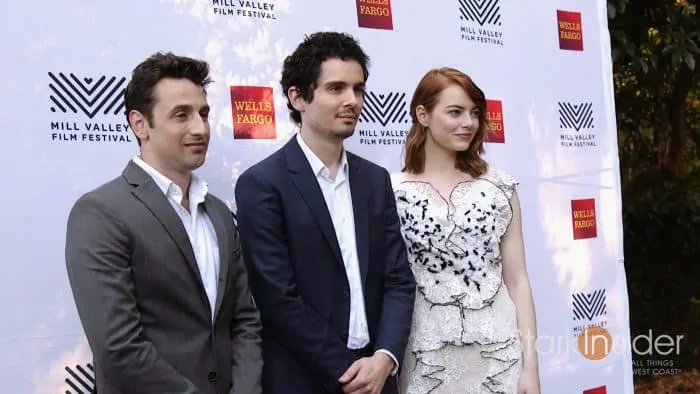 Meantime, watch as Loni Stark catches up with Emma Stone, Damien Chazelle and Justin Hurwitz at a premiere party at MVFF earlier this year.
"I didn't know he could dance!" said Stone when asked about the highly touted performance by her cool leading man Ryan Gosling.
That interview, plus scenes from the press conference, MVFF premiere party, and, the talkback after the screening.
WATCH: Talking LA LA LAND with Emma Stone, Ryan Gosling, Damien Chazelle and Justin Hurwitz
With Loni Stark on location in San Francisco at the Mill Valley Film Festival.