Earlier this year a concert by Madeleine Peyroux in the countryside of England was said to fill a church hall with spiritual humanism. Her subsequent album, released in July 2016, is titled "Secular Hymns." During her recent concert with the SF Symphony, focused on "An Evening in Paris," she combined the spiritual with the sensual in the name of love, and her audience was in love with her.
Peyroux is an American jazz singer, songwriter and guitarist who has been impressing fans for more than 20 years through personal appearances and recordings with Rounder, Atlantic and Decca/Emarcy. Yves Beauvais of Atlantic Records has described his first impression hearing Peyroux as a worldly singer performing "some of the most exciting, viscerally moving minutes of my music-listening life."
Her teen years as a musician and singer on the streets of Paris gave her superb preparation for the songs she shared with the symphony audience.
… if you think time will change your ways, don't wait too long, take a chance, play your part.
The evening began with Edwin Outwater conducting the SF Symphony in a performance of Debussy's Passepied and Clair de lune, from Suite berganmasque. Gershwin's An American in Paris completed the first set, with newly acquired antique car horns purchased just for this piece. Outwater described An American in Paris as "one of the most vivacious and exciting pieces ever written [in the U.S. repertoire]."
Madeleine Peyroux charmed by coming onstage barefoot in a comfortable dress perfect for sitting or standing, singing or playing a guitar. She was accompanied by Jon Herington on guitar, Gary Versace on accordion, Barak Mori on bass, Jim Beard on piano and Darren Beckett on drums. "I'm looking forward to going to Paris with you tonight," she said. Her brief introduction to each song was given almost shyly, creating the impression that she was much more comfortable singing than speaking. And as soon as the first notes reached the audience, we knew we were in the hands of a master of blues and cabaret music. Teasing us with a quote from Baudelaire – "be drunk, always" – she sipped a bit of red wine between songs.
After La vie en rose and Fun Out of Life, she sang Tango 'til They're Sore and Our Lady of Pigalle. She enchanted us on the ukulele with bittersweet lyrics from Our Lady of Pigalle, which she wrote:
"Can I buy you something, can I stroke your hair, Can I hold your hand and take you somewhere?"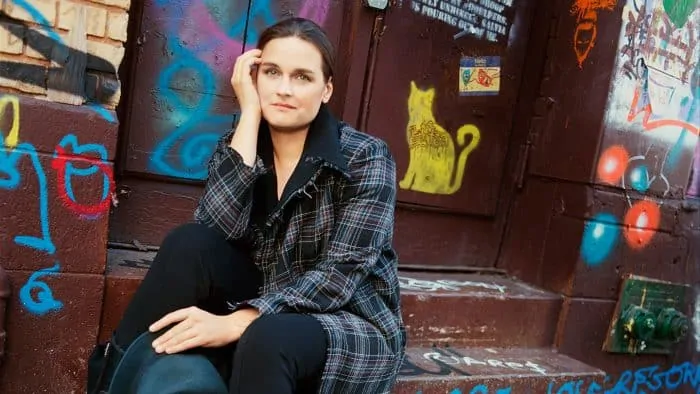 When the symphony returned to the stage, Peyroux and her quintet joined in performing J'ai Deux Amours, Half the Perfect World, and Je Cherche un Homme [the latter written by Eartha Kitt]. Cannot think of anyone better suited to interpreting a song written by Eartha Kitt and sung in French. Lyrics to Half the Perfect World were written by Peyroux, another haunting song about love. And she followed that with You're Gonna Make Me Lonesome , lyrics by Bob Dylan, in the same musical vein.
Guilty and Don't Wait Too Long reminded us that Paris, the city of love, has love songs, blues and drinking songs, and Peyroux is able to sing all three with a depth and purity that transports.
However, she startled some in the audience with her dedication of one song to an unnamed presidential candidate: "But if you think time will change your ways, don't wait too long, take a chance, play your part." Women in the audience were smiling.
And one more dedication that evening – a special loving shoutout to the MDs and RNs of the UCSF Mission Bay Medical Center — Dance with Me to the End of Love with lyrics by Leonard Cohen. This is Heaven to Me, lyrics by Madeleine Peyroux was the encore. Thought-provoking lyrics, great voice in fine form, beautiful evening in Paris and San Francisco.