The San Francisco Chronicle once described singer Kim Nalley as a performer who … "has pipes to burn and works the stage like she means it." Her voice and dazzling stage presence were in fine form at the SF Jazz Center the other evening, as she presented a rapt audience with jazz and blues selections, along with classics from the great American songbook.
Nalley became a San Francisco institution at a young age. College student, small business owner, and vocalist in small dives and jam sessions, she learned the intricacies of jazz the old-fashioned way. She has performed at major jazz festivals around the world and lived in Europe for several years before returning to San Francisco to re-open Jazz at Pearl's for five years. She is celebrated for her 3-1/2 octave range and her ability to scat.
Kim combines music and history to create what she calls "historiographical" concerts and other musical tributes – Ladies Sing the Blues, Tribute to Nine Simone, Music of Civil Rights Movement, Heart of Lady Day, and Ella: the American Dream. And so it was at the SF Jazz Center the other evening, as she sang selections from her new album, "Blues People," in memory of young lives lost on mean streets.
The evening began with Summertime, composed in 1934 by George and Ira Gershwin for the opera "Porgy and Bess," with lyrics by DuBose Heyward. Nalley was dressed in black with her signature white gardenia in her hair. She offered a musical tribute to Trayvon Martin and later to Michael Brown. Her song for Trayvon was inspired by conversation with one of her relatives, a cop in Chicago.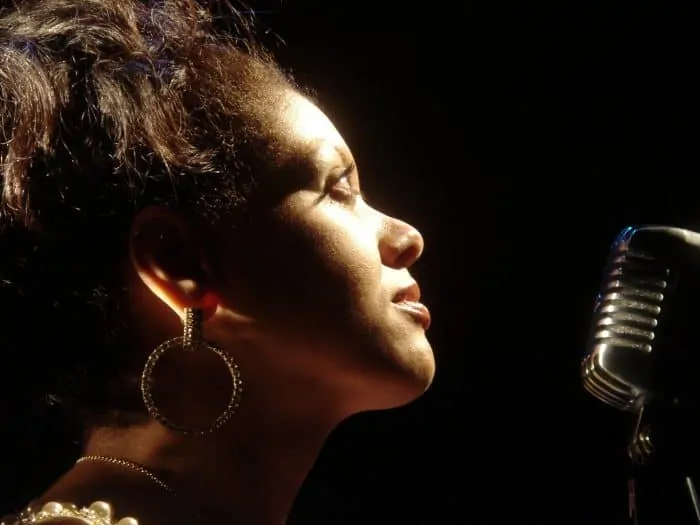 A powerful version of "Compared to What," written by Eddie Harris and Les McCann, showcased her voice as well as the skills of the musicians accompanying her – Tammy Hall on piano, Michael Zisman on bass, Greg Skaff on guitar and Kent Bryson on drums. Bryan Dyer provided background vocals on several numbers.
Kim describes this new album as a journey of African Americans in the new world – sacred, profane, good times and bad times. The title "Blues People" is taken from the book by Amiri Baraka on the place of jazz and blues in American social, economic and cultural history.
A wife and mother, Nalley spoke of how far she has come from cleaning houses to being Kim Nalley the singer and proud mom. She mentioned how far we have come as a nation before launching into "Movin' On Up (to the inside)," and it took a whole lot of trying as she brought in references to Nob Hill, rent control and other topics of local significance. She sang with a deliberate and easy pace about a climb that was anything but easy. And then Kim "strolled for a second" (as Miles Davis would say) so that singer Bryan Dyer could perform under the spotlight alone. Bryan sang We Shall Overcome as a slow and stately remembrance, pointing out that "it is a shame we still have to sing this song."
Nalley explained there are sad blues, happy blues and nasty blues.
Kim Nalley loves the music of the late B.B. King and saluted him with Never Make Your Move Too Soon. She paid tribute to him by saying, "he knew how to tell a story and set up a song like nobody's business."
Nalley explained there are sad blues, happy blues and nasty blues. When she asked the audience which one they wanted to hear, naturally they said nasty blues. We were treated to a sweet and lusty performance of the "Trombone Song," to everyone's delight.
SFJazz

Fundraiasing: $64 million capital campaign; 10,200 households since 2012

SFJAZZ Center: Grand opening on Martin Luther King, Jr. Day, January 21, 2013; 35,000 square ft.; first stand-along building designed for jazz in the United States

Architects: Mark Cavagnero Associates

Organization: Non-profit launched in 1983; 33-member Board of Directors

Programming: 300+ concerts each season; four resident artistic directors

Source: SFJAZZ
Invoking the name of the heroic crusading journalist Ida B. Wells (1862 – 1931), Nalley said we are living in those times again. Onstage with only her keyboardist, she sang Amazing Grace, a funeral song, written by a former sea captain in the slave trade. What we did not know before – the melody is from Africa.
A multi-layered performance with heart-felt interpretations of songs we thought we knew, as well as new ones she wrote to mourn losses caused by gun violence. A vibrant voice with precise phrasing and an appreciation for the ironies of life, Kim Nalley closed with "I Shall Be Released"; Bryan Dwyer accompanied her. Her encore? A selection from a Coleman Hawkins' album – "Lover Come Back to Me."
Afterwards, Nalley sat with her husband and two beautiful babies, greeting fans and signing CDs. Radiant and at the top of her musical game, Kim gave us a beautiful evening, and we look forward to many more.