Watching a made-for-television Cinderella by Rogers and Hammerstein is an important part of growing up in a musical theater-loving family. I've wasted evenings debating the merits of Julie Andrews (1957), Lesley Ann Warren (1965), and Brandy Norwood (1997) in the title role. Incredibly, despite its place in the canon, Rogers and Hammerstein's Cinderella never played on Broadway until the 2013 premiere of the currently touring production. The show got a makeover for its new venue: an entirely rewritten book by Douglas Carter Beane liberally axes, changes, and adds characters, and a laundry list of songs plucked from other Rogers and Hammerstein musicals give it a pastiche feel. The revisions aren't entirely successful, but this is still a cheery and magical fairy tale.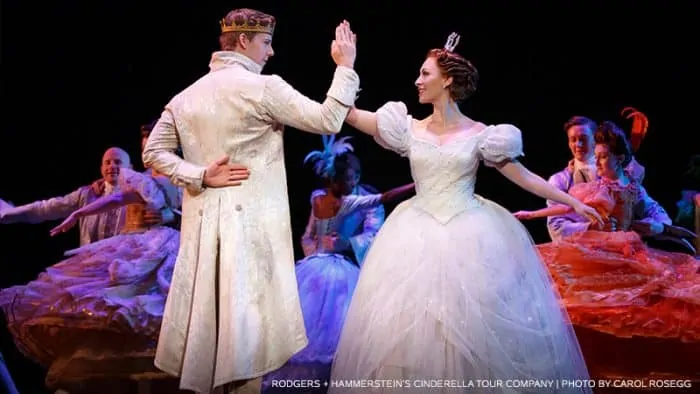 The overture is cut short for some intro: Prince Topher's parents are dead, and Topher wanders around slaying monsters with unlikely ease while the regent Sebastian mismanages the kingdom. Topher (a gawky and sweet-voiced Andy Huntington Jones) is struggling to find meaning in his life. The usual plot ensues: Cinderella, mistreated by her mother and stepsister (yes, she still has two, but one is quite nice) attends the prince's ball thanks to her fairy godmother. The first act closes with a delightfully unexpected bit of blocking—at midnight, Cinderella dashes down the staircase, loses her shoe… and promptly retrieves it, disappearing without a trace. This provides an opportunity for a second party (a banquet), where Cinderella convinces the prince to listen to his people and create a democracy. This time, she leaves the shoe behind when she runs off.
Applause is due to William Ivey Long for the most stunning costumes I've ever seen onstage.
All of this makes for a longer musical with more going on: a side plot with the step-sister Gabrielle (the charming Kimberly Fauré) and the revolutionary Jean-Michelle (played as an uncomfortably stereotypical nerd by David Andino), the revelation that Sebastian is oppressing the poor, and two sets of invitations and parties instead of one. While this pads the evening out, it fails to add substance. Cinderella destroys the "ridicule" of the court (a game in which the ladies insult each other's ages and dresses) by introducing "kindness." The kingdom's economic woes (hinted at by Sebastian) are apparently solved by the introduction of democracy. Beane's book tries for depth but offers only facile solutions and funny jokes.
With so much music and plot stuffed in, this Cinderella is a patchwork held together by its cast. Kaitlyn Davidson is a winning Cinderella, delivering her lines with enthusiasm and her songs with a crystal tone that is strong both belting and floating. She also joins the ensemble in difficult, cleanly executed cheroeography by Josh Rhodes. But the star of this production is Lauren Sprague as the fairy godmother Marie. In "Fol-De-Rol," she shows off a richly textured alto that wouldn't be out of place in a Disney villainess. "There's Music in You" takes her to the other extreme: an operatic higher register with booming resonance and a wide, steady vibrato. The entire cast is supported ably by the orchestra, conducted by Valerie Gilbert. While the overture could have used a bit more punch, the instrumentalists navigate the singers' many expressive liberties and stops and starts deftly, without audible missteps.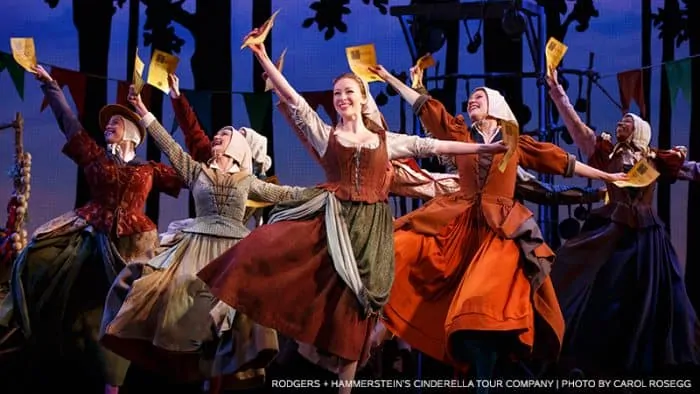 Finally, applause is due to William Ivey Long for the most stunning costumes I've ever seen onstage. All of the women's dresses are fantastically over-the-top, but it's the magical transformations that truly astound. Marie's beggar's cape drops away to reveal a shimming purple frock complete with wings and pocket hoops. Moments later, Cinderella twirls, and her peasant dress becomes a beautiful white ball gown. (The second act also features two equally impressive feats of sartorial sorcery.) For the costumes and cast alone, this show is a treat. The script and score would have been better left unaltered, but even a heavy-handed rewrite and out-of-place songs can't spoil the magic of Cinderella.
3/5
Photo credit: Carol Rosegg