Sweet Bean is a delicious film from Naomi Kawase, the Japanese director who gave us The Mourning Forest and Still the Water. It was an official selection of last year's Cannes Film Festival and the Toronto International Film Festival, and is highly recommended. The film is adapted from the novel An by Durian Sukegawa.
Sweet Bean takes place in a modest city neighborhood and explores the ways in which three characters – from three generations — react to challenges in their lives. A fourth character in this film is Nature in all its healing and rejuvenating splendor.
Sentaro is a baker who operates a doriyaki shop, offering pancake-like pastries filled with sweet red bean paste ("an"). Through his quiet movements and resigned body language, we learn he is alone. His regular customers include schoolgirls in their navy uniforms, their smiles and bright laughter in vibrant contrast to his quietness. One in particular has her own secrets – Wakana – who receives doriyaki shop "rejects", pastries supposedly too burned to sell. She brings her own plastic bag to collect these treats and they are placed in a small refrigerator at home, frequently serving as dinner. One day an elder walks into the shop – Tokue – full of memories of cherry trees when they were young, and ultimately changes the lives of Sentaro and Wakana in unexpected ways.
This is a film of stunning visual beauty, with the director fully realizing the intentions of the novelist. Kawase had cast Sukegawa in one of her films in 2012, and they attended a film festival together. When she read his next novel, An, she was drawn to "how carefully it traced the presence of what's invisible in life." Due to the charactistics of cinema, that which is invisible becomes visible through the exploration of Nature.
Director Naomi Kawase says "The role of nature in this film is not any different than the one in my previous film or films. Nature is something that quietly watches over us." She opens and closes the film with breathtaking images of cherry trees in bloom with sunlight and moonlight filtering through long branches. Cherry trees in full bloom have a deep meaning for the director, as she ponders whether their sudden transformation from blossoms to scattered petals is a reflection on the nature of our human lives.
The baker Sentaro (Masatoshi Nagase), the schoolgirl Wakana (Kyara Uchida), and the elder Tokue (Kirin Kiki) meet in his dorayaki shop. The meeting seems uneventful. In a leisurely and subtle way, their connections form. Each time Tokue visits, she remarks on the beauty of the cherry tree, how tall it has grown since she first saw it, how lovely the blossoms are.
The details in Sweet Bean are delicious.
Sentaro is indifferent to the taste of his product. Tokue suggests there may be a better recipe for his red bean paste. After all, she has been making sweet bean paste for 50 years. He worries that she is too old for the job, and besides, Wakana is looking for a job as well. With each conversation and change of scene, deeper colors are painted in this portrait of how three seemingly self-contained people connect across decades and different experiences, simply by reaching into themselves at a crucial moment. This is a story which never grows old, and is full of grace in Kawase's confident hands.
The details in Sweet Bean are delicious. Silences tell us as much as the conversations. Sentaro arriving early to mix the bean paste and bake the little pancakes, taking breaks on the rooftop to smoke. Wakana laughing with her school friends and remaining in the shop while they go off to high school. And Tokue, beautiful in her 76 years, summoning the strength to arrive before dawn and to show Sentaro how to make the bean paste the old fashioned way. Light rain falling on cherry blossoms outside. Tree leaves glistening in the sun.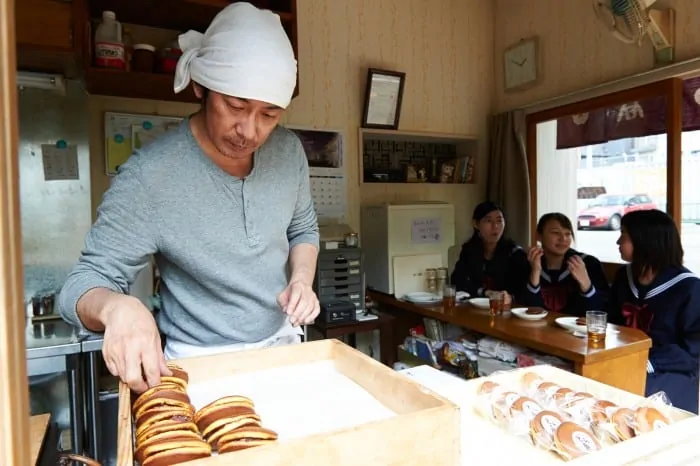 Tokue says "An is the soul of dorayaki." Making an is not to be treated lightly. "We are hosting," Tokue says to Sentaro. "The beans came all this way from the fields." And when Sentaro finally tastes one of her bean cakes, he says "I have finally met a dorayaki I could stomach."
Each moment is unique, as is each customer for the dorayaki. One day the shop owner visits with two dogs on leashes, carrying a troubling rumor. Sentaro is faced with a dilemma. Wakana and Tokue each have their own crises. How they work through their dilemmas and come out on the other side is a story worth telling and certainly a film worth watching.
Tokue knows that everything has a story. Sentaro admits that because of his own life, he hasn't been able to hear anyone's stories. On the elevated track the brightly colored commuter train rushes by day and night. The cherry blossoms bloom and scatter. Issues are faced within each person's ability to cope.
The director has said, "Sometimes an impenetrable silence engulfs us. And yet, the joy resulting from commitment and connection to the world allows us to better appreciate its changes and evolution."
Do you believe a recipe can change a person's life? The director Naomi Kawase believes this, and so do I. See this film and decide for yourself.