Stark Insider meets up with Pentatonix at the opening night of the Live in the Vineyard music festival. Video outtakes here for all us Pentaholics and music aficionados alike.
Pentatonix.
The two-time Grammy winners made a special appearance at Charles Krug Winery in St. Helena to kick off Live in the Vineyard. No doubt, it was a memorable, eclectic, and a rare occasion to hear their a cappella performance up-close and personal.
No instruments. Pure singing — and beatboxing. How refreshing is that?
Stark Insider is on location at the Live in the Vineyard (LITV) music festival and we've got a sneak peak from opening night. Held bi-annually (Spring and Fall) in Napa, LITV has become one of the music industry's quintessential festivals, attracting top music talent, and awarding lucky radio contest winners a front row ticket to intimate concerts set amongst beautiful Napa vistas.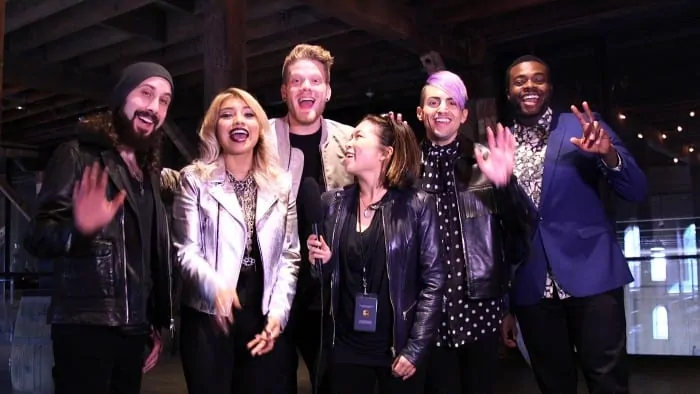 That Pentatonix kicked off this year's edition of LITV seems especially salient given their approach is the polar opposite of that potential scourge known as auto-tune. Call it a throwback. Call it unique. Call it whatever makes your insides vibrate, and just know that this group's approach of purely using their voices is starting to gain mad love.
Pentatonix. Most Hug-Friendly Band of All-Time?
The group kicks off their world tour this month in Sunrise, Florida on April 13. Quick tip: sell your house, sell your spouse, sell your whatever… and buy tickets.
Meantime, here's some outtakes from the Stark Insider interview, shot moments before the group took to the barrel room at Charles Krug Winery (see video below).
Yes, Pentatonix has two Grammys. But, clearly they're deserving of another award: Most Hug-Friendly Band of All-Time.
WATCH: 

Pentatonix Outtakes – Live in the Vineyard
Watch for the Pentatonix interview & LITV concert highlights coming soon to Stark Insider.