In The Marsh's small San Francisco theater, watching Lorri Holt speak as Colette is like having a conversation with the most interesting person you have ever met. Writers Zack Rogow and Lorri Holt frame their play as a lecture in celebration of Gigi, but it's more of a cozy chat. Holt shares intimate details, losing her train of thought in fond memories of pleasures. She also tells us jokes and asks us questions, inquiring about our love loves with a cocked eyebrow and noncommittal shake of the hand. The opening night audience gamely responded with chuckles, guffaws, and even answers.
More than anything, it's Holt's skill as an actress that makes her storytelling so natural. Her language is not: a strong and consistent French accent, translated phrases, and literal gestures keep Colette rooted in Belle Époque Paris. But her tales are told punctuated by coughs and giggles and sighs, with sudden flashes of excited memory. Holt's winning smile and well-crafted script make it clear how Colette won the hearts of her many readers, audiences, and lovers. There's just one disappointment in all of this: Colette's life provides sufficient material for half a dozen plays, at least, so it's a shame to race from her childhood to Gigi in just ninety minutes.
More than anything, it's Holt's skill as an actress that makes her storytelling so natural.
Surely an entire show could be devoted to Colette's arrival in Paris with her libertine and pun-cracking husband Willy, whom her mother termed "The Phenomenon." He threw her into bed with other women and locked her in her room for four hours a day as he forced her to crank out bestsellers, which he published under his own name. That was the birth of Claudine, Colette's first hit character, who threatened to take over Colette's life. (Colette's husband encouraged her to take on Claudine's clothing and persona for publicity purposes.) Lorri Holt dramatizes this struggle as a poignant conversation between the overly demure, insinuating Claudine and an uncertain Colette fighting to retain her independent identity.
The start of the next play in the series would be a scene from Flesh, the literal bodice-ripper that Colette acted in to gain financial independence from Willy ("a moral outrage… and a box office smash"). Her controlling first husband taught her one important lesson, "There are no unisexuals," so her co-star in this installment would be the cross-dressing lesbian Marquise de Belbeuf, "Missy." The two led a select social circle and scandalized Missy's family with her foray onto the stage, until Colette fell for Henry de Jouvenel. No hard feelings, though—Missy gave Colette a summer home as "a break-up gift… very French."
Colette's life with Henry was equally eventful, with the First World War (Colette followed Henry to the front and reported stories for Le Matin) and Henry's election to the League of Nations. It was also stormy, with infidelities on both sides. Most dramatically, Colette took up with Henry's son (her stepson) Bertrand, an episode Lorri Holt recounts with a delicious mix of wistful desire and self-recrimination. Colette eventually confesses the affair, leading to both the dissolution of her marriage with Henry and the marrying off of Bertrand to a more suitable partner.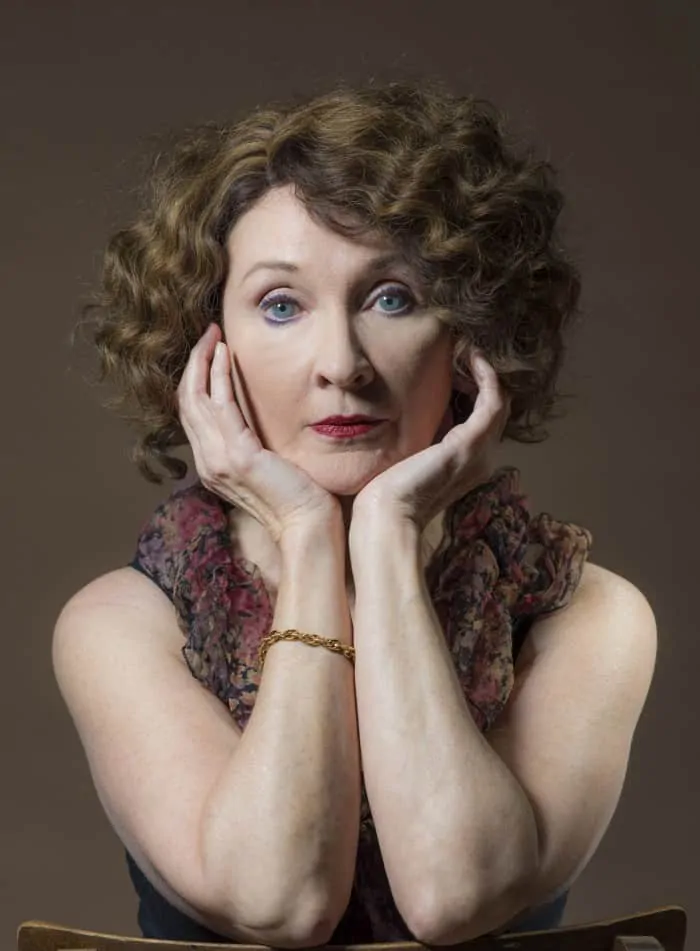 During Colette's marriage to the Jewish jeweler Maurice, "For the first time, [her] reputation as a writer overtook [her] reputation as a scandalous woman." She also seemed to finally find lasting marital happiness, only to have it interrupted by the Nazi invasion of Paris. Maurice was arrested and detained. In the show's most dramatic moments, Holt recreates Colette's tense meeting with the wife of the German ambassador. The wife, as it happens, is a Frenchwoman and a fan of Colette's writing. Half laughing, half crying, Colette reveals that she was able to secure her husband's release: "No writer has ever gotten more for a few signed books."
The fascinating story of Colette's life isn't over, but this all-too-brief play ends with the idea for Gigi coming to Colette during an air-raid alarm. The author finishes her lecture with an unapologetic confession: "I know that I have done foolish things, but I have done them with enthusiasm!" Colette, Uncensored is far from foolish, but it's plenty enthusiastic. It will leave you dying to spend more time with this brilliant, trailblazing woman.
4.5/5