The national tour of Wicked couldn't possibly be less than fabulous. Stephen Schwartz's score combines the infuriatingly catchy with the beautifully lyrical. His clever lyrics provoke laughs with their well-rhymed mix of real SAT vocabulary words and made-up imitations (confusifying, disgusticified). The whole plot—based on Gregory Maguire's novel of the same name—is the perfect reversal of The Wizard of Oz, with a not-so-wonderful wizard and a not-so-wicked witch.
Despite the title, Wicked is a very moral musical. Our hero Elphaba (the Wicked Witch of the West) stands up to injustice and refuses to compromise on important political issues like Animal rights. (Animals with a capital "A" are sentient, speaking creatures, who are being repressed and turned into animals.) She rejects fame, fortune, and political power in her quest to do good. Glinda the Good finds adulation irresistible, but her friendship with Elphaba leads her to use her celebrity to create the political change that Elphaba cannot. The lessons are relevant to the U.S. right now: the power of a common enemy to unite people, the importance of fighting prejudice and injustice, the possibility of effecting change from both within and outside of the establishment, and the transformative power of friendship between diverse people.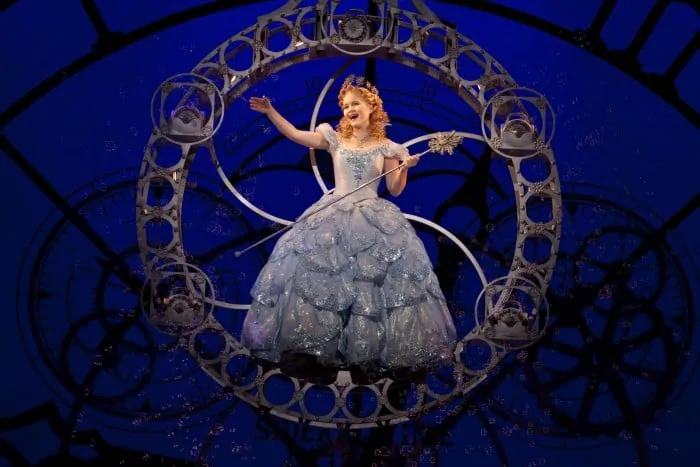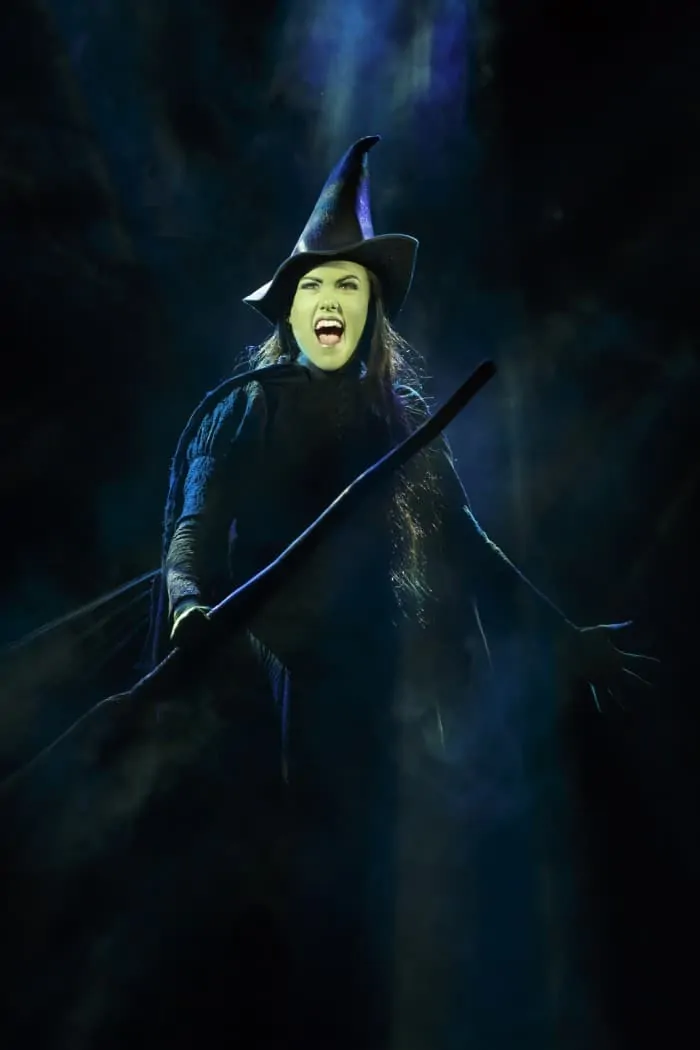 These messages are delivered in style. The tick-tock dragon above the proscenium punctuates important moments by moving his head and flashing his red eyes. The Wizard's giant mask strikes the right balance between intimidating and kitschy. Ozians sport detailed half-historical-half-fantastical outfits by Susan Hilferty. Lighting and fog effects are varied but always spot-on, and Elphaba's flight during "Defying Gravity" is an impressive feat of wirework, costume, and lights. Some technical bits of the show, like Elphaba's first accidental use of magic, lacked crisp timing, but that will surely come with a few more runs in this theater.
… a must-see for anyone who has yet to experience this treasure of modern musical theater.
The performances themselves were uneven. Every soloist was properly cast and had great musical and dramatic moments, but both the soloists and the ensemble also struggled vocally at times. Tone was pushed and harmonies didn't quite blend—possibly the result of vocal fatigue or insufficient practice in the space. The cast was nonetheless a joy to watch, thanks to their sheer energy and dramatic commitment. Emily Koch made for a very nerdy Elphaba, awkward and deadpan and earnest. The top of her belt soared during her bravura solos. Amanda Jane Cooper was the opposite as Glinda—so ditzy at first that her transformation was difficult to credit. She leaned heavily on her edgy chest voice for most of the show, but she sounded best when she sang in her upper register, which had clear tone and light vibrato.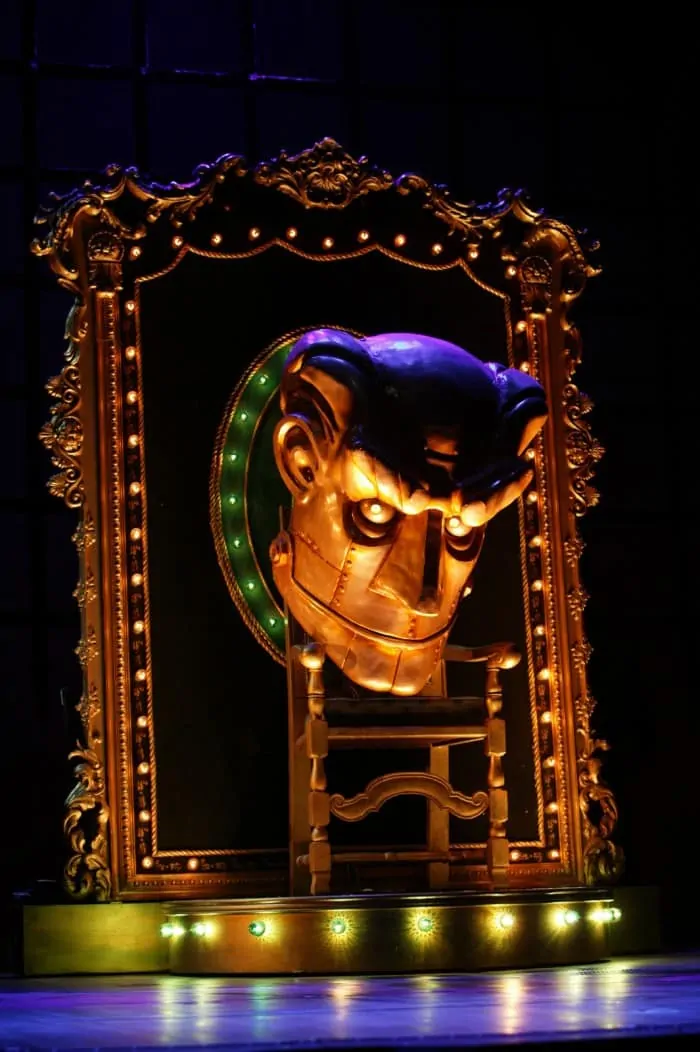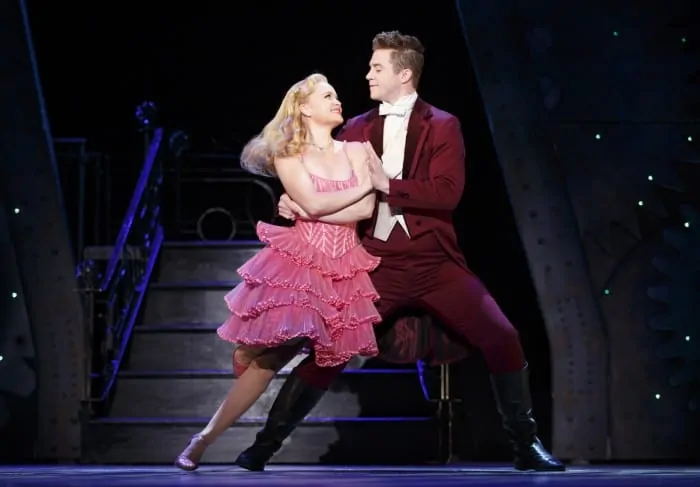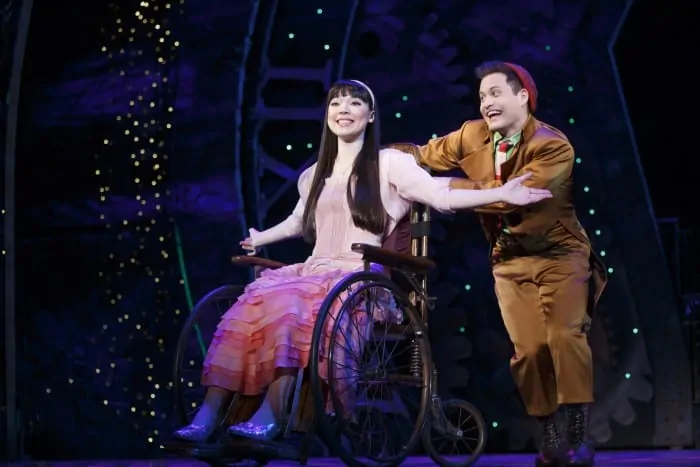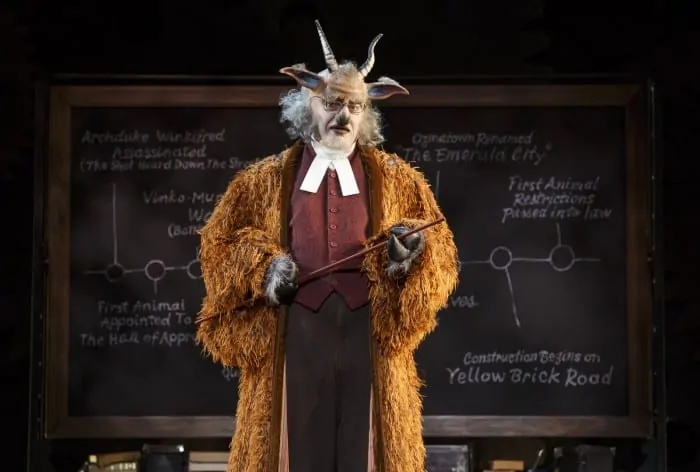 In the supporting roles, Wendy Worthington made an ominous and surprising Madame Morrible. The range of her speaking voice alone offered lots of humorous moments. Stuart Zagnit was pitch-perfect as the hapless, paternal, amoral Wizard. And Jake Boyd looked and sounded the part of the (initially) "genuinely self-absorbed and deeply shallow" prince Fiyero. His admiration and love for Elphaba was touching and made his change of character and sacrifice believable.
The ensemble, despite their occasional pushed sound, pulled off crescendos and decrescendos with precise timing and held few-to-a-part harmonies while twirling and dancing. Under conductor Dan Micciche, the orchestra—a combination of touring and local musicians—delivered a rocky version of Schwartz's score. Both punchier brass and better coordination with the singers would have done much to improve the quality of the show.
There are musical kinks to be worked out of the San Francisco stop on this tour. But it's still Wicked—a must-see for anyone who has yet to experience this treasure of modern musical theater.
3.5/5
Photo credit: Joan Marcus