Stark Insider continues its ongoing coverage from Live in the Vineyard with Grammy-nominated rocker James Bay.
If James Bay is craving a career as a charismatic rock star, his aspirations appear to be coming to fruition. Rather nicely in fact.
The UK-based singer-songwriter recently swung through Napa, performing at the Live in the Vineyard music festival. Tall, lanky, and sporting long locks and a top hat, he strikes quite the look. No wonder, in fact, that fashion boutique Burberry signed him on as a spokesperson… or, well, I mean performer. Indeed, as he tells me in this Stark Insider interview, he performed on a small stage right on the runway, during a Burberry fashion show. "They listen out for new music," he says. "They're keen to be part of where music is going."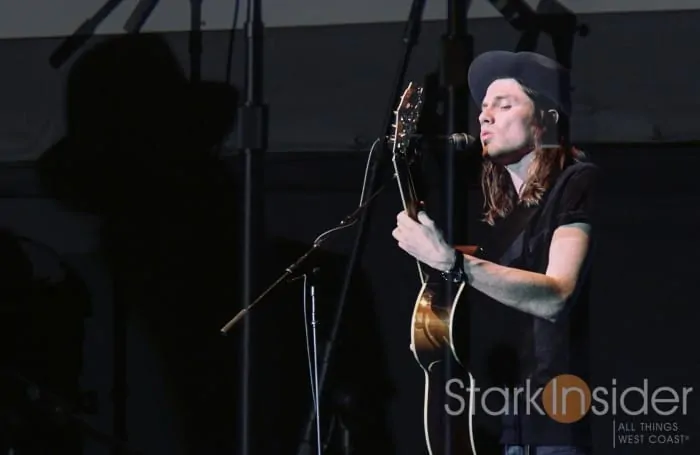 Nashville, once again, ignited a creative firestorm. Bay headed there to partner with Jacquire King, who would produce debut album Chaos and the Calm for Republic Records (March 2015). The record was a veritable smash, hitting number one in the UK, Ireland and Switzerland, and the top five in Australia, Germany and the Netherlands. Chaos did respectfully well here in the US, peaking at 15. That may change soon enough, as word continues to get out, now that Bay is working his way Stateside, and winning over fans with his heartfelt, story-oriented approach to songwriting.
Stark Insider was on location to capture highlights from his electrifying acoustic set. Watch as James Bay quickly wins over new and old fans alike with new songs such as "Craving" and hit singles "Let It Go" and scorching "Hold Back the River."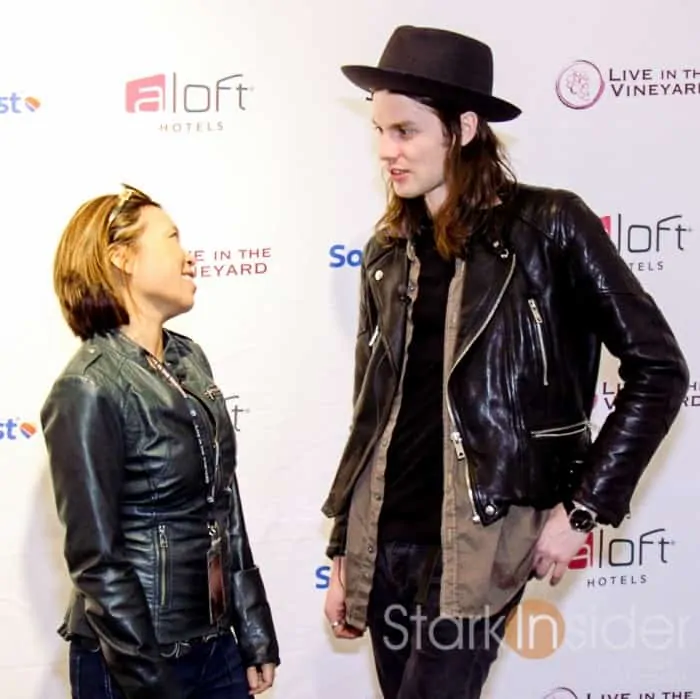 Later, I head backstage to catch up the charming singer to chat about the creative process, working with Burberry, and, yes, as is the case here on Stark Insider, a few of his favorite things, including an unexpected old school gadget.
UPDATE: James Bay Nominated for 3 Grammy Awards

Just hours ago, the 2016 Grammy nominations were announced. Congratulations to James Bay for picking up 3 noms:

Best New Artist

Courtney Barnett
James Bay
Sam Hunt
Tori Kelly
Meghan Trainor

Best Rock Song

Alabama Shakes, "Don't Wanna Fight"
Elle King, "Ex's & Oh's"
James Bay, "Hold Back the River"
Highly Suspect, "Lydia"
Florence + the Machine, "What Kind of Man"

Best Rock Album

James Bay, Chaos and the Calm
Death Cab for Cutie, Kintsugi
Highly Suspect, Mister Asylum
Muse, Drones
Slipknot, .5: The Gray Chapter
Did I mention he's tall?
Look for James on the road — he's currently headlining his Chaos and the Calm tour. And you absolutely don't want to miss it.
WATCH: James Bay Interview, Concert at LITV Napa