There's no better way to explore the soul of Carmel-by-the-Sea, an easy-to-navigate one-mile grid, than by sole. You can either lace up your sneaks and stride out on your own or sign up for one of the many engaging walking tours led by a gaggle of knowledgeable locals.
Whether you're a foodie, history and architecture buff, oenophile, or art appreciator, Carmel-by-the-Sea has just the tour for you.
Regardless of the subject matter, all of the tours I went on were peppered with fascinating tidbits covering the rich history, eclectic art, signature architecture, vibrant culinary scene and the unique characters and customs that all combine to make Carmel the quintessential Bay Area getaway choice.
Getting Settled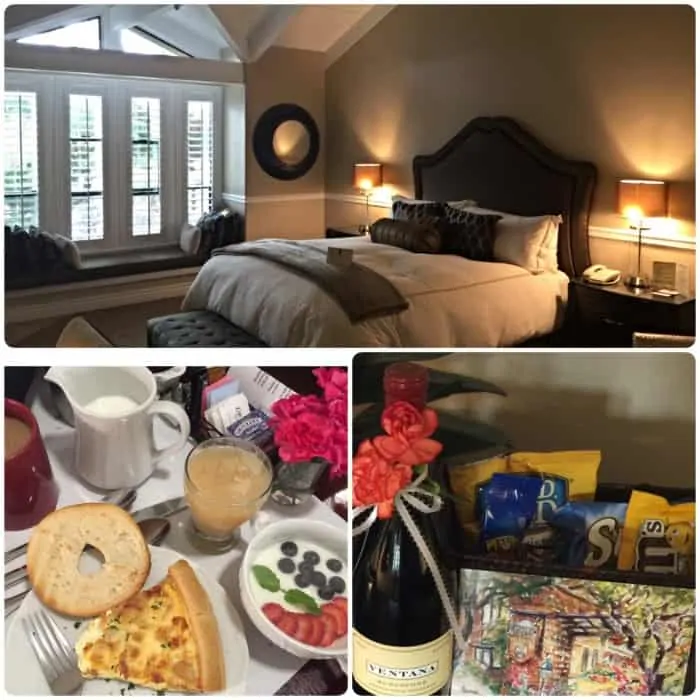 Warm welcome at the Carriage House Inn
On the edge of town you'll find the charming Carriage House Inn where, if you're in the mood to be really spoiled, you'll want to reserve the Premium three-room King Suite, which features French Country décor, the world's comfiest feather bed, a two-person Jacuzzi tub, two fireplaces, mile-high vaulted ceilings, evening wine and appetizers in the elegant library, valet service and off-street parking, plus an exceedingly friendly staff.
Inside Tip:

Don't forget to fill out the nightly form for the most delightful breakfast-in-bed delivery. It never grew old to be awakened with a soft knock on the door, a cheery "Good morning" and a platter filled with yogurt and berries, muffin, quiche, plus (upon my request) two big carafes of steaming hot coffee.
On you own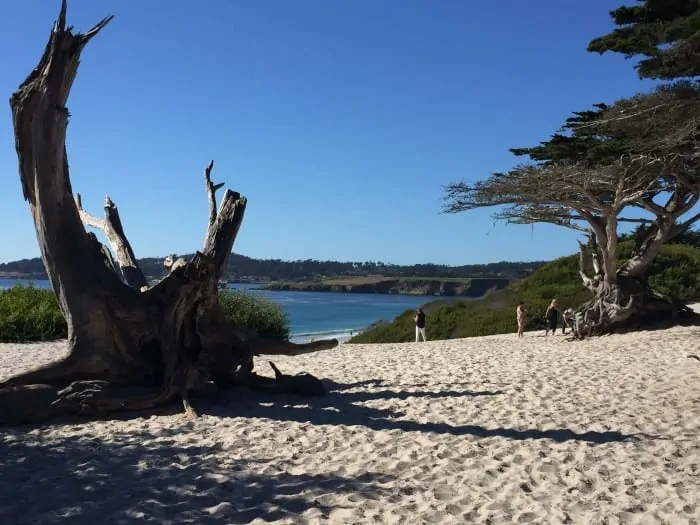 Sunrise, sunset or any hour in-between is the best time to walk down the hill to the mile-long stretch of downy-soft, white sandy beach filled with happy folks (since this is one of the few beaches that still allows bonfires and BBQ-ing) and even happier dogs (since they are allowed to romp off-leash).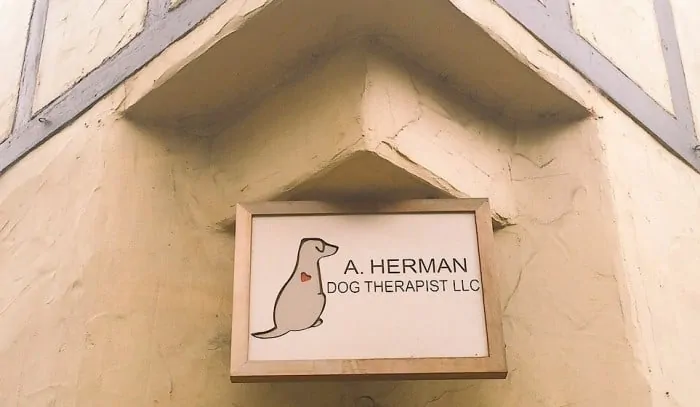 The good news for shoppers is that: a) there are no chains allowed in Carmel-by-the-Sea so you're actually doing a good thing when you make a purchase since you're supporting indie and small family-owned businesses and b) it's virtually impossible to get lost here so you can easily shop the plethora of boutiques and galleries by simply walking up one street and down the other.
One of Carmel's many quirks is that it uses house names instead of addresses
Nevertheless, it can be a bit challenging to find an exact location since one of Carmel's many quirks is that the city uses house names instead of addresses, so directions might go something like this: "Head three houses down from Yellow Dog House and you'll arrive at Tinker Bell right next to Wind Song". Carmel also doesn't have postal delivery, parking meters, or streetlights.
Inside Tip:

My fave DIY walk is the Carmel Wine Walk by-the-Sea passport program; for $65, tasters can enjoy free flights at 9 out of the 14 local tasting rooms, with nary a quibble about who has to be the designated driver since they are all walking distance from each other.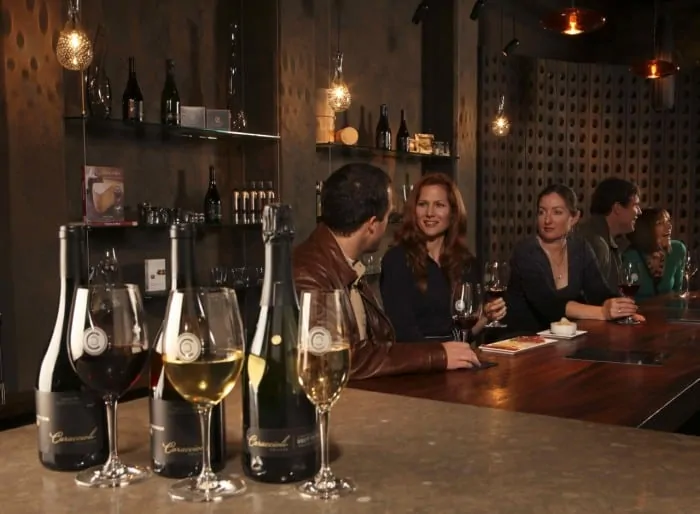 Make sure you include the classy Caraccioli Cellars for their award winning sparkling wines. I loved their Cuvee and Rose Brut bubbly, as well as their stellar Pinot. The passports don't expire so if for some bizarre reason you don't use it up, you can save it for your next visit.
Not-to-be-missed Guided Walks
My three favorite walking tours were all interesting and fabulous fun, but for some reason they all have the most boring names imaginable. I don't know if this is just a coincidence or another quirky Carmel-ism, but trust me, just overlook their pedestrian titles; Carmel Food Tour, Carmel Art Walk, and Gael Gallagher's Carmel Walks, and sign up for a great experience.
Carmel Food Tour
If you're having trouble choosing where to eat (so many restaurants, so little time) then take the guesswork out of it and join a Carmel Food Tour, where all you have to do is show up in comfy shoes, roomy pants and of course, pay for your ticket. The fattening three hours flew by as our informative guide, Staci Giovino, the food- obsessed owner of Carmel Food Tours, led us down back alleys and hidden courtyards sharing her favorite eateries with us, all the while dishing on all the latest food-centric gossip. We met iconic restaurateurs, many who have been in business for decades, as well as exciting entrepreneurs while sampling signature dishes at each of the seven stops.
Thankfully we had the private courtyard to ourselves so no one saw me sop up every last bit of the slow- braised Kobe beef short ribs at Anton & Michel, a fine dining establishment where you'll definitely want to use your indoor voice. We returned to A & M's later that night for a memorable Bananas Foster prepared tableside with dramatic flair.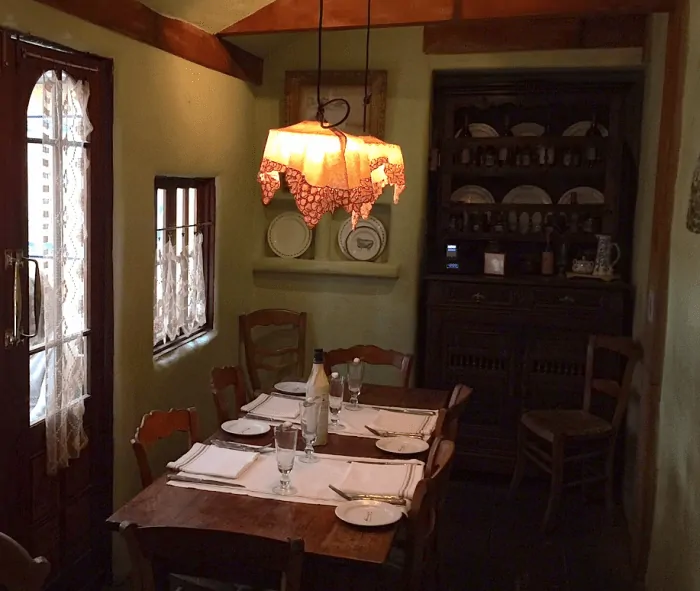 On to Casanova, touted as Carmel's "most romantic" restaurant, serving impeccably presented French‑Italian fare to pair with your choice of wine from their 34,000 bottles housed in their hand-dug cellar.
The hidden gem here is the intimate Van Gogh dining room…
For half a century this quaint old house belonged to Aunt Fairy Bird, who was Charlie Chaplin's cook. The eclectic, antique filled restaurant oozes atmosphere with rustic wood tables and fresh flowers filling the many small fire-lit dining rooms and their charming outdoor patio. The hidden gem here is the intimate Van Gogh dining room with the actual table Vincent Van Gogh used when he lived "Chez Rachoux".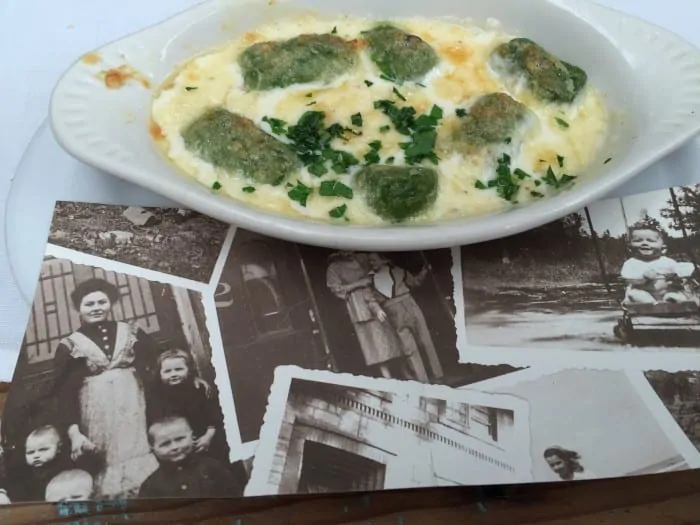 Again I'm reaching for the breadsticks to scrape up every last bit of the sinfully rich Parmesan sauce ladled over the ethereal spinach gnocchi.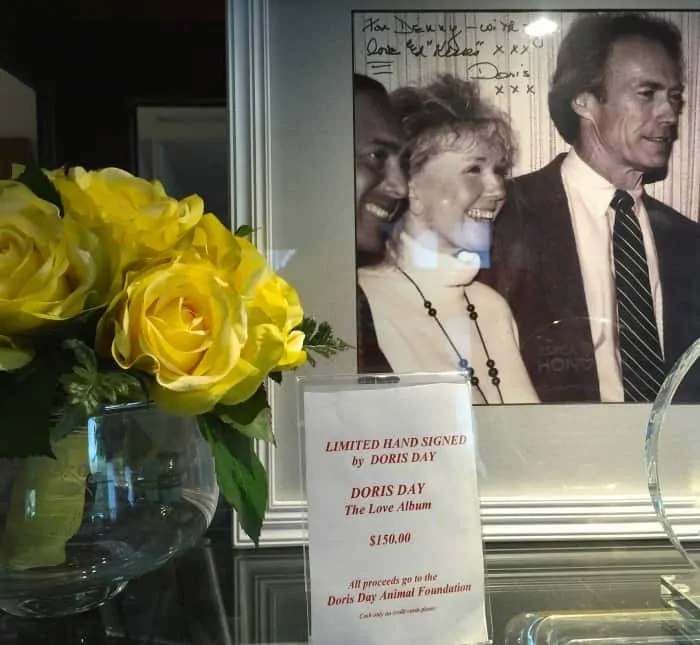 The rest is just an epicurean blur of succulent treats and interesting tales that Staci shared with us enroute. There was the seasonal heirloom tomato-cheese salad we enjoyed at the Affina, a new hipster on the block; an eye-opening ultra-premium olive oil and balsamic tasting experience at the trendy Trio Carmel (who would have thunk that a drizzle of white truffle oil over vanilla gelato could change your life forever) and the New-Classic Manhattan cocktail which complemented the North African lamb meatball perfectly at Doris Day's historic Cypress Inn (circa 1929). This inn is so dog friendly that they even host a "yappie hour" for your furry friend.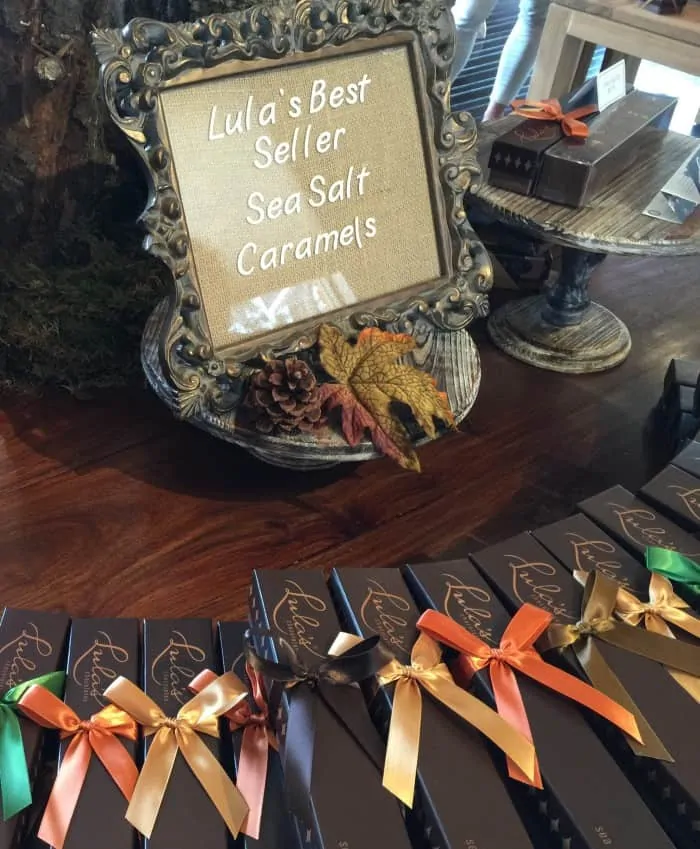 We ended with a pop- as we sipped the gold medal winning Brut Rosé at the upscale Caraccioli Cellars tasting room before darting into the Lula's Chocolates, the Tiffany's of candy stores, where we clamored for "more please" samples of their famous chocolate caramels topped with various seas salts from around the world.
I sadly bid my new best bud, Staci, a fond farewell before waddling away.
Inside Tip:

I can't wait to return to try her new "Gimme A Break-fast Tour" which sounds not only fun but actually has a cute name!
Art Walk
After all the great eats, it's time for some non-caloric eye-candy. Carmel-by-the-Sea has long been a haven for artists, including photographer Ansel Adams and Edward Weston. For a quick overview, you can pop into the Carmel Art Association, founded 1927 (the second oldest art cooperative in the country) that features the work of more than 100 professional resident artists. However, for a truly inspiring look at the local art scene, sign up for a Carmel Art Tour led by the engaging Rohana LoSchiavo. Rohana takes all the intimidation out of walking into an upscale gallery and transforms the experience into a non-threatening, educational, fun-filled afternoon.
Carmel-by-the-Sea has long been a haven for artists, including photographer Ansel Adams and Edward Weston.
We were invited behind the scenes, receiving warm welcomes from the gallery owners who introduced us to new artists and hear firsthand about their creative process as you explore a variety of art including all forms of painting, art glass, sculpture, and photography on a leisurely walk through downtown Carmel.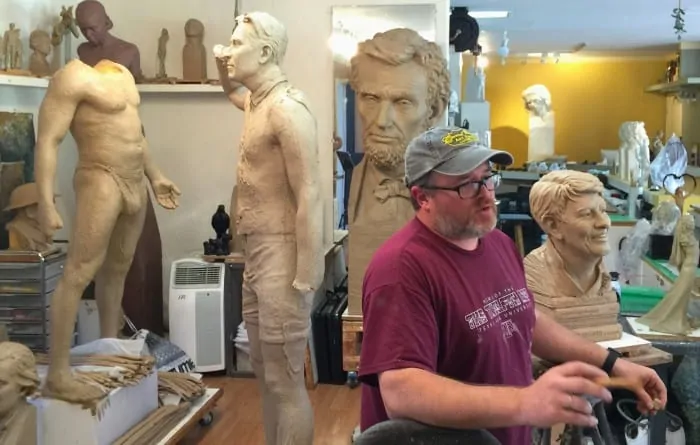 Just a few standout moments include talking to Steven Whyte, who created the War Hymn Monument, the largest bronze sculpture in any USA stadium. When I asked what his favorite part of creating art was he blithely replied, "Who wouldn't love sculpting naked ladies all day?"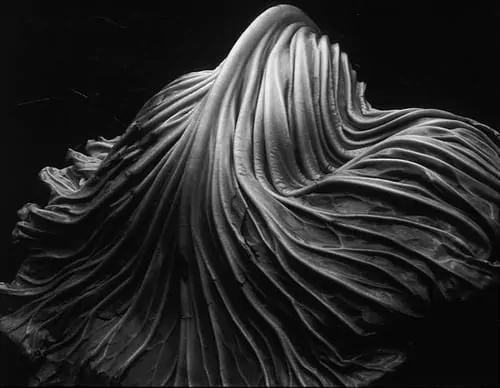 It was also an incredible viewing the vast collection of Edward Weston photographs at the Weston Gallery, one of the oldest photographic galleries in the world. Plus, if I hadn't been with Rohana, I probably would never have found the Winfield Gallery, where we learned that the charming the artist/owner, Christopher Winfield is the son of Rodney Winfield, who sculpted "The Brotherhood of Man" which commemorates the Founding of the United Nations in Nob Hill's Grace Cathedral, and learning the history behind the unconventional "shattered" glass paintings of Cassandria Blackmore, who, because she is dyslexic, sees things in reverse which led to her signature glass shattering process. (Hmmm, Steven Whyte is also severely dyslexic-I wonder if there's a connection?)
Inside Tip:

If you're a remotely serious collector with a specific interest and limited time, Rohana will be happy to organize a private tour selecting the artists and art dealers that meet your criteria.
Gael Gallagher's Carmel Walks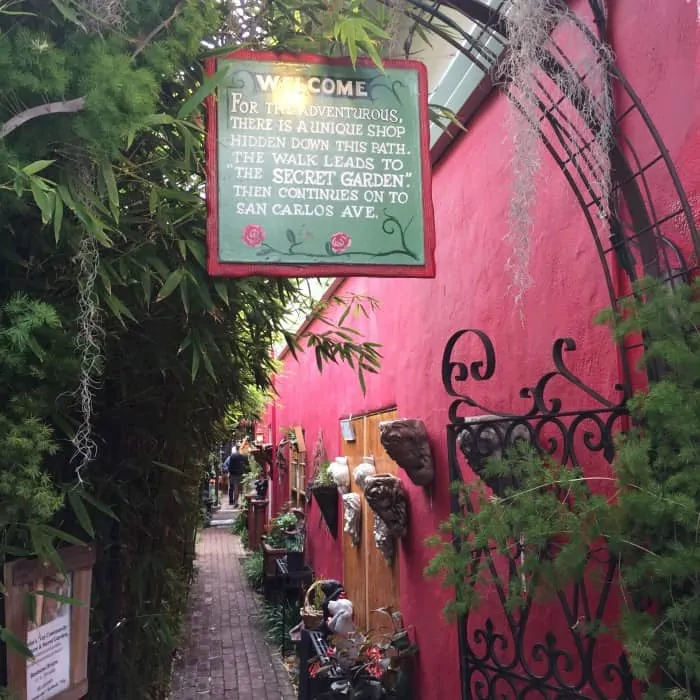 This walk scores high marks for offering a wonderful tour that reveals hidden courtyards, a labyrinth of passageways, quirky haunts, award-winning gardens and fascinating histories about the quirky characters that add so much to Carmel's charm.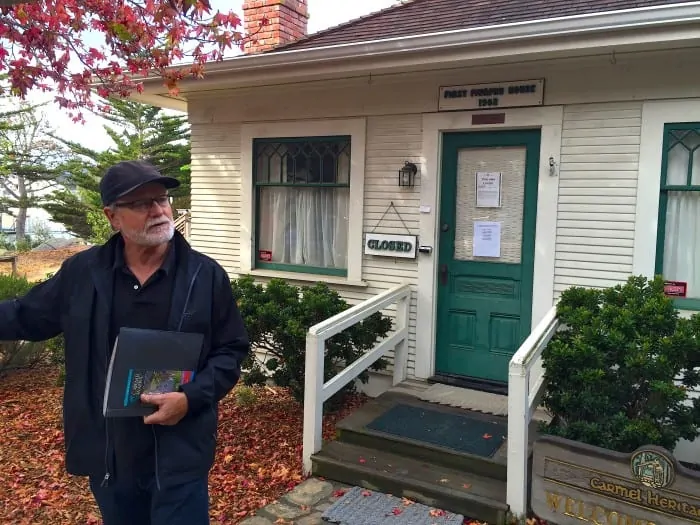 Kelly, our endlessly entertaining guide, held us spellbound with endless stories about Carmel's history and the famous architects, writers, artists who call it home. Basically, it got kick-started in 1902 when Michael J. Murphy (who was 17 years old at the time and had moved to Carmel from Utah) decided to build a home for his mom and sister. After he finished, everyone wanted a Murphy home and his reputation steam-rocketed. By the time he retired in 1941 he had constructed over 300 buildings in Carmel. Today, "The First Murphy House" serves as the town's "Welcome Center".
But the architect who was largely responsible for the whimsical fairy tale cottages sprinkled like fairy dust throughout town, was Hugh Comstock. He built the first storybook cottage in 1924 for his wife, Mayotta, to house her handmade "Otsy-Totsy" rag dolls. Kelly told us that while most people adore the 21 remaining Comstock Cottages, former Mayor, Clint Eastwood, disdainfully refers to them as "Smurf homes". In his defense Eastwood did manage to overturn Carmel's Ice Cream Ordinance, a law that prohibited selling and eating ice cream on public streets.