Internationally acclaimed food, travel and lifestyle writer Janice Nieder shares insider tips for planning your perfect getaway to the town of Calistoga in the Napa Valley.
When you're entertaining out-of-towners in San Francisco and they start clamoring to go wine tasting, the fraternal wine twins, Napa and Sonoma, usually come to mind. But after a recent getaway to Calistoga, I'd strongly suggest that you move this low-key charmer to the top of your list.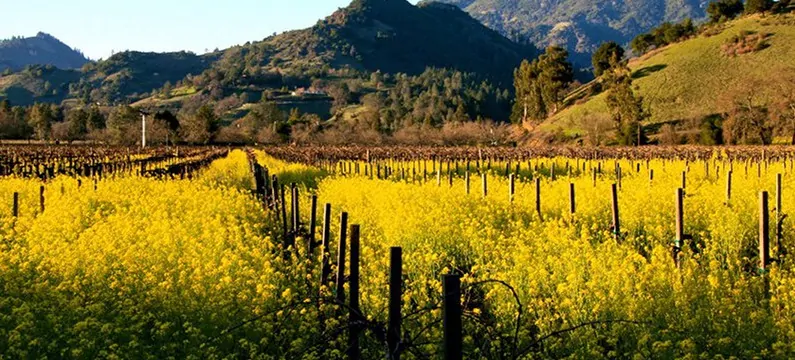 Whether you want to go wine-ing, hiking, biking, shopping, dining, or relaxing in one of the world-famous geothermal hot spring pools, as I soon discovered, historic Calistoga offers all this and more.
Here's my picks for a perfect, 24-hour getaway to the charming town of Calistoga in the Napa Valley.
CALISTOGA HISTORY
I love the story about how Calistoga got its name: In the 1840's one of the first American settlers to arrive in the Calistoga area was Samuel Brannan, who migrated here from the East Coast. He published San Francisco's first English language newspaper, the California Star. Due to the success of The Star as well as other smart business investments, he became California's first millionaire.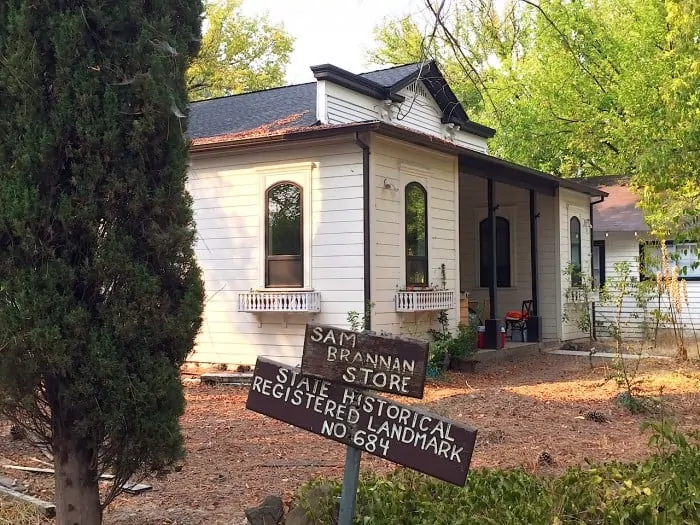 He used some of this money to fulfill his dream, which was to create a luxurious spa resort in Northern California's hot springs area reminiscent of Saratoga Springs, New York. The town's name comes from Brannan's tipsy malapropism that he would turn this into the Saratoga of California, which came out as the "Calistoga of Sarafornia."
STAY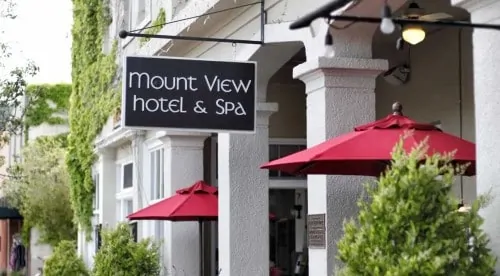 To get a real feel for the town's history book a stay at the Mount View Hotel & Spa, commemorating over 100 years of hospitality.  The hotel became a registered landmark with the National Registry of Historic Places in 1981. It recently emerged from a striking makeover by artist Stephanie Woods (an ex- New Yorker who owns the hotel with her husband, Michael) in a creative style she calls "Artistic Deco" which beautifully blends the history of the hotel with the fabulous Art Deco features throughout the property, including three works from Gustav Klimt.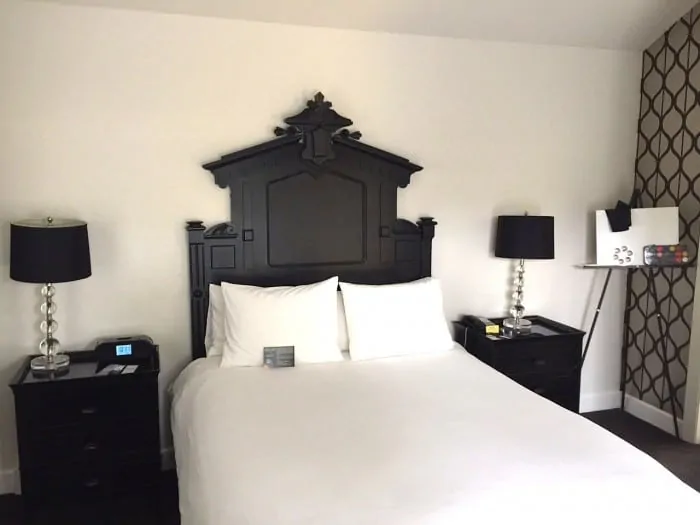 Insider tip:

For the ultimate in romance or if you'd just like to chill out in privacy, book one of the charming Winery Artist Cottages with a secluded patio and outdoor Jacuzzi. Channel your "inner-artist" by taking advantage of the easel, paints and canvas that await you in the cozy cottage. You can hob-nob with the other guests while you relax in the mineral whirlpool spa sourced from Mount View Hotel's own geothermal mineral spring or lounge in a poolside cabana by the heated swimming pool sipping a glass of chilled wine, perhaps from the complimentary bottle that you'll find in your winery suite.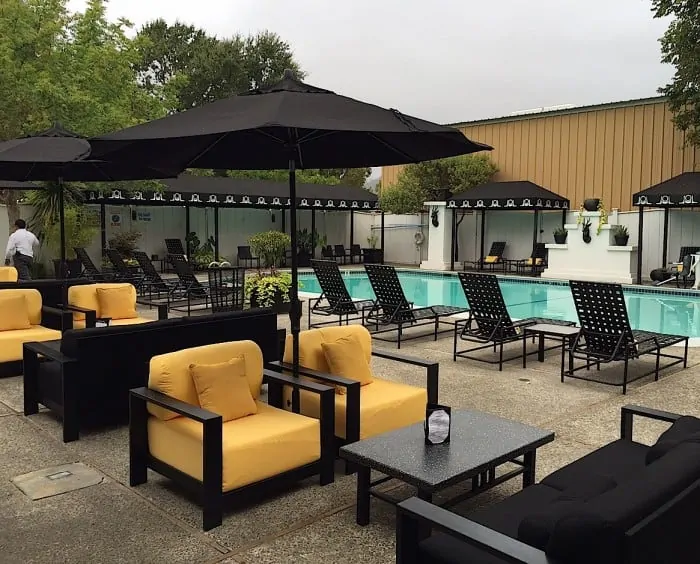 Whether you stay in the main hotel or one of the cottages, you'll appreciate the "breakfast-in-bed" delivery at your choice of times, since you won't want to leave the plush comfort of the cloud-like feather beds.
If you only have time for one wine tour, the no-brainer choice is the Castello di Amorosa.
Just a sampling of their other signature amenities include complimentary parking, lush terry robes, a well-stocked Illy Coffee in-room Espresso Machine, Eco-friendly Aromatherapy Bath Products, Wet bar with Mini-Fridge to chill your wine as well as the warmest most hospitable staff imaginable.
RELAX
The Mount View Spa has nailed the "art of relaxation." They offer a full roster of tempting treatments ranging from a Lemon Olive Oil Scalp and Foot Rub to a Mojito Mineral Mud Bath. There are also scads of old-fashioned neighborhood spas offering natural hot spring soaks and healing mud baths. I have to admit that I've always found mud baths a bit claustrophobic for my tastes and prefer a really good massage instead.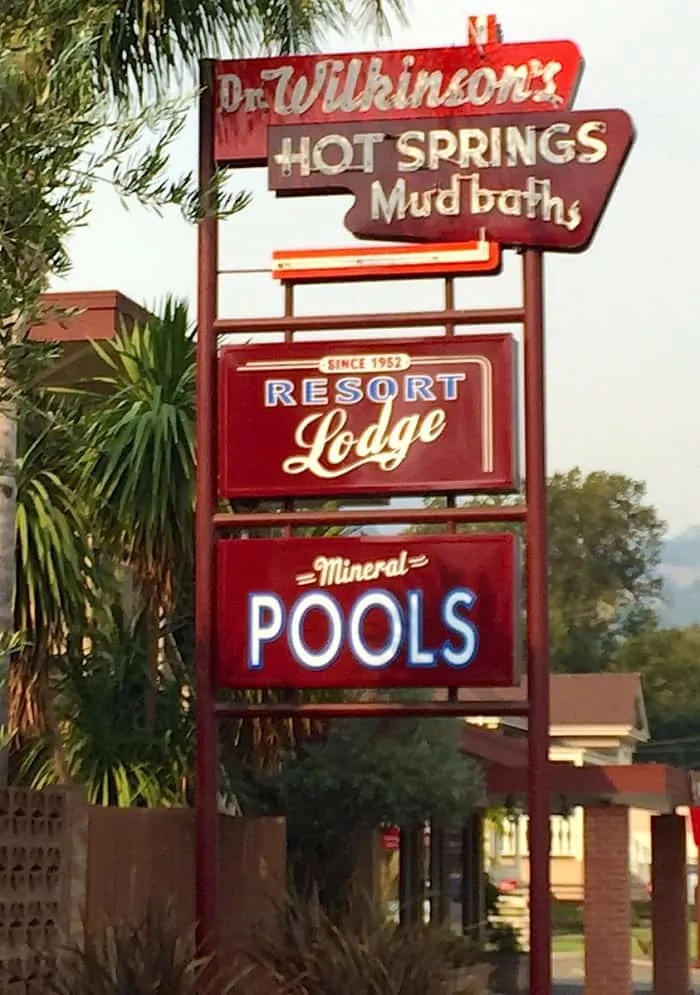 Insider Tip:

We lucked out when we when "off campus" for a magical signature massage at the Reiki Healing Arts Center (charmingly located in an old train car) where the hubbie and wife tag team left us feeling completely renewed, at amazingly reasonable prices.
EAT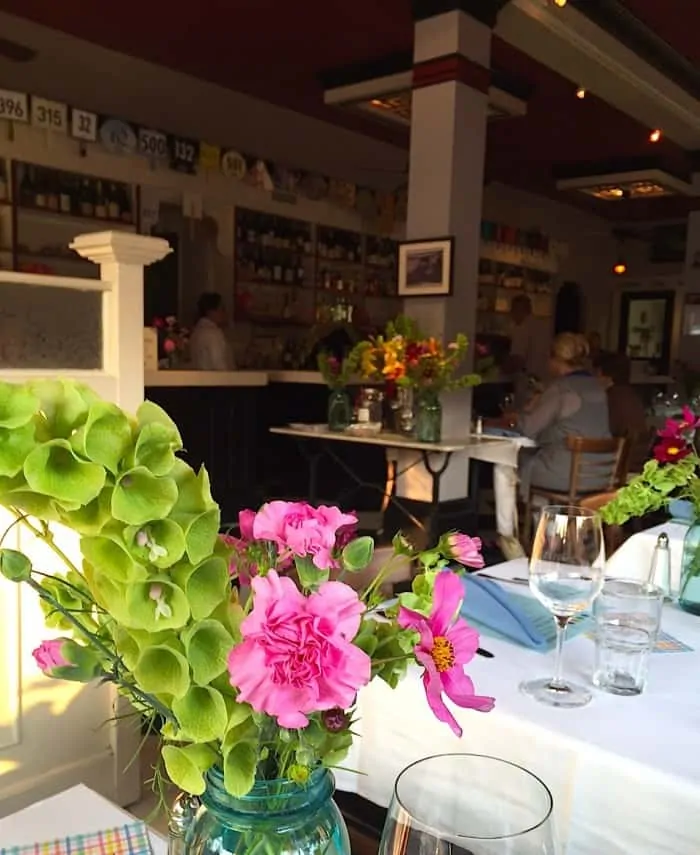 Starting its 40th year, All Seasons Bistro is hardly the new kid on the block but the owners;  Gayle Keller and Alex Dierkhising (another happy husband and wife partnership) manage to keep it fresh and exciting by sourcing only the finest seasonal, artisanal ingredients for their simple yet sophisticated Wine Country cuisine. They are equally passionate about fine wine which became quickly apparent after perusing their list of award-winning wines.
All the food was pretty damn tasty.
Alex is originally from Minnesota where he grew up working in the family restaurant, which is where he met Gayle. Many moons ago when he came to Calistoga on a wine-buying trip, he fell in love with the area and decided to stay. He put out a call to his numerous siblings, who were freezing their butts off back home, to see who wanted to move out and help him start a restaurant. Some did and a handful of them stayed in the Bay area where they are currently working in the food industry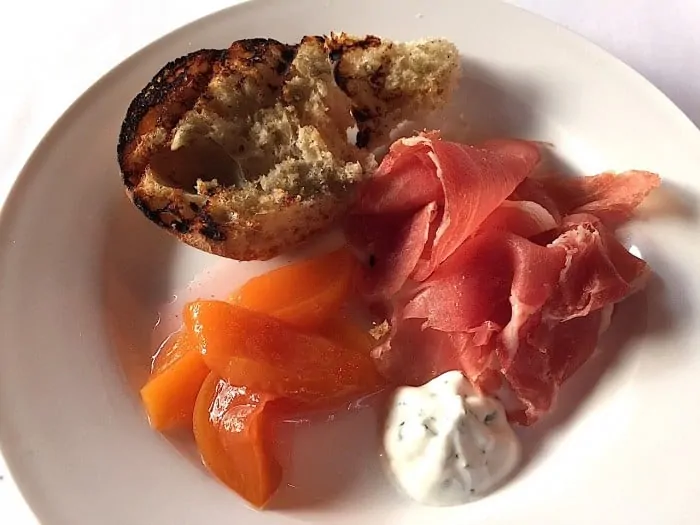 All the food was pretty damn tasty but in particular, if the tender grilled beef filet with smoked tomato sauce or the ahi-tuna tartare is on the menu, go for it! Actually anything on the menu that is smoked, charred, pickled or cured is probably a knock-out. I'm still dreaming about their succulent combination of prosciutto and house-made herbed ricotta served with Gayle's sweet pickled stone fruit.
Insider Tip:

Even though you'll probably be stuffed, head across the street for a nightcap at the Hydro Bar & Grill which is also owned by Gayle and Alex. This iconic nabe bar is known for its friendly service, creative cocktails, cold beers, large variety of wines by the glass and supposedly the best burgers in town.
SIDE TRIPS
The Petrified Forest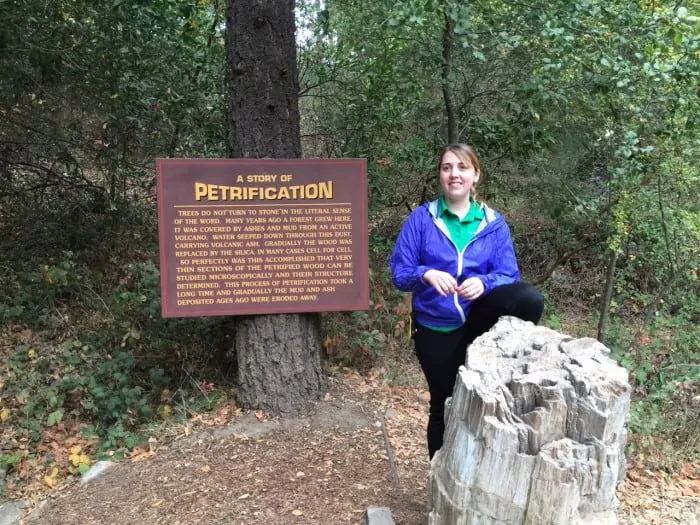 Even if you think you're not interested, like we did, the Petrified Forests, home to the world's largest petrified redwood trees (which were turned to stone a mere 3.4 million years ago) is a Must See!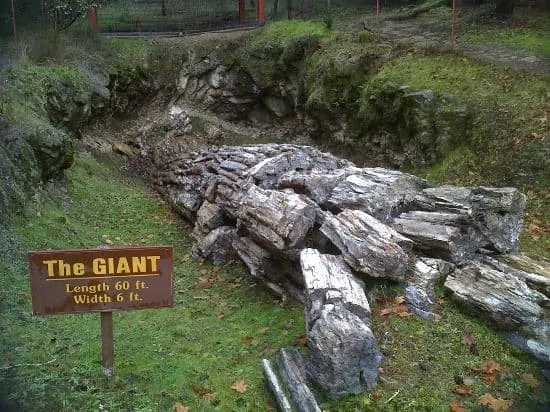 The half-mile trail is open for self-guided tours throughout the day or you can sign up for one of the docent led hour long tours at 11:00 am, 1:00 and 3:00 pm for no additional charge. I thought we'd be bored silly after 15 minutes so I informed our guide, Hillary Adam, that we had a lunch rezzie so she wouldn't be offended when we left early. However, her tour was so interesting that we actually stayed long past the hour peppering her with questions and taking photos.
Even if you think you're not interested, like we did, the Petrified Forests are a must see!
Insider Tip:

Their well-stocked nature gift store is filled with cool fossils, polished petrified wood and some incredible jewelry, such the one-of-a-kind petrified wood and silver necklaces.
Castello di Amorosa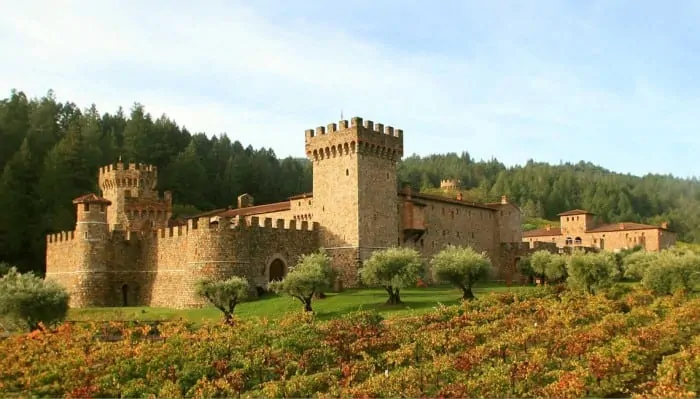 If you only have time for one wine tour, the no-brainer choice is the Castello di Amorosa ("The Castle of Love"). Not only will you be able to sample some delicious wines but you'll also be able to tour an amazing architectural achievement — the only authentic 13th century-inspired Tuscan castle built in America.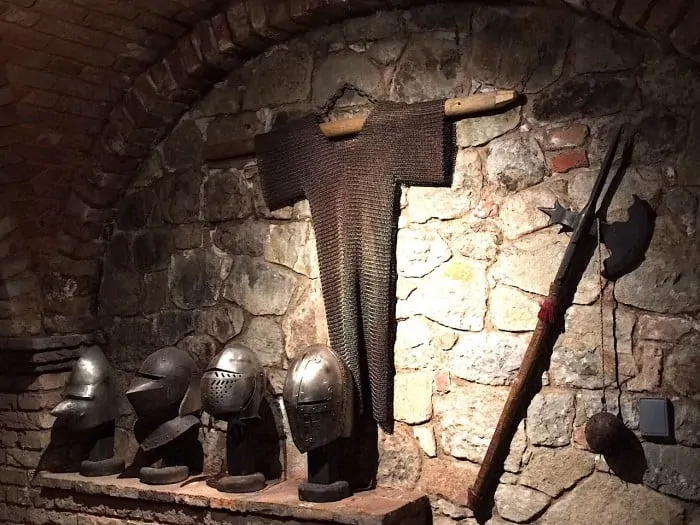 This 136,000 square foot, 107 room Castello features a drawbridge, moat, chapel, knights' chamber, dungeon and even a well-stocked torture chamber.
This astonishing labor of love started in 1993 when Dario Sattui (who also owns and operates the V. Sattui Winery named after his great-grandfather who originally established a winery in San Francisco in 1885 after emigrating from Italy to California) wanted to pay homage to his Italian heritage. Fifteen years and about $80,000,000 worth of materials later, Sattui finally achieved his dream.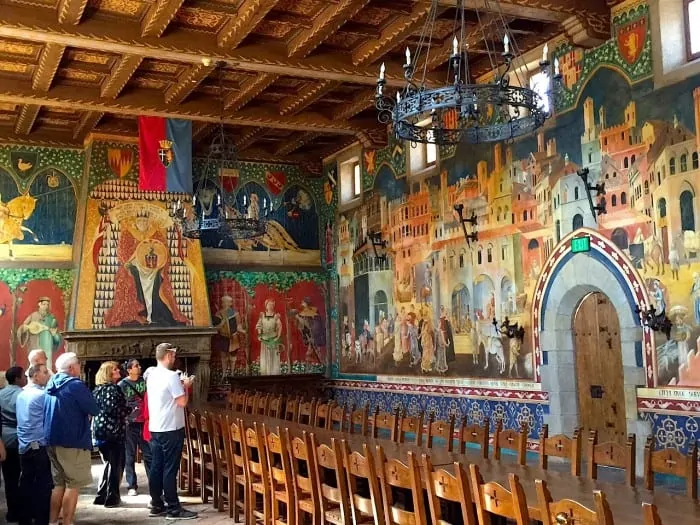 Once you arrive you can wander through some of the rooms on your own with general admission. We thought it was well worth the small splurge to sign up for the Cheese & Wine Pairing Tour where our knowledgeable tour guide regaled us with fascinating background stories and pointed out extraordinary details we would have missed on our own.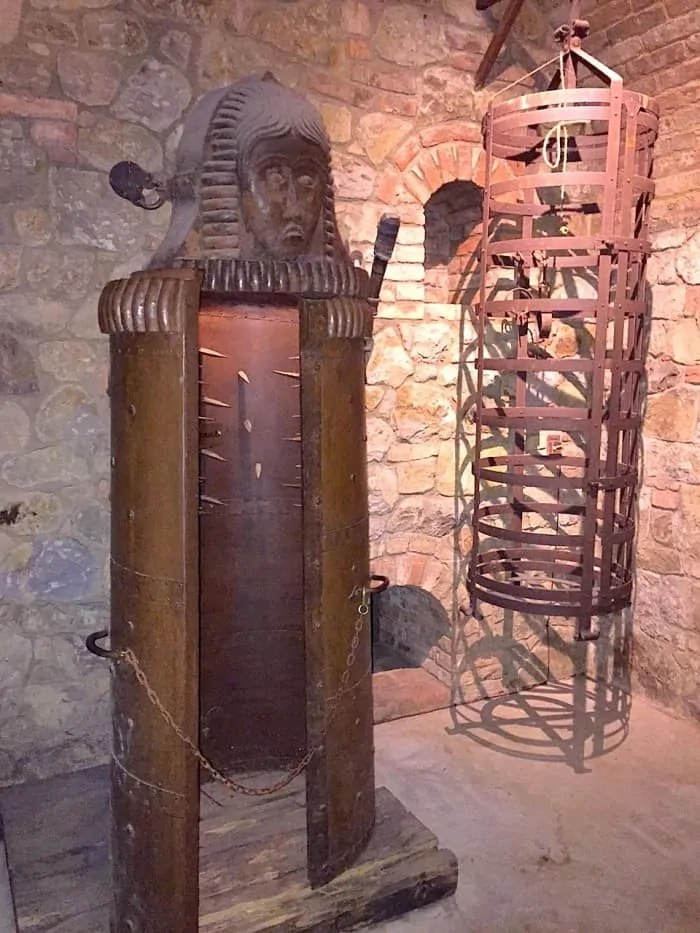 We also got to visit rooms that aren't open to the general public such as the armory, with its Pit of Despair, the amazing torture chamber and the grand barrel room for a barrel tasting of the Cabernet Sauvignon.
We ended up in a gorgeous, vaulted-ceiling tasting room for a tasty and educational wine and cheese pairing. Our favorites were the elegant 2013 Pinot Noir Reserve, a rather exotic, dry 2014 Gewurztraminer and a seductive dessert wine, Il Passito, that was almost begging for a little fois gras.
Insider Tip:

Castello di Amorosa's small batch, Italian style wines are sold exclusively at the castle, so this is your chance to stock up on these fine fines. Be sure and pop into the Fattoria (farm store) to try their line of high-quality flavored grape seed oils and flour – made from the seeds of wine grapes.