The lively college town of Bloomington, Indiana has blossomed into a huge bouquet of art, culture, sports and unique culinary offerings. It's easily explored on foot so you can burn off all those calories while you shop the quirky downtown stores, take in some live music, bike the B-Line path which is ingeniously built on an old rail line so you don't have to pedal uphill, or tour the gorgeous Indiana University campus. Afterwards, cross over to 4th Street's international Restaurant Row, lined with dozens of round-the-world dining options.
I'm ready to go back to school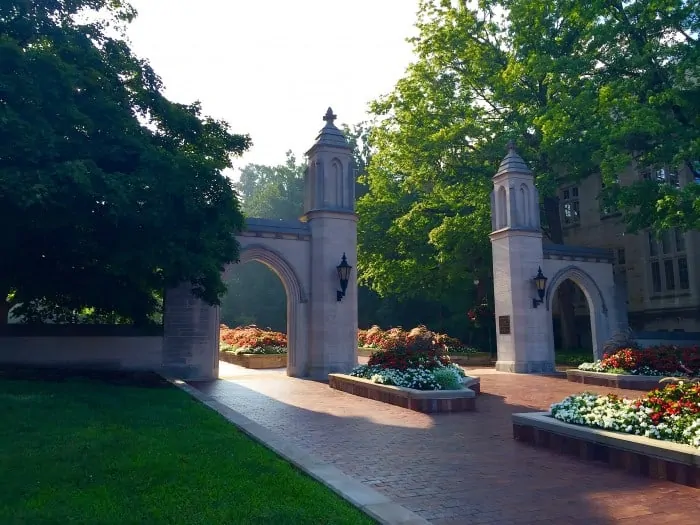 Indiana University- am I the only ignorant soul who had never heard how gorgeous IU is? Obviously I missed the memo that it is ranked #15 on "The 50 Most Amazing College Campuses for 2015". While meandering through the campus forest trails I discovered one surprise after another including the eye-catching art museum designed by I.M. Pei (the museum's African art collection is superb) the historic graveyard and a humongous, piazza-style, limestoned-walled student union building that is listed on the National Historical Registrar. Note: Bloomington is perched on top of the Salem Limestone Belt, one of the largest limestone deposits in the world, so almost every building on campus is made out of limestone featuring incredibly detailed hand carved friezes and sculptures.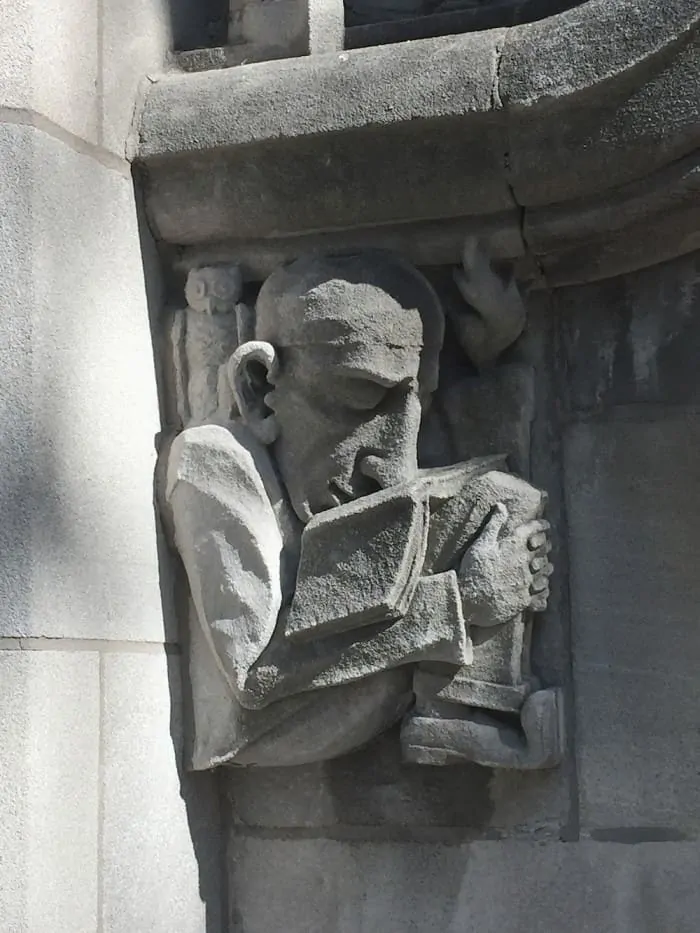 And don't even get me started on all the cool things to do here…too late, I'm starting: There is The Elizabeth Sage Historic Costume Collection with over 19,000 fashion periodicals, contemporary couture ensembles and accessories and The Jacob School of Music which hosts everything from Ice-cream socials to the Philharmonic Orchestra. You can experience the universe at the Kirkwood Observatory, tour the world through the global collection at the Mathers Museum of World Cultures, sign up for a study at the world-renowned Kinsey Institute for Research in Sex, Gender and Reproduction or check out the Kinsey Institute Collections which houses one of the world's largest collections of artwork and artifacts for the study of human sexuality.
Inside tip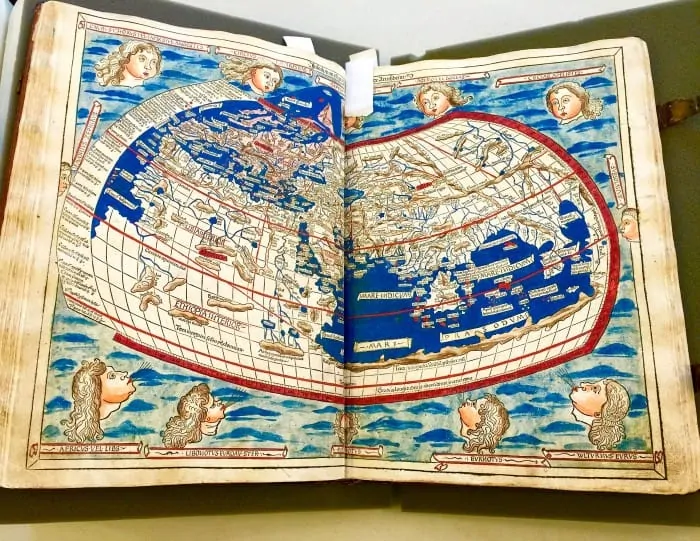 Under no circumstances should you miss a visit to the Lilly Library. I can hear you groaning now but trust me, it's totally amazing! You can see and even touch in most cases, some exceedingly rare books and artifacts, such as the New Testament of the Gutenberg Bible, George Washington's letter accepting the presidency of the United States, the first cookbook by an American author that was published in 1796, and the original manuscripts for eleven of the James Bond novels. They also house the world's largest mechanical puzzle collection. After I was allowed to hold the actual Academy Award Oscar statuette that John Ford received for best director in 1941, I could see why so many actors commented on how heavy it was.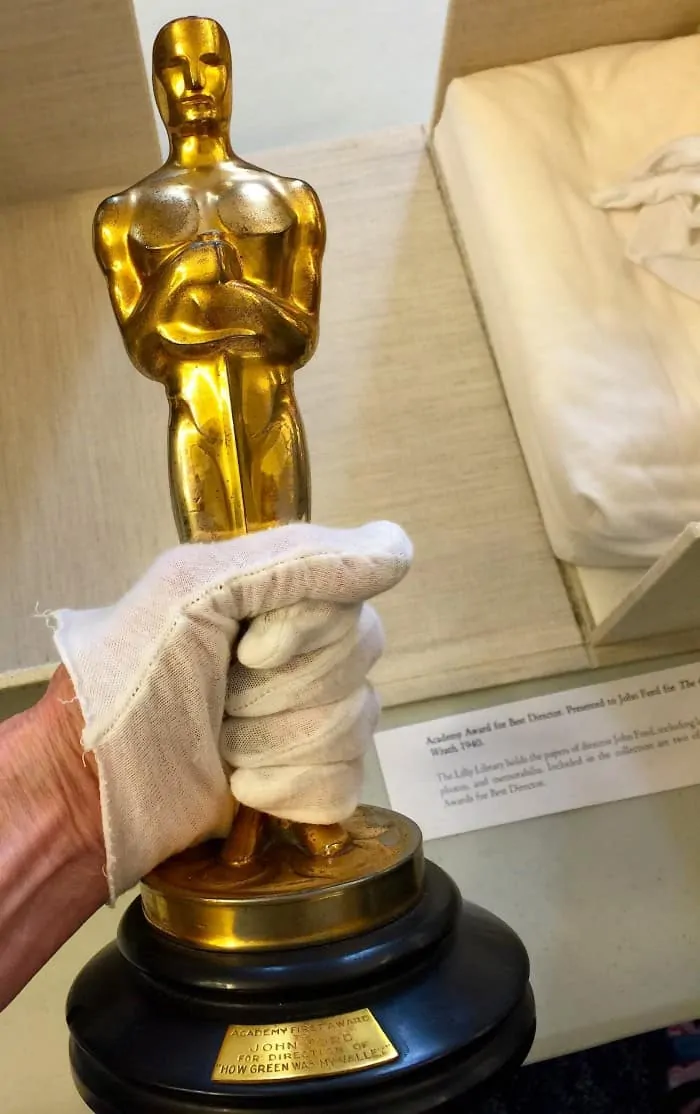 For some peace & quiet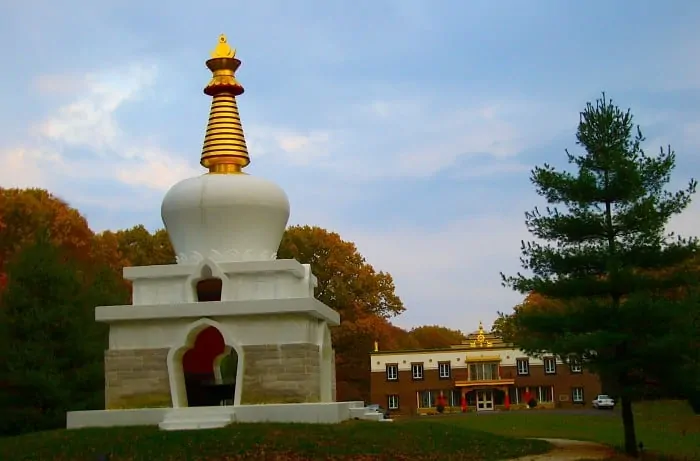 Just about the last thing I expected to find in Bloomington was the Tibetan Mongolian Buddhist Cultural Center, founded in the 1970s by the eldest brother of the Dalai Lama, Thubten Jigme Norbu, who escaped Tibet in 1950. He became a professor of Tibetan Studies at Indiana University and in 1979 established the Tibetan Mongolian Buddhist Cultural Center, a sacred place sprawling over 100 wooded acres. On the grounds you'll find two tall stupas, Mani Korlo, which is a structure containing large Tibetan prayer wheels, a cultural center, library, and gift shop.
Inside Tip:

For a tranquil retreat you can rent one of their 'yurts'. Check the schedule to sign up for a class where you can learn how to create a sand mandala, butter sculpture or prayer flag.
Best Eats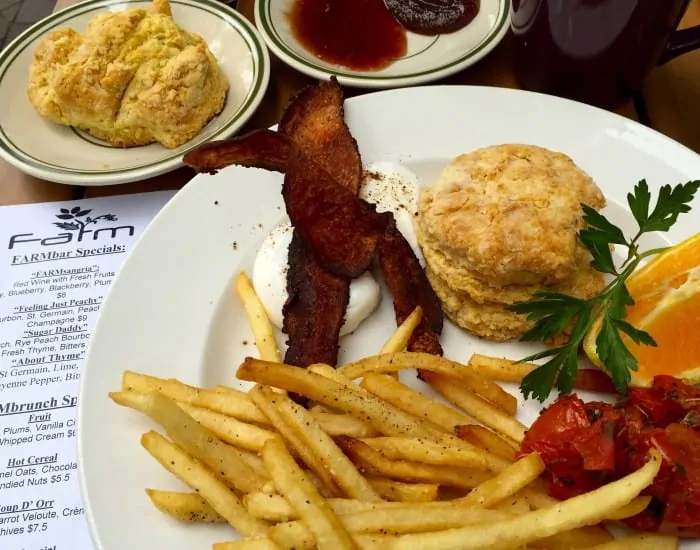 For brekkie, brunch or lunch you can't go wrong at the FARMBloomington. Chef/owner, Daniel Orr lives and breaths sustainability, starting with his space which is a revitalized Odd Fellows building, keeping many of the old artifacts, including the root cellar, that is now a swinging speakeasy. The eclectic menu features local foods with global flavors (in keeping with Orr's working around the world before returning to his home state) think local bison burger, jerked salmon filet, Russian borscht, or Spanish braised octopus. In less capable hands, this could be frightening, but not for Chef Orr who was a James Beard Foundation semifinalist this year.
Inside tip:

If you go for their weekend brunch, don't skip their famous Southern Indiana Buttermilk Biscuit Basket, fourth generation biscuits served with a selection of house-made jams. Also get a side of the addictive Farmhouse Fries served with Tailgate Chipotle Catsup.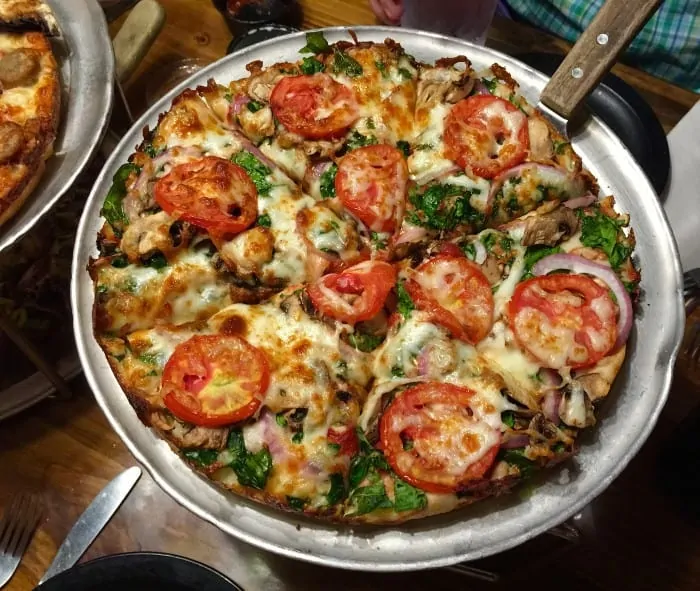 If you're in the mood for a slice that will appeal to any pizza lover, Mother Bear's Pizza, a local landmark, will make everyone happy. The menu offers everything from deep dish to wafer thin crusts, with your choice of sauces ranging from Mother Bear's Award-winning Red Sauce, Sweet Baby Ray's BBQ Sauce, a creamy Vodka sauce to a zesty Salsa del Rafano. Gourmet toppings include a large selection of fresh veggies t o Hoosier Ham, fresh grilled chicken or a low-fat Apple-Gouda Chicken Sausage.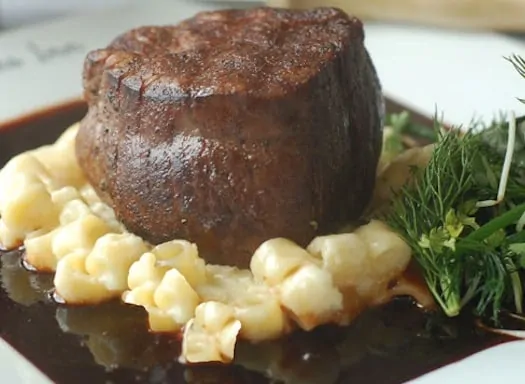 For an upscale dinner the iconic Scholars Inn Gourmet Café & Wine Bar won't disappoint. Order one of their signature martinis to sip while you peruse the menu, which arrives cleverly hidden in an old book. Meat eaters should order Scholars famous hand-cut, aged filet mignon delightfully served on a bed of Mac & cheese. Housed in a cozy 150 year old mansion the atmosphere radiates old-fashioned romance coupled with warm Hoosier hospitality.
Inside tip:

If they're not too busy ask for a tour of the property which used to be part of the Underground Railroad before it became a popular brothel.
Lots to Drink (after all, this IS a college town):
Upland Brewery
This lively local brewery makes some solid craft beers as well as some eclectic seasonal ones, many which are World Beer Cup Winners. The tasty brewpub food uses locally sourced ingredients and the friendly, well-informed staff is happy to suggest pairings, for example, The Dragonfly IPA really set off the tasty Bad Elmer burger laden with sharp cheddar, smoked bacon, and oozing homemade BBQ sauce.
Inside Tip:

Newbies should go for the beer sampling, $10 for seven generously poured beers. For a really different flavor profile try one of their sour ales which include fruited and non-fruited styles.
Oliver Winery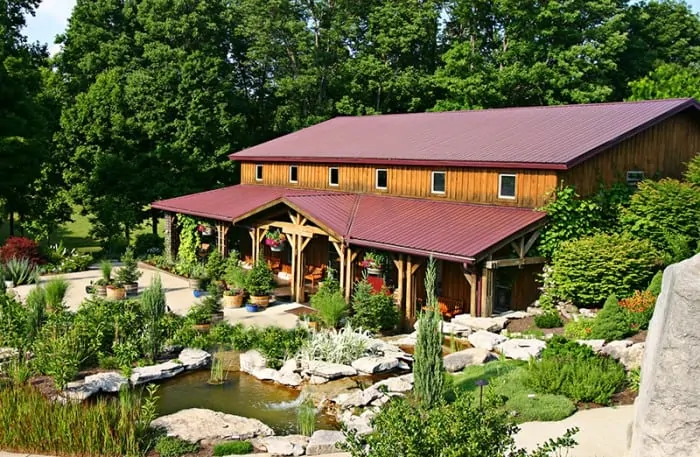 About a 15 minute drive out of town brings you to Oliver Winery, Indiana's oldest winery. What started as a hobby in the basement of Indiana University law professor William Oliver back in the 1960s has grown into one of the largest wineries in the eastern United States. After you take a tour of their state of the art winemaking facility and taste some of their 40+ varieties of wine (kudos for their estate bottled Creekbend Cabernet Sauvignon), buy a bottle of your fave wine, pick up some bread and cheese at their gourmet center and enjoy an impromptu patio picnic overlooking the beautifully landscaped grounds complete with waterfalls and limestone sculptures.
Inside tip:

Buy your tickets now for their September 26, Harvest Wine Festival for a fun day of wine tasting, live music, delicious foods, and vineyard tours.
Cardinal Spirits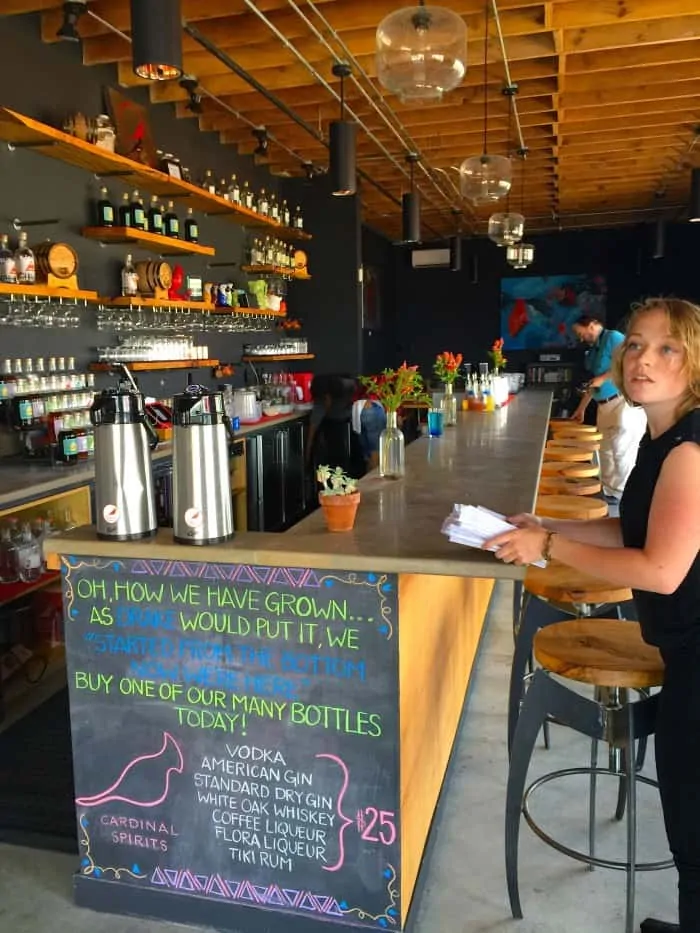 When you're ready for the hard stuff, head over to Cardinal Spirits, B-town's only craft distillery, hatched by a team of four really nice guys who love what they do. Loved that they let you bring your drinks with you as you tour the distillery, where you can watch the team in action as they make their high quality whiskey, gin, vodka, rum and liqueurs, using locally sourced botanicals and fruits. They get their elderflowers from an old lady next door and harvest honey from their rooftop beehive, which they use in their amazing cocktails.
Inside Tip:

If you're as much of a fan of the uber cool bar stools as I am, they are made by Josh Smith, a local metal fabricator and owner of Clutch Fabrication and Design in Bloomington.
Stay
The Courtyard Marriott, aka the Convention hotel since it's right next door to the Bloomington/Monroe County Convention Center, is located in the sweet spot since it's only a few blocks from downtown and IU. The contemporary-styled rooms come with free WiFi, 42-inch flat-screen TVs and coffeemakers. There's also an indoor pool, nice-sized exercise room, a cozy lobby, and an outdoor courtyard. The front desk staff could not be sweeter or more helpful.
Inside Tip:

The first Friday of each month is First Friday, when downtown Bloomington shops welcome visitors by offering special savings and exciting events.