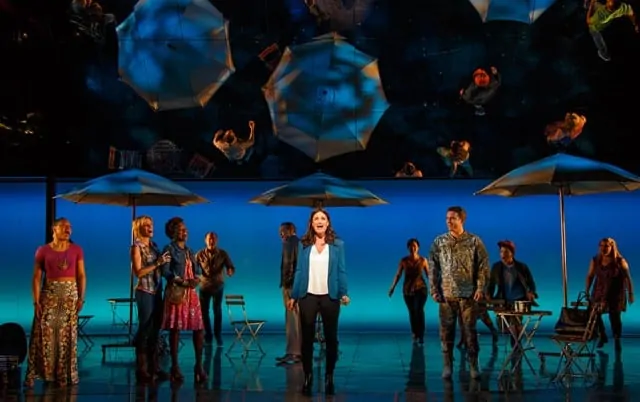 Broadway fans take note. SHN has announced its 2015-16 line-up of musicals headed to San Francisco. And it's about as solid as anyone could want.
The season opens with If/Then, a contemporary look at the paths that we face in every day life. Look for the musical, from the creators of the Tony-winning Next to Normal, to begin its run on November 10.
Next up, A Gentleman's Guide to Love & Murder. They say, "getting away with murder can be so much fun." Let us guess, we'll be sure to be dying of laughter!
SHN's season continues with Dirty Dancing, and Cabaret (which is coming direct from Broadway), before wrapping with Beautiful: The Carole King Musical.
"The homecoming of Beautiful: The Carole King Musical gives us all an opportunity to see how the production has developed since it first had its world premiere with SHN in 2013," said Greg Holland, SHN CEO.
A sixth show will soon be announced.
All the details below.
Let the show begin…
SHN 2015-16 SEASON
IF/THEN
SHN Orpheum Theatre
November 10 – December 6, 2015
A contemporary Broadway musical about living in New York today – and all the possibilities of tomorrow.
With unforgettable songs and a deeply moving story by the Pulitzer Prize and Tony Award-winning creators of Next to Normal, this "fascinating, ambitious, and original new musical (New York Post)" simultaneously follows one woman's two possible life paths, painting a deeply moving portrait of the lives we lead, as well as the lives we might have led.
A GENTLEMAN'S GUIDE TO LOVE & MURDER
SHN Golden Gate Theatre
December 1-27, 2015
GENTLEMAN'S GUIDE tells the story of Monty, an heir to a family fortune who sets out to jump the line of succession by—you guessed it—eliminating the eight relatives who stand in his way. All the while, Monty has to juggle his mistress, his fiancée and the constant threat of landing behind bars! Of course, it will all be worth it if he can slay his way to his inheritance… and be done in time for tea.
DIRTY DANCING – THE CLASSIC STORY ON STAGE
SHN Golden Gate Theatre
February 23 – March 20, 2016
It's the summer of 1963, and 17-year-old Frances "Baby" Houseman is on vacation in New York's Catskill Mountains with her older sister and parents. Baby discovers her own entertainment when she stumbles upon the staff quarters where an all-night dance party is in full swing. Mesmerized by the raunchy dance moves and the pounding rhythms, Baby can't wait to be part of the scene, especially when she catches sight of Johnny Castle the resort dance instructor. Baby's life is about to change forever as she is thrown in at the deep end as Johnny's leading lady both on-stage and off with breathtaking consequences.
CABARET
SHN Golden Gate Theatre
June 21 – July 17, 2016
Welcome to the infamous Kit Kat Klub, where the Emcee, Sally Bowles and a raucous ensemble take the stage nightly to tantalize the crowd––and to leave their troubles outside. But as life in pre-WWII Germany grows more and more uncertain, will the decadent allure of Berlin nightlife be enough to get them through their dangerous times?
BEAUTIFUL: THE CAROLE KING MUSICAL
SHN Orpheum Theatre
August 9 – September 18, 2016
BEAUTIFUL: THE CAROLE KING MUSICAL tells the inspiring true story of King's remarkable rise to stardom, from being part of a hit songwriting team with her husband Gerry Goffin, to her relationship with fellow writers and best friends Cynthia Weil and Barry Mann, to becoming one of the most successful solo acts in popular music history. Along the way, she made more than beautiful music, she wrote the soundtrack to a generation.