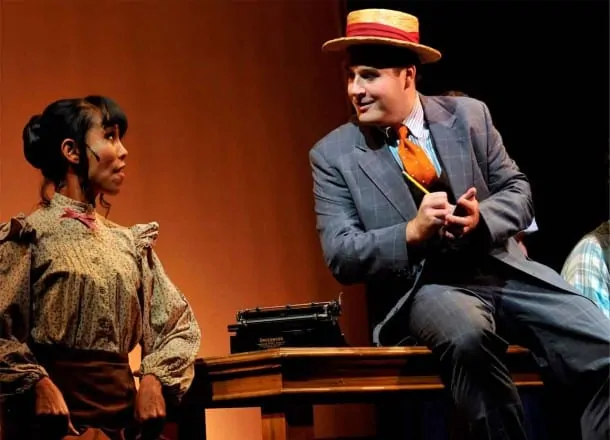 85 seasons. Yes, Palo Alto Players has a good thing going. Think about that for a moment, preferably with well-timed stage beat: 85 seasons.
We don't have the data to back the assertion, but surely Palo Alto Players must be one of the longest running theater companies in the San Francisco Bay Area.
The line-up features Chicago (seen most recently at SHN San Francisco), Clybourne Park (read review at A.C.T. in San Francisco), Death of a Salesman, Into the Woods, and Vanya and Sonia and Masha and Spike.
And it gets better, not only has the company unveiled its 85th anniversary line-up for the 2015-16 season, managing director Diana Lynn Wiley and artistic director also gave us at look at a fresh new look that features a playful, bold new logo:

Verdict: playful, fun, ritzy.
The new look was created by Joey McDaniel.
"Joey is a great friend of Palo Alto Players," said Wiley.  "Audience members would recognize him from his role as Igor in last season's Young Frankenstein, and he's also playing Uncle Fester in our upcoming production of The Addams Family.  We're happy to share another dimension of his wonderful artistry, and are so excited to be able to keep our logo redesign in the family."
The idea were told was to create and a "fresh and energetic buzz" by employing a design that was "modern" and included "classic theatrical elements" that would lend immediate familiarity. Mission accomplished!
Oh, yes, and as for the season itself…
There are five main stage productions, with full details below.
Stark Insider hopes to see you on location at the theater.
Let the show begin…
PALO ALTO PLAYERS
85th Anniversary 2015-16 Season

CHICAGO

Book by Fred Ebb and Bob Fosse
Music by John Kander
Lyrics by Fred Ebb
Based on the play by Maurine Dallas Watkins

It's the roaring twenties, and everybody in Chicago is talking about the Merry Murderesses – a string of femme fatales on trial for murder, including vaudevillian Velma Kelly. Velma is scheming to parlay her newfound publicity into celebrity stardom, and hires the slickest lawyer in town to influence the tabloids and win an acquittal from a corrupt justice system that bows to trial-by-media. But when housewife and ambitious chorus girl Roxie Hart is arrested for murdering her lover, the press turns its flashbulbs on Roxie, who gets her first taste of fame and will do anything to keep herself on the front page. CHICAGO is a brilliant musical satire that dives headfirst into America's voyeuristic obsession with scandals and celebrity. Winner of six Tony Awards, including Best Revival of a Musical (1997), CHICAGO brings you the razzle-dazzle music of vaudeville, show-stopping dance numbers – and all that jazz!

September 12 – 27, 2015 (preview September 11)

CLYBOURNE PARK

by Bruce Norris

Bruce Norris takes a feisty jab at race relations in this satirical spin-off of Lorraine Hansberry's A Raisin in the Sun. Through its two acts, CLYBOURNE PARK shows a Chicago neighborhood's evolution as two families move in, fifty years apart. Act One begins in 1959, as a black family moves into the all-white neighborhood, igniting fierce discussions about race and real estate. Act Two returns to the same house in 2009, but this time the neighborhood is becoming gentrified and the roles are reversed. Winner of the 2012 Tony Award for Best Play, CLYBOURNE PARK is razor-sharp in its hilarity, full of smart writing about relatable characters who are just trying to navigate the housing market and survive the tricky waters of social politics.

November 7 – 22, 2015 (preview November 6)

DEATH OF A SALESMAN

by Arthur Miller

The landscape of American theater was forever changed in 1949, with the premiere of Arthur Miller's DEATH OF A SALESMAN. Winner of the Pulitzer Prize, 9 Drama Desk Awards, and a total of 13 Tony Awards, including Best Play, this masterpiece exposes the secrets, shattered dreams, and unfulfilled promises that lurk behind the white picket fence. Traveling salesman Willy Loman chases a phantom American dream, and struggles with the dashed hopes of his family's once-promising future. DEATH OF A SALESMAN is a poignant story of love, pride, disappointment, and friendship – attention must be paid.

January 16 – 31, 2016 (preview January 15)

INTO THE WOODS

Music and Lyrics by Stephen Sondheim
Book by James Lapine

What do you do when the one thing you want is the only thing out of your reach? Go to the woods! INTO THE WOODS, the everlasting musical from Stephen Sondheim and James Lapine, brings your favorite fairytales together in a Brothers Grimm mash-up that looks past "happily ever after", revealing the messy complications of life in an avalanche of bad deeds, disappointment, adultery, and death. Winner of five Tony Awards, including Best Book of a Musical (1988), Best Original Score (1988), and Best Revival of a Musical (2002), INTO THE WOODS builds on the magic of these classic fairytales, creating a beautiful story of what's right, what's good, and the tales we tell our children.

April 23 – May 8, 2016 (preview April 22)

VANYA AND SONIA AND MASHA AND SPIKE

by Christopher Durang

Comedy master Christopher Durang blends classic Chekhov themes with a modern flair for indulgent melancholy into comic mayhem in VANYA AND SONIA AND MASHA AND SPIKE. Vanya and his step-sister Sonia have their quiet country life upended with a surprise weekend visit from their movie star sister, Masha – who brings along her twenty-something (and frequently shirtless!) boy-toy, Spike. Insecurity and resentment set in as sibling rivalry takes over, and the entire household is thrown into uproarious chaos. Winner of the 2013 Tony Award for Best Play, VANYA AND SONIA AND MASHA AND SPIKE is a rare comedy force, full of absurdist twists and pure hilarity.

June 11 – 26, 2016 (preview June 10)
(With Clinton Stark in San Francisco)